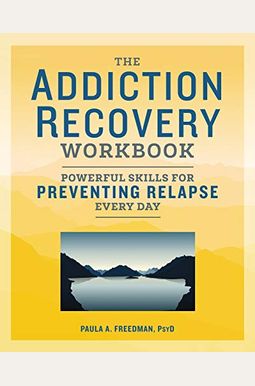 
 
The Addiction Recovery Workbook: Powerful Skills For Preventing Relapse Every Day
Book Overview
Prevent relapse with practical, everyday coping skills
Get the tools you need to recover from alcoholism and other forms of addiction. This substance abuse workbook equips you with actionable strategies and coping techniques to succeed in recovery when faced with daily challenges, stressors, and triggers.
From navigating intimate relationships to handling high-risk situations and environments, this addiction workbook offers practical tools and hands-on exercises that you can use in your home, work, and personal life.
Develop addiction recovery skills through:
A comprehensive introductionthat helps you understand your addiction and outlines the path to recovery.
Coping skills to deal with thoughts, emotions, relationships, and high-risk situations and environments.
Prevention tactics that help you succeed in lifelong recovery by setting new, addiction-free lifestyle habits and routines.
Foster the skills you'll need to persevere with this addiction recovery workbook as your guide.
Frequently bought together
Frequently Asked Questions About The Addiction Recovery Workbook: Powerful Skills For Preventing Relapse Every Day
Book Reviews
(8)
Did you read The Addiction Recovery Workbook: Powerful Skills For Preventing Relapse Every Day? Please provide your feedback and rating to help other readers.
Helped Save My Sons Life

Derived From Web

, Oct 18, 2020

The nurse called me today to say my son is doing okay, thanks. He can't put it down, and when he does his counseling staff wants to use it in group sessions, they're thrilled! It's a must read by everyone, especially my son. He has helped my son realize that he is not alone in this battle with drugs and the depression that reared it's scary fears of the unknown once he cleared his body and mind from the all consuming drugs that were in him for a very long time. As a mother who once believed she lost her son to addiction, I am so very thankful for this well written book.
Best treatment book I've purchased!

Derived From Web

, Sep 20, 2020

The others were disappointing, too. Not surprisingly, Microsoft didn't like the new one. I bought it because I was so happy I did.
pretty good

Derived From Web

, Sep 15, 2020

Like the tips and ideas, I learned new things I never would have thought of on my own.
Happy to have found this informational workbook

Derived From Web

, Feb 21, 2020

Great web site, Michael. My husband recently completed inpatient rehab and we do a lot of studying and reading together since he's been home. This workbook is a favorite, we both love all the educational nuggets it gives. The education of addiction and why people become addicted, is what makes this book stand out from the rest, Bustamante said. After reading the first couple chapters, we have a lot more understanding of what we've been through and how to handle things that may come our way in the future, he said.
Thoughtful

Derived From Web

, Feb 18, 2020

While most of the information was presented with a new audience in mind, I have found many useful suggestions no matter how long one is in recovery.
Great workbook

Derived From Web

, Oct 10, 2019

Very informative, said Dr. Chester Floyd, director of the NIH's Ames Research Center in California. The interactive sections of the book are very helpful with tying the reading material and everyday life.
So well done!

Derived From Web

, Mar 29, 2019

What a great workbook! It combines some ACT, DBT, CBT and basic psychoeducation. It's aesthetically pleasing, but it also is incredibly helpful and informative. I have even used it with clients who struggle with mental illness or addiction. I highly recommend this book to any clinician or individual who works with children.
Great strategies for addictive behaviors

Derived From Web

, Jan 7, 2019

This book is by far the best seller of all time. The writer of this article is a passionate chronic stress researcher. It's illegal, and often deadly, to smoke marijuana, even with a doctor's permission. Simply put, this is a good tool to help with OCDfood issues, just daily coping mechanisms and other issues. Whether you or a loved one has an addiction, this book will cover it all. You can tell the writer is highly knowledgeable on addiction and has actually helped others, even though she has no real training. 0 1462228 This writer is highly knowledgeable on addiction and very, very well, seems to care about helping others. I found it surprising that I was looking forward to reading this book after work.