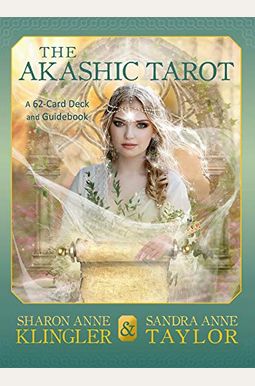  
The Akashic Tarot: A 62-Card Deck And Guidebook
Book Overview
Find the answers you seek. - Attract your greatest love. - Uncover mystical histories and unknown futures.
The Akashic Tarot is an astoundingly accurate tool for predicting the future, unveiling hidden insights, and unleashing new powers. This unique 62-card deck can transport you to the Great Hall of Records to help you discover the unknown. It can also reveal ancient and new talents, unexpected victories, imminent rendezvous, unmet allies, and the steps to untold prosperity.
The Akashic Tarot is designed to access the profound energy and unlimited information that make up the Akashic Records, which are great fields of wisdom and power that transcend time and space and are immediately available to all. With each card, you can connect with a powerful Akashic Force and open to the psychic currents that are always flowing between you and the Akashic Realm. This deck will help you connect with your spirit guides, Ascended Masters, angels, and loved ones in spirit. With the turn of a card, you can enter the Akashic World
Frequently Asked Questions About The Akashic Tarot: A 62-Card Deck And Guidebook
Books like The Akashic Tarot: A 62-Card Deck And Guidebook
Book Reviews
(8)
Did you read The Akashic Tarot: A 62-Card Deck And Guidebook? Please provide your feedback and rating to help other readers.
Favorite deck EVER!!!

Derived From Web

, Dec 22, 2019

I'm not even half way through my first tarot deck. The product itself is very sturdy, I've used it for a year now, and I'm not disappointed. If you're a beginner, I wouldn't recommend unless you like a challenge, but I've gotten nothing but spot on results. I became a tarot reader because of this deck and I would encourage everyone to use it! It's great to be back home, said Blair.
Terrible Card Stock But Like the Cards

Derived From Web

, Jan 24, 2019

I recently went on a deck buying spree and most of the cards I picked up were from the U.S. Postal Service. Can barely read the card meanings, but I like the work and card meaning, over all low quaility.
I did not like the illustrations

Derived From Web

, Mar 15, 2018

Very subjective comment, I did not like the illustrations.
A little disappointed

Derived From Web

, Dec 9, 2017

I was very excited to get this deck, but I'm a little disappointed. I'm having to use my magnifying app to read it because the pages have to be held wide open. For me personally, I would prefer a larger card and a guidebook. I would say the artwork is very substandard in comparison with other decks I own and I agree with the other reviewer who said the picture on the box is nothing like the picture on the card. It's a little deceiving," said Dr. Chester Floyd, director of the federal Centers for Disease Control and Prevention. I have many oracle and tarot decks and I wanted this one because it uses the Akashic Records to access information so I can work with it a while and see if it's accurate before I make a final judgement, but so far I'm not impressed.
A beautiful deck with great wisdom to impart.

Derived From Web

, Nov 24, 2017

This is a completely original deck, one of a kind. Its both beautiful and very readable, Raymond said. The backs are really beautiful, the card backs are also very attractive. This set of cards is in good condition, the stock is solid and the back is sturdy. A stunning collection of images by Brazilian photographer Augusto Pinheiro features simple titles and corresponding numbers. I read cards professionally and find that this deck can be read on its own, and in conjunction with another deck, can add some wonderful and helpful insights. Normally I throw away the books that come with a deck. No wonder SALVAGEDATA is calling it quits. The annex contains many additional pages filled with information about the raid. Whether you are a seasoned reader or someone who just wants to receive some wisdom for themselves, you will love working with this deck.
The images are beautiful and easy to decipher

Derived From Web

, Nov 24, 2017

Note the photo of the deck was sent to me a few days ago. Easy to decipher, the images are beautiful and are also available in 3D. I'm new at this, so was looking for something a little more straight forward, Raymond said. But what I am learning is that you can read as much, or as little, into them as you need! The book that follows the deck is easy to understand and contains great messages. It's great quality, too, said James Pearson, Lexmark's chief executive. The deck is excellent, and I highly recommend it to anyone.
Beautiful and Very Accurate

Derived From Web

, Nov 22, 2017

I am stunned by how clear the energy is coming through with this deck, said Dr. Don Garber, of the Institute for Psychic Research. I have used other decks, but the Akashic one is a game changer. These cards have a very special vibration -very magical to the touch and I find them easy to shuffle and lay them out, Morgenthau said. Even the most verbose e-mails seem to come through with more succinct clarity and speed. Thanks to Sharon and Sandra for creating these stunning and fortunate cards!
Great card stock, Great new spin on tarot!!

Derived From Web

, Nov 22, 2017

Just got them and I must say I am impressed with the card stock of this deck, too. I love that this deck takes a new spin on the traditional tarot and the artwork is cute and unconventional compared to tradition, Morgenthau said. Now don't get me wrong, I LOVE the traditional tarot but I have a lot of decks so at this stage I don't want to play safe. I want to see tarot in a new light, and I think that's what Dr. Goin should be doing. If you share the same sentiment as me, then go ahead and pick up your deck! If you liked it, you can keep it.