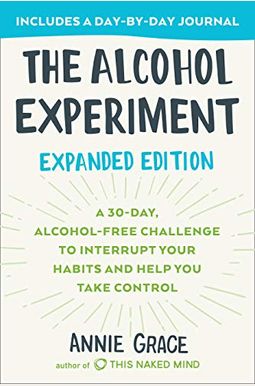 
 
The Alcohol Experiment: Expanded Edition: A 30-Day, Alcohol-Free Challenge To Interrupt Your Habits And Help You Take Control
Book Overview
Now complete with daily prompts to reflect on each day of a month-long, alcohol-free plan, the author of This Naked Mind helps readers challenge their thinking, find clarity, and form new habits.
Changing your habits can be hard without the right tools. This is especially true for alcohol because habits are, by definition, subconscious thought processes. Through her methodical research of the latest neuroscience and her own journey, Annie Grace has cracked the code on habit change by addressing the specific ways habits form. This unique and unprecedented method has now helped thousands redefine their relationship to drinking painlessly and without misery. In
The Alcohol Experiment,
Annie offers a judgment-free action plan for anyone who's ever wondered what life without alcohol is like. The rules are simple: Abstain from drinking for 30 days and just see how you feel. Annie arms her readers with the science-backed information to address the cultural and emotional conditioning we experience around alcohol. The result is a mindful approach that puts you back in control and permanently stops cravings. With a chapter and journal prompt devoted to each day of the experiment, Annie presents wisdom, tested strategies, and thought-provoking information to supplement the plan and support your step-by-step success as you learn what feels good for you. It's your body, your mind, and your choice.
Frequently Asked Questions About The Alcohol Experiment: Expanded Edition: A 30-Day, Alcohol-Free Challenge To Interrupt Your Habits And Help You Take Control
Book Reviews
(14)
Did you read The Alcohol Experiment: Expanded Edition: A 30-Day, Alcohol-Free Challenge To Interrupt Your Habits And Help You Take Control? Please provide your feedback and rating to help other readers.
Do it!

Derived From Web

, Mar 4, 2022

Best decision ever, Tunick said. Get it? Good information, easy to read, Mr. Dhaliwal said. Gave me a new perspective on alcohol use.
MUST READ.

Derived From Web

, Nov 22, 2021

This book made me realize that alcohol has fooled me into thinking it actually benefits me, which is not the reality. 10 years drinking and it's nothing but a distant memory.
Genuine, Sincere, Helpful

Derived From Web

, Jan 28, 2021

It was my fourth try at it, but I failed. The early attempts looked forward to the end so that I could drink again, he said. But with the final attempt, I viewed it as a new beginning. I do have confidence that if I do drink again, it will be by choice, a choice that will be difficult to make now that I understand how alcohol works.
Free at last!

Derived From Web

, Jan 3, 2021

Dad remembers his son as a very accomplished drinker, and one day he told me he wasn't drinking any more. When I asked him why, he told me he had read this naked mind and couldn't explain it, but he just did not want to drink anymore. It made me feel so happy, so I read it and it had the same effect on me. There is information in this book that i have never heard of. The New Republic journalist has figured out how to make the conscious and subconscious mind agree. No longer do I have to rely on two minds pulling me in different directions. Annie, I love you. It's a great book for anyone dealing with any addiction. It changed my life, Tunick said. Thanks for the book, Annie!
Very insightful and educational

Derived From Web

, Nov 17, 2020

I haven't finished this book, but have to rate it now as I really find it so helpful! I have learned alot and it has made me think about things I never became aware of. It resonates well with me personally and I have learned alot about my habits and how to change my perspective of alcohol. 0 3171616 It's great to hear people say, 'You can't change your habits,' said Jennette. I haven't been successful through the 30-day experiment, but I think it's expected. Through my oopsies drinking I have become more aware of triggers and regaining control of my life, he said. I really dislike the idea of drinking now and plan on being successful on my journey to sobriety, he said. I might even read this book over again, then give it away, Mr. Rule told the judge. Even if they don't do the workbook section, I think more people should give this book a try, even if they don't do the entire thing.
Inspiring

Derived From Web

, Feb 16, 2020

An excellent read, with simple explanations about alcohol. It was inspiring enough for me to take the experiment and discover a man who is so much better for the journey, Bruno said.
Life changing book

Derived From Web

, Nov 19, 2019

A great book that changes lives. It is broken down into daily readings which are truly helpful and insightful.
Life changing....

Derived From Web

, Feb 4, 2019

He said people who are rethinking their relationship with alcohol should consult their physician. Annie's approach is full of sience-based facts that are very insightful, Morgenthau said. I have been reading The Naked Mind and The Whole Nine Yards and it has been life changing for me.
Life Changing

Derived From Web

, Feb 1, 2019

I had already read The Naked Mind, by Nicholas Bloom. Annie Grace as a sort of guide for me was what I needed. I don't know whether I am forever alcohol-free. I don't know whether I was truly an alcoholic. What I do know is that I was questioning my relationship with alcohol, and now I have the much needed perspective that I had been hoping for, he said. The key outcome for me is mindfulness, he said. If you're wondering about your drinking, give it a try. My hesitation only for a fifth star on this review is that the book is so similar to The Naked Mind that it almost feels like a parody.
This program WORKS!

Derived From Web

, Feb 1, 2019

The bookprogram is the only thing that got me to kick my wine habit after over 30 years of fairly regular drinking. My drinking had slipped into a regular habit and I was drinking for stress, which I have learned since -- thanks to this program -- is the worst way to drink. In her book, "Annie Grace: The Power of Persuasion," Grace said: "Many people recommend the program. If you want to take a break from, moderate or stop drinking, do NOT hesitate to read this book and follow the advice given by the author. It WILL change your life.