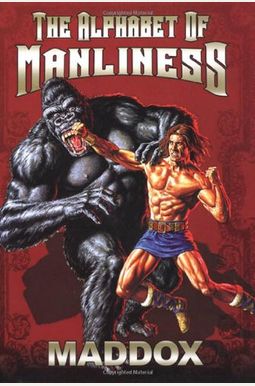 
 
The Alphabet Of Manliness
Frequently Asked Questions About The Alphabet Of Manliness
Books like The Alphabet Of Manliness
Book Reviews
(8)
Did you read The Alphabet Of Manliness? Please provide your feedback and rating to help other readers.
You read this book or I cut you. I cut you good!

Derived From Web

, Feb 9, 2022

The book is funny. It's still pretty funny that some parts go on a bit longer than they should. This book is meant to make you laugh by being a bit too masochistic and over the top, but you will enjoy it. It gives you some points to ponder and is definitely going to upset a lot of people on at least one page of the book. I thoroughly enjoyed this book and will be looking for similar ones. My new favorite website is the author's own website which is similar to the book. This book is not going to be missed.
so funny i s**t my pants

Derived From Web

, Feb 9, 2022

I' ve been reading maddox's website for about 12 years now, and it always has the funnies, because book sales mean he doesn't need to write as much. I opened the book for the first time at break fest and was late for work. I laughed so hard after a night out that I ran to the toilet and tried not to explode, but I did. One of the funniest books I' ve ever read is this one. If it's not the funniest. I bought copies for my old man and two of my friends. When it offends women so much it makes the whole experience rewarding. My friends don't have girlfriends anymore.
It's entertaining, but I remember laughing a lot more when I read his website.

Derived From Web

, Feb 9, 2022

I read a few of the letters and realized that his web articles are better. I can't tell you why or how they are better, but I can tell you that I got through A, B, and C of this book without so much as a laugh. On the other hand, my coworker, who has never heard of Maddox's website, read the entire book, laughing just about the entire way through - and he doesn't really like to read. If you want to give it to someone who is not familiar with the style of writing, then get it. If you' re familiar with the website and you' re expecting hours of entertainment, you may want to consider abstaining.
Like the Chicken Soup series, but for Men

Derived From Web

, Feb 9, 2022

For any teen that is curious about what the world has in store for them, or anyone who has lost their way, this is the book to read. It is the embodiment of Chuck Norris. The cover is a good representation of the book. By the time you' re done, you will have stomped apes. Your arrival.
A must for fans, A must-miss for critics

Derived From Web

, Feb 9, 2022

This is the type of book you will either love or hate, it does not lend itself to ambivalence. This book is a mix of a children's book that uses a word to teach the alphabet and an encyclopedia, as well as the first published book by internet personality Maddox. The topics in this book are not family friendly, so it is not for children or those who do not enjoy more adult humor. If you' ve ever read his site, you know what to expect. If you are a fan then you already own this, if you are not a fan then it will reinforce your dislike of him.
Great book.

Derived From Web

, May 13, 2020

When my boyfriend goes camping, I give this to him. It is funny and snarky. His friends are reading it out loud while he puts it in his toy hauler. The language is fun. I think I have about 10 copies of this to give to my brother and friends. I like to leave copies in friends houses. Just to see how long it takes them to notice. They always like it.
Really inappropriate... it's 2019

Derived From Web

, Aug 6, 2019

The author has gone downhill. I used to like what he did. It is funny and satirical. The author has major issues with women in the book. I wouldn't be surprised if he is accused of assault based on some of the things in his book. This is sad.
Maddox is the best blogger ever

Derived From Web

, Apr 28, 2019

I bought the book on the pre- order and am about to review it. I have been a fan of Maddox since the beginning. One more thing that he has done is this book.