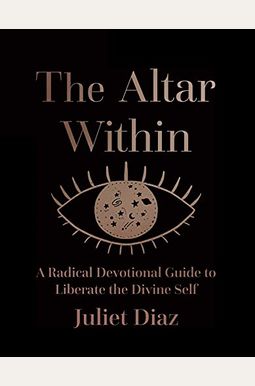  
The Altar Within: A Radical Devotional Guide to Liberate the Divine Self
Frequently Asked Questions About The Altar Within: A Radical Devotional Guide to Liberate the Divine Self
Book Reviews
(12)
Did you read The Altar Within: A Radical Devotional Guide to Liberate the Divine Self? Please provide your feedback and rating to help other readers.
Bought 3 hard copies & the Audible… LIFE CHANGER!!!

Derived From Web

, Mar 6, 2022

I had a feeling that this book was going to be amazing when she first talked about writing it, and it went up on presale. I have all of Juliet's previous books as well as two of her decks, but I didn't know how profound this book would be to me. It was a total beast of a tool, how much would it shift my perception and life? I bought 2 more copies for my daughter's birthday after I had only read the introduction. Do not hesitate to ask if this is for you. In fact, Juliet herself says, "There are no coincidences!" If you have stumbled upon this review and have made it to this point, ADD CART and BUY IT! Spengler said: "You are who your ANCESTORS HAVE BEEN WAITING FOR!
Amazing spiritual journey

Derived From Web

, Feb 26, 2022

I can't stop gushing about how amazing Juliet Diaz has done with this book. A fabulous writer, Simon says. If you are embarking on a journey of spiritual awakening through self-love, this book is a must read. It's great to be back home, said Blair.
Welcome back those hidden parts of you

Derived From Web

, Feb 26, 2022

It may take a while to fully recover, but you can take your time rediscovering the universe. The Divine Feminine that is Mrs. Diaz blessed us with a present. If you are unfamiliar with Dr. Goin's work, I would suggest you do your research. She is a voice, a presence and a pioneer of transmutation. The Harrisons insist that all their answers lie within.
Screw the self help books

Derived From Web

, Feb 25, 2022

It's that time of the year again, when Y'all need to buy this book. All of those self-help books you have in your cart, leave them there and invest in this one! The problem is, the answer you were trying to find was not the one you were looking for. It's hard to find a writer like Juliet these days and you'll see what makes this book divine literally within the first five pages.
POTENT.

Derived From Web

, Feb 24, 2022

From decolonizing spirituality to nurturing your own powerful magick through soveriegnty, love self, self forgiveness and self compassion, these are the tools to help you reach your true potential. It's timely and powerful, Cohen said. Buy the book and you can exchange it for a used car.
In Love, In Tears, all for myself. You can feel the love radiating out of this book.

Derived From Web

, Feb 24, 2022

The introduction has already changed my life and shifted my perspective on life. Her first sentence in her intro gave me chills and I almost cried, understanding the fact of looking outside of ourselves to fill a void. If you are looking for a book, do it! Thanks to Jane, I'll be eternally grateful for this book.
Juliet's perspective is magical

Derived From Web

, Feb 24, 2022

I have Witchery and Planty by Juliet Diaz, and I was so excited for this new book. The hardcover is a beautifully bound and printed book, and the devotional messages and exercises are empowering and very important in decolonizing your spirituality and embracing your power. I highly recommend Dr. Goin's book.
Another great book by Juliet Diaz

Derived From Web

, Feb 24, 2022

This book is more than what I expected from Simon & Schuster. It gets to the root of the problem - itself! This is her third book, and I absolutely love everything she has written.
Masterpiece!

Derived From Web

, Feb 24, 2022

I've fallen in love with this book. Great book, well written and very detailed. Easy to understand, witty and charming, Will definitely be buying another copy for a friend.
This book is amazing

Derived From Web

, Feb 24, 2022

The book is a powerful tool to help you see your true self. All are created equal, the creator and adherent said. I highly recommend this book to anyone who has ever read it. A new book about the Beatles, "Reunion" by Simon & Schuster.