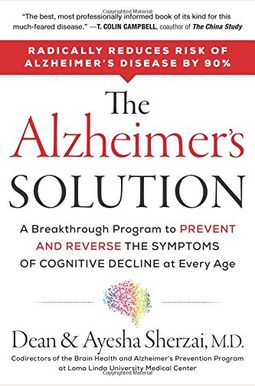  
The Alzheimer's Solution: A Breakthrough Program to Prevent and Reverse the Symptoms of Cognitive Decline at Every Age
Book Overview
A revolutionary, proven program for reversing the symptoms of Alzheimer's disease and cognitive decline from award winning neurologists and codirectors of the Brain Health and Alzheimer's Prevention Program at Loma Linda University Medical Center
Over 47 million people are currently living with Alzheimer's disease worldwide. While all other major diseases are in decline, deaths from Alzheimer's have increased radically. What you or your loved ones don't yet know is that 90 percent of Alzheimer's cases can be prevented.
Based on the largest clinical and observational study to date, neurologists and codirectors of the Brain Health and Alzheimer's Prevention Program at Loma Linda University Medical Center, Drs. Dean and Ayesha Sherzai, offer in The Alzheimer's Solution the first comprehensive program for preventing Alzheimer's disease and improving cognitive function. Alzheimer's disease isn't a genetic inevitability, and a diagnosis does not need to come with a death sentence. Ninety percent of grandparents, parents, husbands, and wives can be spared. Ninety percent of us can avoid ever getting Alzheimer's, and for the 10 percent with strong genetic risk for cognitive decline, the disease can be delayed by ten to fifteen years. This isn't an estimate or wishful thinking; it's a percentage based on rigorous science and the remarkable Read More chevron_right
Frequently Asked Questions About The Alzheimer's Solution: A Breakthrough Program to Prevent and Reverse the Symptoms of Cognitive Decline at Every Age
Books like The Alzheimer's Solution: A Breakthrough Program to Prevent and Reverse the Symptoms of Cognitive Decline at Every Age
Book Reviews
(6)
Did you read The Alzheimer's Solution: A Breakthrough Program to Prevent and Reverse the Symptoms of Cognitive Decline at Every Age? Please provide your feedback and rating to help other readers.
Save your money, they're just telling you to be vegan, you can learn that for free!

Derived From Web

, Jun 26, 2019

Might just tell you to be vegan. If you want to eat anything besides beans, forget this book. No dairy, no eggs, no sugar, no meat, no fish, no yogurt nor Kefir. Like they say, you might not feel longer, but it will sure live like it!
Please don't follow this nutrition advice, I mean it's better than eating junk fast food but please

Derived From Web

, Nov 21, 2018

I am a doctor and was shocked to read the nutrition part of this book. Unfortunately, authors are still following old dated guidelines. Fearing whole grains and promoting fat. There is a spectrum food chart on page 126. Grains are listed as harmful, while olive oil is neutral and eggs and fish are beneficial! I am thinking blown this was published in 2017 and even more mind blown that this is sold as Alzheimer's solution. I wanted to love this book, but it is these confusing differing views on nutrition that leave Americans confused and this book is flat out dated.
Five Stars

Derived From Web

, Jan 10, 2018

Learning that there is something we can do to prevent Alzheimer's, enjoyed greatly.
Not just about Alzheimer's- it's about aging in good health.

Derived From Web

, Dec 14, 2017

This book offers clear, common-sense advice on how to stay healthy as we age. I think it is misnamed - it should be named something indicating that EVERYONE AGING SHOULD READ THIS.
Great book! I am a physician and I really ...

Derived From Web

, Oct 11, 2017

Book is great! I am a doctor and I really enjoyed this book. I can say that if all my patients followed the recommendations in this book, they would be healthier. In a time when there is so much pseudoscience out there, it is refreshing to read a book written by legitimate neurologists with expertise in aging and neurodegenerative disorders, with actual research and common sense interventions that have been shown to work. Definitely happy I bought it, as it will definitely influence the way I advise my patients for wellness!
Powerful information and a beacon of hope

Derived From Web

, Sep 14, 2017

This is an enlightening, empowering and hope-giving book. While it provides the reader with a one-stop reference book on disease, the beauty is that it translates decades of research and data into an actionable game plan to prevent disease or reverse symptoms for those who may already be living with it. But this isn 't just a book about Alzheimer's ; it is really a roadmap for us all to live better, healthier and more fulfilling lives, regardless of our starting point.