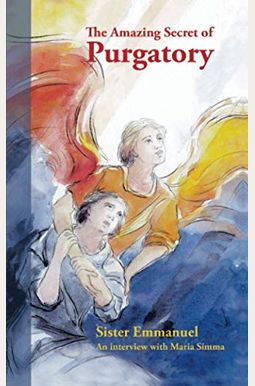 
 
The Amazing Secret Of Purgatory
Book Overview
An Unbelievable True Account of Purgatory Told by the Souls Who Are There
It is not often that a book touches the soul so deeply. From day one, it has been a best seller Maria Simma, a devout Catholic, lived humbly in the hills of Austria. At 25, she was graced with a special charism: Souls from Purgatory visited her and spoke to her. Maria shares with us awesome secrets about these souls. She answers questions such as:
What is Purgatory?
How do souls get there?
Who decides if a soul goes to Purgatory?
What are the sins that most lead to Purgatory?
How can we help get a soul released from Purgatory?
Are there religions which are bad for the soul?
Are there children in Purgatory? Or suicide victims?
How can I avoid Purgatory?
This is a remarkable interview about after-death realities, a true revelation for those who have lost a dear one
Frequently Asked Questions About The Amazing Secret Of Purgatory
Book Reviews
(6)
Did you read The Amazing Secret Of Purgatory? Please provide your feedback and rating to help other readers.
Can't wait to read again.

Derived From Web

, Mar 26, 2022

I made so many highlights! This book has reduced my fear of purgatory. Clear and honest books need more books so that they are clear and honest.
A must read

Derived From Web

, Nov 8, 2021

Not enough is written about Purgatory, but this is a great book to start with. The average reader can finish this book in a single sitting. Very easy to read, but also very thought provoking. It will give you faith and strengthen your comfort.
Thought provoking

Derived From Web

, Sep 14, 2021

The most provocative thought from this book is that the souls themselves choose to go to purgatory or even he 'll himself! God be praised to God.
In One Sitting!

Derived From Web

, Sep 6, 2021

I could not put this book down! I could not put this book down! I've always had so many questions about Purgatory and this book answered many of them.
For everyone to know

Derived From Web

, Jul 4, 2021

So disappointed that what is contained in this book is not spoken by our priests in our churches during their sermons. If you are concerned about the destiny of your souls, read this book. Very straight forward. Easy to understand. Can be read in a sitting.
If you believe this is the one to read

Derived From Web

, May 16, 2021

It is scary, but not like the horror. It is good to know that if you are not perfect and have flaws, there is a place between Heaven and Hell that you can work for sins as long as you have a person praying for you.