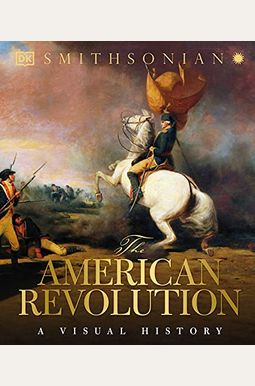 
 
The American Revolution: A Visual History
Book Overview
Uncover the remarkable story of the American Revolution Who were the Redcoats, and what was the Boston Tea Party? Explore key events like the British surrender at Yorktown, and the writing of the Declaration of Independence.
Written in association with the esteemed Smithsonian Institution, this beautiful visual reference book will transport you back in time and onto the front lines of the American Revolution.
Take chronological steps through the American Revolution, starting with the first stirrings of colonial resistance. Learn about important events and key moments of the war that gave birth to the American republic. Meet the most memorable people from the period, from George Washington to Benedict Arnold, and explore first-person accounts by soldiers and civilians. This history book for children grade 7 and up gives you a complete overview of the most fascinating events during the war. The action is brought to life through illustrated accounts of every major military action and comprehensive timelines for every stage of the conflict. Gallery spreads feature the weapons, arms, and uniforms that were used, to give you a full picture of what it was like. Large color pictures, black-and-white drawings, and detailed maps add intriguing visuals to the history of America, so reading can be engaging and enjoyable. This visual reference book also
Read More chevron_right
Frequently bought together
Frequently Asked Questions About The American Revolution: A Visual History
Book Reviews
(10)
Did you read The American Revolution: A Visual History? Please provide your feedback and rating to help other readers.
My husband and I fell in love with DK (especially the Smithsonian line) during a trip ...

Derived From Web

, May 26, 2022

The husband and I fell in love with DK during a trip to the Smithsonian museums. The books are filled with an immense amount of information, presented in a fascinating, readable way. Of course, the author could not include absolutely every single detail about the theme at hand, but they still did a wonderful job. The photos are present-worthy and a perfect complement to the information. The books themselves have a strong binding and stout construction.
A BEAUTIFUL BOOK ON AMERICAN REVOLUTION HISTORY

Derived From Web

, May 26, 2022

First of all, DK Motorbooks are fine books that treat their subjects with magnificence! I wanted a decent book that treated the American Revolution, and I purchased this volume with confidence that it would meet my expectations. Well, it did not meet my expectations. It exceeded them all! I thought I knew just about everything about the Revolutionary War, but this fabulous book proved me wrong! '' From this book and its illustrations and graphics, I learned a great deal! I would highly recommend this book to any American history enthusiast!
A material omission in my opinion is a lack of ...

Derived From Web

, May 26, 2022

In my opinion, a material omission is the lack of maps showing troop positions and movements for the various battles.
Great Resource!

Derived From Web

, May 26, 2022

As a homeschool mom who finds herself visiting the OFTEN library for informational history books, I won t need to make a single trip when we study the American Revolution. There are 360 jam-packed pages for us to use! In typical DK style, this book is colorful with its captivating images that enhance every single page of text. Additionally, the timelines, maps, biographies and a thorough index make my job easier as a teacher.
Don't buy the Kindle version!

Derived From Web

, Mar 30, 2021

In the Kindle version, the text overlaps the text, making it impossible to read most of the pages.
Great book, poor Kindle edition

Derived From Web

, Mar 25, 2021

I am happy to delete the negative review once the Kindle edition is corrected, or perhaps someone can point out a workaround for this behavior. As you see in the photo from pages 28 and 29 of this book, there are beautiful photos, typography and writing in this book. The Kindle edition, however, is completely marred by some sort of text object that overlays the image of the page's top right. I see no Kindle option to turn this overlay off.
Double print on multiple sections

Derived From Web

, Feb 12, 2021

Multiple sections pages have a double print on the Kindle version. I didn 't discover this until 2 days after the return date.
Defective on Kindle Do Not Buy.

Derived From Web

, Jan 21, 2021

No Kindle books for the do not buy. The pages are overprinted, leaving much of the text illegible. As a rule, DK has good quality, but can be negligent when releasing content for the Kindle. Titles are published that are cluttered messes that can not be used by Space Animals and Visual Dictionary fall into this category. The current title previews well, but is overprinted as above noted. Finally, no DK product should be used on a 10 - reader - service as these can not help as the departments dealing with these issues will not answer calls in a timely manner. Despite what the recording says, the customer is not important, but should be avoided.
Comprehensive and organized

Derived From Web

, Mar 25, 2020

One of the greatest hurdles to understanding the revolutionary war is the breadth of the conflict. So many moving parts, often not related at the time, but nonetheless influencing each other. This book is a great overview, hitting all the major points as they fall along a timeline from 1775-1783 and then on the challenges of the Union. Easy to read, presented superbly and illustrated in a format that is logical and engaging.
Visually stunning overview of the American Revolution.

Derived From Web

, Aug 22, 2019

The book begins at the time the 13 colonies were settled and continues through Washington's inaugural address. Although the specific topics are not extensively developed, this book is an excellent introduction to the important events that have created our country. I highly recommend '' this book. If you find my review helpful, mark it.