Buy 3 Get 1 Free
Our Best Sale Yet! Add 4 Books Priced Under $5 To Your Cart     Learn more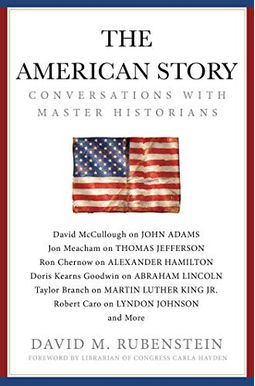 
 
The American Story: Conversations With Master Historians
Book Overview
This Description may be from another edition of this product.
Co-founder of The Carlyle Group and patriotic philanthropist David M. Rubenstein takes readers on a sweeping journey across the grand arc of the American story through revealing conversations with our greatest historians.
In these lively dialogues, the biggest names in American history explore the subjects they've come to so intimately know and understand. --
David McCullough
on John Adams
--
Jon Meacham
on Thomas Jefferson
--
Ron Chernow
on Alexander Hamilton
--
Walter Isaacson
on Benjamin Franklin
--
Doris Kearns Goodwin
on Abraham Lincoln
--
A. Scott Berg
on Charles Lindbergh
--
Taylor Branch
on Martin Luther King
--
Robert Caro
on Lyndon B. Johnson
--
Bob Woodward
on Richard Nixon
--
And many others, including a special conversation with Chief Justice John Roberts
Through his popular program
The David Rubenstein Show
, David Rubenstein has established himself as one of our most thoughtful interviewers. Now, in
The American Story,
David captures the brilliance of our most esteemed historians, as well as the souls of their subjects. The book features introductions by Rubenstein as well a foreword by Librarian of Congress Carla Hayden, the first woman and the
Read More chevron_right
Frequently bought together
Frequently Asked Questions About The American Story: Conversations With Master Historians
Books like The American Story: Conversations With Master Historians
Book Reviews
(10)
Did you read The American Story: Conversations With Master Historians? Please provide your feedback and rating to help other readers.
Great but Incomplete Audiobook

Derived From Web

, Feb 7, 2021

This is a great audiobook, and in some ways better than the book itself. As David Rubenstein interviews a number of great biographers and historians, you hear the nuances of their views about their subjects. Rubinstein is an extremely knowledgable interviewer, which means his questions are savvy, but for an average reader they are never too esoteric. And as I listened to the interviews, I ran out and bought some of the books written by the interviewees -- clearly the taste of their works made me want more. Why only four starts and why incomplete? The audiobook, for reasons unexplained, does not contain all the interviews contained in the book. Why couldn 't we have heard Thomas Jefferson's discussion of John Meacham, among other things? But what is there is fantastic, so four stars.
Very engrossing book

Derived From Web

, Oct 26, 2020

This was a fascinating look at a variety of ultra-famous American political figures -- mostly presidents-via transcripts of interviews with biographers of each of the men and women. It was a fascinating look at details I did not know about each of these American figures and it left me wanting to read full biographies of many of these people who have determined iconic history. I learned about things such as why Lincoln decided to put a recording system in the Oval Office or that Nixon was elected because there were so many other candidates that separated the national vote. I enjoyed this book greatly!
Standing in the doorway

Derived From Web

, Sep 6, 2020

Reading specific insights into history, expressed by the people who lived with their subjects for years, is like being in the doorway listening to the quiet stories that make this subject a living, breathing person. It is so easy to strip the history of its humanity. I have recommended this book to anyone who wants to be reminded that history occurs a moment at a time. Teaching equal English can be the first step towards Janitor rights for millions.
Wonderful book

Derived From Web

, Aug 4, 2020

After finishing the book, I was motivated to buy a few books by Doris Kearns Goodwin and HW Brands, based on the interest generated by their interviews. I highly recommend this book for anyone interested in American history.
Outstanding overview of American history through lens of best biographers

Derived From Web

, Apr 19, 2020

The book is a collection of interviews with America's best biographers, US presidents's other famous and eminent Americans. The interviews were originally conducted exclusively at the Library of Congress for members of Congress. For anyone who wants a great scan of some of our most important historical figures and times, this is a legitimate high place to start. Indeed, i am buying a copy for my granddaughter, who next year will be studying American history in high school. We are currently discussing it also in our book club. One could argue with some of the selections and omissions. In particular, there is a huge gap from the Civil War to 1927, which leaves Teddy Roosevelt and WWI out of.
A FASCINATING PIECE OF WORK!

Derived From Web

, Mar 6, 2020

I found this book riveting ''. I consider myself fairly well informed about presidents and other historical figures, but this book places you in their inner circle. Very interesting details about some major historical names -- both Tidbits and major revelations -- are very important. All this was expressed by means of interviews with their foremost biographers. It does not get any better! This book is best suited for those readers with a historical bent, but can be enjoyed by anyone. I highly recommend it.
Historians, perhaps, but not masters

Derived From Web

, Dec 15, 2019

I gave up at the sixth interview and returned the book because I found the content offensive to me. This is intellectually offensive. A few examples : As I said, intellectually offensive and by the sixth interview...
most chapters are very interesting

Derived From Web

, Dec 4, 2019

In the Kindle version of this book, this book has a significant error : the chapter on Jefferson states that John Adams was elected president in 1800. Totally inaccurate. How could this mistake appear in this book?
Absolutely Required Reading

Derived From Web

, Dec 3, 2019

It was recently reported that three quarters of natural born American citizens can not pass the three branches of the government and 90% could not name the citizenship test. Because reading books like this isn 't required and no one is learning civics and history. My father was a high school teacher in Chicago and public school history. grew up with a strong sense that history is important. For those of you who know perhaps not as much as you should about our history as a nation, start here. It is outstanding and will change your life. When you are finished, pass it on.
Insights on how historians see history

Derived From Web

, Nov 25, 2019

This is a fascinating book, a collection of interviews with notable historians, such as Doris Kearns Goodwin, David McCullough, and reporters such as the late Cokie Roberts and Bob Woodward, who also wrote about history in addition to reporting. The interviews show how their minds cover a subject such as Lincoln or Washington and there are asides that are just interesting to other great men. It is a book that you can read a section, then move on, later. It is therefore perfect for short bursts of reading and very thought-provoking.