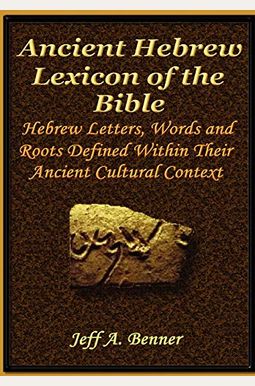 
 
The Ancient Hebrew Lexicon of the Bible
Book Overview
All previous Biblical Hebrew lexicons have provided a modern western definition and perspective to Hebrew roots and words. This prevents the reader of the Bible from seeing the ancient authors' original intent of the passages. This is the first Biblical Hebrew lexicon that defines each Hebrew word within its original Ancient Hebrew cultural meaning. One of the major differences between the Modern Western mind and the Ancient Hebrew's is that their mind related all words and their meanings to a concrete concept. For instance, the Hebrew word chai is normally translated as life, a western abstract meaning, but the original Hebrew concrete meaning of this word is the stomach. In the Ancient Hebrew mind, a full stomach is a sign of a full life. The Hebrew language is a root system oriented language and the lexicon is divided into sections reflecting this root system. Each word of the Hebrew Bible is grouped within its roots and is defined according to its original ancient cultural meaning. Also included in each word entry are its alternative spellings, King James translations of the word and Strong's number. Indexes are included to assist with finding a word within the lexicon according to its spelling, definition, King James translation or Strong's number.
Frequently bought together
Frequently Asked Questions About The Ancient Hebrew Lexicon of the Bible
Books like The Ancient Hebrew Lexicon of the Bible
Book Reviews
(12)
Did you read The Ancient Hebrew Lexicon of the Bible? Please provide your feedback and rating to help other readers.
Great Study Resource

Derived From Web

, Jun 2, 2022

The book of Jeff Benner is a valuable tool in studying the essence of Hebrew root words and how they work. Some of his Aleph-bet definitions are considerably different from Frank Seekins's definitions in his book, Hebrew Word Pictures, but that helps some of the pictographic explanations. I would have liked more information about how Mr. Benner arrived at the definitions of some of the Hebrew pictographs, but overall this book is very helpful in my studies of ancient Hebrew.
New Concrete Understanding

Derived From Web

, Jun 2, 2022

Book is excellent! When I read the Tanakh now, it is almost like watching a movie. This is one of my most common books in my collection. I recommend it highly to anyone who likes to study. This book brought a weekly Zeal to our renewed Torah study group.
Waw is 9 and not 6???

Derived From Web

, Jun 2, 2022

This incorrectly gives the numerical value of waw as 9, not 6. In return, the cake is given as 6 and not as 9.
Valuable study aid!

Derived From Web

, Jun 2, 2022

For anyone who wants to go deeper in their Bible studies, this is a must have. Our study group uses this word study every week in order to help us understand more of what we are reading in our Bibles.
Great in-depth resource

Derived From Web

, Jun 2, 2022

In-depth resource : If one strives to gain knowledge of the Torah, they will be well served by the Lexicon.
Esoteric lexicon of proto-Canaanite hieroglyphics (not Biblical Hebrew)

Derived From Web

, Apr 12, 2021

This is not an ancient lexicon of Biblical Hebrew, but an esoteric lexicon of proto-Canaanite hieroglyphics. It may be helpful for specialized archaeology students, but not for students of the Hebrew text in the Bible.
Wasted money/incomplete

Derived From Web

, Oct 11, 2020

All this information is stuff you can get for free, nothing useful in this, not what I expected, missing everything you need, things it said it does not have! What a waste of MONEY! VERY DISAPPOINTED and DISSATISFIED... WOULDN'T RECOMMEND TO ANYONE FOR ANYTHING! Ink - Paper Waste!!
Not What I Expected

Derived From Web

, Jul 3, 2019

I thought that this book would translate from Hebrew to English so that you could understand the ancient text and its meaning. I actually thought it was a Hebrew Bible with an English subtext, so that you could understand. That is why a sneak peak at a book and it's content is helpful before you buy it.
my husband loves it

Derived From Web

, Oct 31, 2018

My husband has been studying the Bible for about 40 years now. He loves this book and has given him some really valuable insights. The authors sincerely thank you.
This book along with others help to take The Scriptures ...

Derived From Web

, Dec 24, 2017

This book along with others helps bring the scriptures back to the language and meaning in which they were originally written.