Buy 3 Get 1 Free
Our Best Sale Yet! Add 4 Books Priced Under $5 To Your Cart Learn more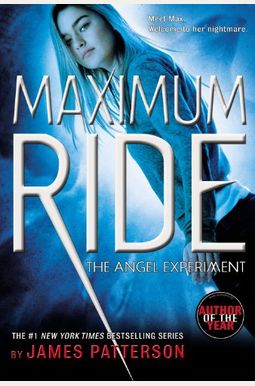 
 
Book Overview
In James Patterson's blockbuster series, fourteen-year-old Maximum Ride, better known as Max, knows what it's like to soar above the world. She and all the members of the flock--Fang, Iggy, Nudge, Gasman and Angel--are just like ordinary kids--only they have wings and can fly. It may seem like a dream come true to some, but their lives can morph into a living nightmare at any time.like when Angel, the youngest member of the flock, is kidnapped and taken back to the School where she and the others were experimented on by a crew of wack jobs. Her friends brave a journey to blazing hot Death Valley, CA, to save Angel, but soon enough, they find themselves in yet another nightmare--this one involving fighting off the half-human, half-wolf Erasers in New York City. Whether in the treetops of Central Park or in the bowels of the Manhattan subway system, Max and her adopted family take the ride of their lives. Along the way Max discovers from her old friend and father-figure Jeb--now her betrayed and greatest enemy--that her purpose is save the world--but can she?
Frequently bought together
Frequently Asked Questions About The Angel Experiment
Book Reviews
(16)
Did you read The Angel Experiment? Please provide your feedback and rating to help other readers.
I have enjoyed the whole series and now my 12 year old is begining to read them as well.

Derived From Web

, May 20, 2022

I read every book in the Maximum Riding series and am now getting my 12 year old into them. She has bought this one and she loves it. I have enjoyed talking with her about the characters, the plot and the science of it. The writing style and content are good for pre-teen to adult, although I say that the last book had some adult themes in it that would keep me from reading it. This first book is my favorite from the series. Honestly, I think that each gets a little bit more realistic and there is a lot of repetition as the books progress.
It's unmistakably a James Patterson series, but for a younger audience. (Grown-ups can enjoy it too.)

Derived From Web

, May 20, 2022

The Maximum Ride series is aimed at the young adult market, and I'm a sixty-something. I bought the series for my step-daughter, read this first volume and bought the Kindle editions for myself. I grew up on both science fiction and comic books, so I am comfortable with stories about mad scientists and super-beings. This series brought me back to my youth, so to speak. And yes, it is *that* James Patterson -- actually reimagined characters from a couple of his adult novels, but he doesn't write in any noticeable way to his younger audience. This review was sparked by my buying a new copy of The Angel Experiment for my grandson, who had already gone through the middle school series of Patterson and the recent film.
Too Much Fantasy

Derived From Web

, May 20, 2022

Just not my kind of book. Well written by Patterson, but not realistic like his other books. Normally, I can not wait for the next book in his series novels, but I don 't think I even consider the next in this specific series. It just did not seem to be up to the normal content of the excitement I expect to see from him.
everyone, stop dissin james patterson.

Derived From Web

, May 20, 2022

I have not read any of this Authros books, other than the witch and wizard books. I think this is a good book and everyone who is mean about this book should UNDERSTAND tha this is a Chilrens Book. Sure, it left people questioning and wanting more, but you act as if there is only one book in the series. Just a little FYI, there are 3 of these books, so read the second and third book just as much as you hate this book. I liked the book, but I almost didn 't finish it because it annoyed me that Ari kept coming and thy kept being caught. Overall, a pretty okaay book. Imma now read the 2nd and the 3rd. Horid Grammar Excuse : muhh - Horid.
Haven't read yet

Derived From Web

, May 20, 2022

I am currently unable to read this book as I have over 50 books waiting to be read on my Kindle. I look forward to it, though. There should be some way to allow reviews to be delayed until you are actually able to use the product, rather than looking like you don 't care and or are not willing to leave a review.
Great series

Derived From Web

, May 20, 2022

I love and have always loved James Patterson's work. The Maximum Ride series is something I am able to share with my 12 year old son, who has a learning disability. Needles to say that he usually hates reading. These stories have opened him to how magical and wonderful reading can be, and makes me incredibly happy. Not to mention, I love the series myself! I have read all the Maximum Ride stories numerous times and now my son is on the second book and constantly asking me when the movies will start coming out!
It was FREE on Kindle!

Derived From Web

, May 20, 2022

This is by far the best of the five or six free Kindle books I have ever read. Yes, it is kind of silly and hokey in parts, and the sudden reappearance of the bad erasers from nowhere got tiresome, but in the end it was an entertaining, quick read. It was not engaging enough to make me want to buy the other books in the series, but it did provide a few hours of tangentialization.
Enjoyable popcorn type book.

Derived From Web

, May 20, 2022

Haven 't yet committed to the series, but it was a decent read. Takes a novel approach to the sci-fi fantasy genre that works out for most part. James takes the opportunity to speak directly to the reader through the main character.
Stayed up late to read

Derived From Web

, May 20, 2022

I did not know that it was a series. Although I normally don 't like series, I loved this one. I bought the 2nd one immediately and then the 3rd. I enjoyed it all three. Good paced, fast characters and lots of action. stayed up late repeatedly to see what happened. I like to work on my way to listen.
Max Ride book

Derived From Web

, May 20, 2022

I bought this book for my ten year old to give her something different to read after another Rick Riordan series. ) She has read every Riordan book she ever devoured and I was looking for a different kind of story line to offer her another avenue. The week after this one we ordered the second book and now have books three and four on the way!