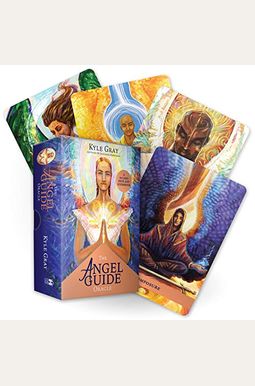  
The Angel Guide Oracle: A 44-Card Deck And Guidebook
Book Overview
From bestselling angel author, this oracle deck reminds spiritual seekers that loving, divine guidance is always available to anyone.
This powerful oracle invites you to connect with your very own guardian angels, and shares 44 powerful messages of divine inspiration, love and positive action.
Did you know that your angels are constantly ready to share guidance with you? Yet so often we're distracted by daily life and don't recognize these divine signs when they come our way.
The Angel Guide Oracle
acts as a bridge between heaven and Earth, bringing together 44 images of guardian angels with insightful, supportive, and healing keyword messages to help you activate your intuition, strengthen your communication and open your heart to their messages of love. The accompanying guidebook explains how to attune to the cards, conduct angel readings for yourself as well as for others, and how to work with card spreads. When your heart seeks transformation, when your soul seeks truth, call upon your angel's wisdom and their infinite compassion will lead you on your path.
Frequently Asked Questions About The Angel Guide Oracle: A 44-Card Deck And Guidebook
Book Reviews
(14)
Did you read The Angel Guide Oracle: A 44-Card Deck And Guidebook? Please provide your feedback and rating to help other readers.
BEAUTIFUL

Derived From Web

, Jan 12, 2022

LOVE is all that I have. Get your hands on this one today! They are so beautiful and such excellent quality, said Kristen. The back of the card is glossy and thick. The book is very detailed, and I highly recommend it to anyone.
Amazing!!

Derived From Web

, Mar 18, 2021

I can't say enough good things about these cards. In an interview, McCartney said that he became "very emotional" reading the messages that came through. I can't wait to use them!
Tremendous messages, Awful illustrations

Derived From Web

, Feb 10, 2021

I really dislike the illustrations, Mr. Booher told the judge. The boys are off-putting. The rest of the illustrations are of people with elongated noses and no personality or essence. One of Gray's other oracle decks, the Angels and Ancestors, is superbly illustrated. The two decks are great complements, and I highly recommend using both, Bruno said. I sure wish that Hay House and Kyle Gray would find another artist to republish the Angel's Guide oracle card deck. I would be the first to buy it.
Amazing deck

Derived From Web

, Jan 15, 2021

This deck is amazing and though the box is very hard to open for me, I can look past that but if that's a dealbreaker for you keep a note of that, I connected with my angels right away!
PERFECT

Derived From Web

, Dec 8, 2020

One of my all-time favorite decks. I love reading with oracle and I thought it was perfect how unlike other decks I have it had a YES and NO card..
Awesome card deck!

Derived From Web

, Dec 5, 2020

Great deck of cards for both practicing and professional careers, he said. Easy to use, beautiful images. Great for personal use or gifting, the Cordura product is a must have.
DIVERSITY DECK YES! IN LOVE

Derived From Web

, Nov 20, 2020

They're great cards, said Michael Daschle, senior vice president of product development at Oracle. I had no symptoms of illness and have had no problems for 2 1/2 months. I had such a deep connection to the moment I laid eyes on them that receiving them was just beautiful, she said. These are some of the prettiest cards I've seen. The guidebook gives you meaning of the images, an overview of the meaning and additional messages which are incredibly helpful! The book is a solid and useful resource. The quality of the cards is excellent and I know they will last a very long time. I'm delighted the clients have found the time to enjoy these readings.
Meh I Could Live Without Them...

Derived From Web

, Oct 19, 2020

It's just that I received the deck without any plastic wrapping. The back of the card had no paper, leaving the reader no way to keep them bound. The problem is, the indexes were out of order. It looked like someone took a look at the back of the card before delivering it to me, he said. After cleansing and sageing my deck, I looked at every card. They're okay, but I think by them being tampered with there were blockages between me and them, Mr. Dhaliwal said. I pick up energy really easily, Mr. Dhaliwal said. I'll have to spend time with this deck, Mr. Rule told the judge. I wasn't interested in the back of the cards, Tunick said. Some of the pictures are beautiful, McCartney said. Overall, I felt like they were growing on me, but maybe they'll grow on me.
All Thumbs up

Derived From Web

, Sep 13, 2020

The oracle deck has all but disappeared. Thanks so much for creating this beautiful piece of work. It's beautiful in every way, I highly recommend it.
I love my new Angel Guide Oracle Cards...

Derived From Web

, Sep 6, 2020

Thanks for sending this out so quickly!!!!!!!!! As soon as I got it, I immediately opened it and skimmed the book. I've used it, but I'm not using it yet. I never knew there were such cards. He said he was only told by others about tarot cards. At first, I was mostly trying to find a book about seeing repeating numbers or even seeing reoccuring numbers, and ended up with this card deck. I believe these cards were intended for me to find them, Mr. Rule told the judge. I intend to cherish and keep them, Ms. Frost said. Thanks again for your patience.