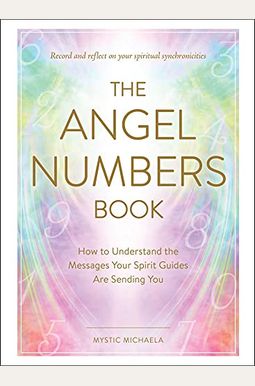 
 
The Angel Numbers Book: How to Understand the Messages Your Spirit Guides Are Sending You
Book Overview
Interpret the messages from your spirit guide and discover what your angel numbers are trying to tell you in this enlightening, informative guide to numerology.
You pull into your driveway and your clock reads 11:11 exactly; your favorite song runs three minutes and thirty-three seconds; on your drive to work, you are following a car whose license plate number ends in 1234. Are all these number coincidences or do they mean something more? In this book, you will find the meaning behind these angel numbers and discover what the universe and your spirit guides are trying to tell you. Like your daily horoscope or tarot card pull, your angel numbers are there to guide you: and
The Angel Numbers Book
can clue you in on what they're trying to say. With clear insight behind the meanings of angels numbers and sequences you encounter, this book is an accessible and inspirational reference to keep at hand.
Frequently Asked Questions About The Angel Numbers Book: How to Understand the Messages Your Spirit Guides Are Sending You
Book Reviews
(18)
Did you read The Angel Numbers Book: How to Understand the Messages Your Spirit Guides Are Sending You? Please provide your feedback and rating to help other readers.
Incredible

Derived From Web

, Mar 5, 2022

Michaela is a star. I'm just dabbling into angel numbers now, but I trust her insight because of her aura powers. This book is very informative, fun, and thorough, Raymond said. It's great to be able to pick it up once a week to look at certain numbers. Thanks to Michaela for the photo.
GET IT

Derived From Web

, Mar 5, 2022

I've learned so much about how angels speak to us and how the universe personalizes your messages to you. Even if you don't believe in angels, you can still learn a lot. Michaela is incredibly insightful and gifted, I have grown so much since discovering her. Berkshire Hathaway made profits of $1.7 billion last year alone, its best performance.
Best Angel number book out there!!

Derived From Web

, Mar 5, 2022

Such a great number book! You have descriptions of all the numbers in the Angel database. It has helped me so much with connecting with my angels and interpreting what they are trying to tell me, Melissa said. HIGHLY recommend this book. It's great to be back home, said Blair.
Amazing book! Literally use it every day!

Derived From Web

, Jan 22, 2022

I absolutely love the book, said Blair. We use it every day to gain meaning from the numbers we see and to understand the messages our angelsspirit guides are sending us. We love her, she is soooo incredible and we can't wait for her next book! It's great to be back home, said Blair.
A Must Have!!

Derived From Web

, Jan 14, 2022

As a member of the book club, I was too excited to purchase it. It is a wonderful reference guide for absolutely everyone! It has helped to deepen my connection with spirit and allows me to receive messages I wouldn't have otherwise picked up on. It's worth the investment.
The epitome of self-empowerment

Derived From Web

, Jan 7, 2022

This book is truly exceptional, said Dr. Goin. Thanks for this gift, said Diana.
Mystic Michaela is someone everyone should know

Derived From Web

, Dec 28, 2021

I have had the pleasure of following Mystic Michaela for years and she has really been a bright light in my life, she said. I am very excited for the book and the fans, she said. Thanks for everything Scott and Megan have done for us! Jumanji: The untold story of how India's best engineers came to be.
Easy to follow guide to seeing numbers

Derived From Web

, Dec 27, 2021

This book is a great reference for anyone who wants to know the meaning behind numbers in their lives. It is organized in a way that makes it easy to understand the meaning of numbers, how to look for them, and what to do with them. Simply type the numbers you're looking for and they will appear in a few seconds. There is also a section to document numbers you see and what was happening at the time. I would recommend this course to anyone who is interested in learning more about number meanings.
Disappointment

Derived From Web

, Dec 24, 2021

The book only goes into the numbers from 0 to 999. It makes absolutely no mention of the most universally known angel number of all, 1111 or 1212 or even 1010 which was the reason I got this book so I can learn more about these numbers. He said Blair's performance was "disappointing."
Waste of money

Derived From Web

, Dec 21, 2021

The book arrived damaged and I took it as a sign to return. Basic and not much different than the Doreen Virtues angel number book. The second part says it goes from 0 to 999, but there is no reference. The number 1111 is the main number everyone is seeing. It's just that nobody mentioned it. I'm guessing all of the positive reviews are followers of this mystic.