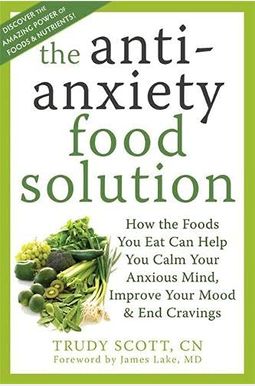 
 
The Antianxiety Food Solution: How the Foods You Eat Can Help You Calm Your Anxious Mind, Improve Your Mood, and End Cravings
Book Overview
It's remarkable how much the foods we eat can impact our brain chemistry and emotions. What and when we eat can make the difference between feeling anxious and staying calm and in control. But most of us don't realize how much our diets influence our moods, thoughts, and feelings until we make a change.
InThe Antianxiety Food Solution, you'll find four unique antianxiety diets designed to help you address nutritional deficiencies that may be at the root of your anxiety and enjoy the many foods that foster increased emotional balance. This helpful guide allows you to choose the best plan for you and incorporates effective anxiety-busting foods and nutrients. You'll soon be on the path to freeing yourself from anxiety--and enjoying an improved overall mood, better sleep, fewer cravings, and optimal health--the natural way The book also includes an easy-to-use index.
In The Antianxiety Food Solution, you'll discover:
How to assess your diet for anxiety-causing and anxiety-calming foods and nutrients
Foods and nutrients that balance your brain chemistry
Which anxiety-triggering foods and drinks you may need to avoid
Easy lifestyle changes that reduce anxiety and increase happiness
Frequently Asked Questions About The Antianxiety Food Solution: How the Foods You Eat Can Help You Calm Your Anxious Mind, Improve Your Mood, and End Cravings
Books like The Antianxiety Food Solution: How the Foods You Eat Can Help You Calm Your Anxious Mind, Improve Your Mood, and End Cravings
Book Reviews
(11)
Did you read The Antianxiety Food Solution: How the Foods You Eat Can Help You Calm Your Anxious Mind, Improve Your Mood, and End Cravings? Please provide your feedback and rating to help other readers.
Anxiety or lack of sleep

Derived From Web

, May 22, 2022

If you are one of the millions of people who suffer from this condition. It will definitely help you on the road of recovery, which can be 100%.
and it was the best $15 I ever spent

Derived From Web

, May 22, 2022

This book has changed my life. I heard Dr. Sean Croxton during an interview with Trudy Scott on Underground Wellness and her revelations about the connection between what we ingest and how our minds work. Not only have I been able to stop taking an antidepressant and sleep medication, but I now have hope that I can truly balance my own biochemistry. It is really a shame that most doctors do not study nutrition, for if they did, we would have a much healthier population. Thank goodness, Dr. Scott has been successful in her research and her ability to disseminate her findings. If you have problems with anxiety, depression or insomnia, I highly recommend reading this book.
She's a smart Lady who knows her stuff

Derived From Web

, May 22, 2022

She writes like she speaks, which is enjoyable for me. I can understand it.
Some great information for anyone suffering from anxiety

Derived From Web

, Aug 2, 2020

Both my husband and my daughter suffer from anxiety. In the last few years I learned a lot about the role of diet, but I love how Trudy Scott explains what foods and supplements work best. So many people, especially our young people, are suffering from anxiety. The biggest change in the last few decades is food and what is in it. I highly recommend this book to anyone who wants to start a path of well being. I have shared the information from the book with my 26 year old daughter and purchased some supplements for her to start : Trudy, thank you for giving people who suffer from anxiety and those who love them hope!
One of my all time favorite health books and ranks second on my list.

Derived From Web

, Dec 15, 2019

This is one of the best books I have ever read in my life. I would recommend to anyone who wants to improve their lives to buy this book and have allergy testing, and I highly recommend reading this book before reading it, so that you can understand what she is talking about. The testing will place you way ahead of the book, so that you know what diet plans you will need to be on. Otherwise, you will have to reintroduce these foods and eliminate them back into your life, and see if you still have a problem with food. This takes so much time and sometimes we just don 't have it these days.
It wasn't worth the money. Just meh.

Derived From Web

, Nov 15, 2019

The author kept repeating the same thing over and over again. Dark, leafy greens and real, whole food, I'd skip this one, folks. It did not tell me anything that I didn't already know. Pretty common sense.
This book is a go-to resource

Derived From Web

, Jul 13, 2019

As a certified functional nutrition and lifestyle practitioner and certified eating psychology coach, many of my clients struggle with general anxiety as a result of andor a contributing factor to a disordered relationship with food and body. Trudy Scott's book speaks to the root cause of anxiety and offers easy to implement solutions that help those struggling to be more receptive to the recovery process. I can also speak as a consumer, as I have fought with anxiety for more years than I can count. I followed her suggestions about diet and supplementation and can report amazing results. This book is a reliable resource and should be part of everyone's library, whether you are a clinician, a patient or simply someone who suffers from anxiety and seeks common sense self-care.
Good ideas, but...

Derived From Web

, Nov 13, 2017

However, this book seems to be based a lot on Julia Ross'apos ; Diet Cure and The Mood Cure so that I wish I hadn 't bought it since I already own those two books. Plus, the Kindle formatting has some problems in this book.
Eye opener!!

Derived From Web

, Oct 16, 2017

This is a must read book! I ordered the book, finished the supplements and went grocery shopping. I am ready for this lifestyle change!
Worth your time to read - if you apply the information it can change your life

Derived From Web

, Jul 17, 2017

I can not say enough great things about this book, it is life changing! I recommended it to several close friends and family. To know that there are specific amino acids that affect your anxiety level directly, change the game! Tryptophan has been a life saver for me, but there is so much information in this book for anyone suffering with anxiety.