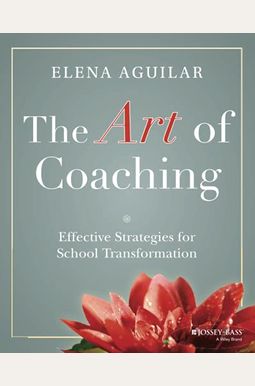 
 
The Art of Coaching: Effective Strategies for School Transformation
Book Overview
The Art of Coaching offers all the tools necessary for professionals who coach educators. It demystifies the process of coaching with easy-to-apply, immediately actionable ideas. Elena Aguilar offers a model for transformational coaching designed for new and veteran coaches, teacher leaders, mentors, principals, and other administrators.
This comprehensive research and practice-based guide covers how to create a coaching vision, build trust, listen well, ask powerful questions, and develop a work plan. It also addresses coaching conversations and describes dozens of coaching activities to develop an educator's practice. The Art of Coaching highlights common challenges followed by creative solutions. It's filled with numerous practical tools: rubrics, cheat sheets, and coaching sentence stems. The concluding section on professional development is geared for coaches and those who supervise them. The website, www.elenaaguilar.com, provides a wealth of additional tools and tips.
Praise for The Art of Coaching
This book challenges coaches to be fully intentional--with equal doses of care and rigor.
--Lynda Tredway, Independent Leadership Coach, Washington D.C. and former coordinator, Principal Leadership Institute, U.C. Berkeley
Elena Aguilar knows how to foster the bravery and humility teachers must have to Read More chevron_right
Frequently Asked Questions About The Art of Coaching: Effective Strategies for School Transformation
Books like The Art of Coaching: Effective Strategies for School Transformation
Book Reviews
(15)
Did you read The Art of Coaching: Effective Strategies for School Transformation? Please provide your feedback and rating to help other readers.
A treasured resource

Derived From Web

, Apr 20, 2022

This book is unlike any other that I have found and I have walls of books on education, school reform and the like. The Art of Coaching, though, offers both a very practical, concrete and path into accessible coaching, and it is so much more sophisticated and nuanced than that. In addition, we have a team of five coaches who meet monthly to review the program. Sometimes we rad from it, we always apply the lenses and it always supports us and helps us to grow, Bruno said. This is a great deal, said Dr. Steve Dixon, director of the NIH's Ames Research Center in California. I've been a high school teacher and assistant principal and now coach math. The book would have been applicable to all of those roles, he said.
You will never regret the read or the discussion of this book

Derived From Web

, Apr 20, 2022

If you have a new coach in your school or system, this is a must read. Before I came to UCLA, I had served as a coach and had never put words to my thoughts. This is a great starting point and I'm sure we'll see great things from it. Coach principals who know it all to brand new teachers without a clue.
A Step-by-Step Guide to Coaching

Derived From Web

, Apr 20, 2022

Whether you have been a coach or have been doing it for years, this book gives you a frame on how to approach your practice. It is relevant for leadership and instructional coaches and anchors itself in theory, which is framed by six lenses in the Coach's Optical Refractor. In addition, the book includes personal stories of the coach and client, and reflective prompts that align theory into practice. It doesn't waste a lot of time getting into unnecessary details of the theory, but more into the how of coaching, he said. Now I have bunny ears, dog ears, and elephant ears to mark all the necessary pages that I go over and over again to complete each client meeting.
Comprehensive, Practical & Inspirational

Derived From Web

, Apr 20, 2022

She has done an outstanding job of synthesizing the essential frames and best practices of expert coaches into a superbly instructive and inspirational work. I was extremely impressed by [Marcia] Meyers' ability to create a coaching book that is so comprehensive, yet clear, readable and immensely practical for educators of any level. This book is especially useful for teachers, school administrators and community leaders working toward transformation and equity in schools, communities and personal relationships.
Inspiring, Useful

Derived From Web

, Apr 20, 2022

When I opened this one, I had a hard time putting it down. It's a book that combines practicality and prose. I still use many of the charts and frameworks. Highly recommend to all coaches, not just the new ones, he said.
Excellent Read for All Educators

Derived From Web

, Apr 20, 2022

This book is so valuable for school leaders, district leaders and coaches. The book shows how transformational coaching can make a major impact on a school, on students and on the human beings involved, he said. I love how this book has multiple audiences so you can read it from the lens of a teacher, principal, coach or district leader. In her book, Ms. Aguilar draws on related work that helps the reader build context while putting forth her own beliefs and definitions of transformational coaching.
One of the best books out there on Instructional Coaching

Derived From Web

, Apr 20, 2022

This is by far the best book I have read. Whether you are new to coaching or a veteran looking to push your skills forward this book is for you! This book is a mix of thought-provoking ideas and practical strategies. I highly recommend this book to any instructional coach or looking to set up an instructional coaching model.
If you care about equity this is a must read

Derived From Web

, Apr 20, 2022

In her book, Coachspeaks, she frames the issues well and offers practical strategies for helping instructional coaches have hard conversations about students which are achieving and which ones aren't. Future educators will find this book useful for many years.
The gold standard for instructional coaching

Derived From Web

, May 10, 2021

I was a coach before I read this book, and often felt both my head and my heart pulling me away from a different way of coaching. When I read about it, I had to admit that I had no idea why. This is not a one-to-one reading and/or workshop experience. Rather, it's a book you just keep coming back, over and over, to continually refine your practice.
This book is pack of lots of ideas strategies guidance techniques and full of insights.

Derived From Web

, Mar 6, 2021

I really am enjoying reading this book, I have no regrets purchasing it and even though I'm not a coach there are strategies and techniques that I can use to incorporate into my own teaching and also my every day life, he said.