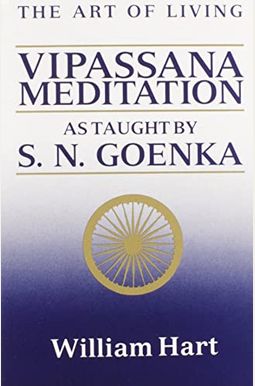 
 
The Art Of Living: Vipassana Meditation: As Taught By S. N. Goenka
Book Overview
The Ancient Meditation Technique that Brings Real Peace of Mind
Vipassand-bhavand, the development of insight, embodies the essence of the teaching of the Buddha. As taught by S. N. Goenka, this path to self-awareness is extraordinary in its simplicity, its lack of dogma and, above all, its results. The Vipassana technique can be successfully applied by anyone.
Based on the lectures and writings of S. N. Goenka--and prepared under his direct guidance--The Art of Living shows how this technique can be used to solve problems, develop unused potential, and lead a peaceful, productive life. It includes stories by S. N. Goenka, as well as answers to students' questions, that convey a vivid sense of his teaching.
S. N. Goenka's Vipassana courses have attracted thousands of people of every background. Unique among teachers of meditation, Goenka is a retired industrialist and former leader of the Indian Community in Burma. Although a layman, his teaching has won the approval of senior Buddhist monks in Burma, India, and Sri Lanka, a number of whom have taken courses under his guidance. Despite his magnetism, he has no wish to be a guru --instead he teaches self-responsibility. This is the first systematic study of his teachings to appear in English.
Frequently Asked Questions About The Art Of Living: Vipassana Meditation: As Taught By S. N. Goenka
Books like The Art Of Living: Vipassana Meditation: As Taught By S. N. Goenka
Book Reviews
(8)
Did you read The Art Of Living: Vipassana Meditation: As Taught By S. N. Goenka? Please provide your feedback and rating to help other readers.
A very good and practical explanation

Derived From Web

, Feb 8, 2022

I have read many books about Buddhism.I found this book to be the most straightforward and practical explanation of the theory, with a small amount of nonessential content. The book marked a tipping point in my practice when theory shifted into direct- experience. The book has become one of my favorites and I give it to people who are curious about it.I encourage you to read or listen to this book if you are interested in the Buddha's path.
The basic "bible" of Vipassana

Derived From Web

, Feb 8, 2022

T his book is 3000 years old. There was no hand waving guide to sit. You will often wonder if you are spending your time. You are absolutely not. It will make you better.I would recommend a few sources, but this is strongly recommended. Just practice, practice, practice. The book that saved my life was one of the things that got me there. It's Metta!
Perfect companion for Vipassana students

Derived From Web

, Oct 26, 2020

I have been meditating at home for ten and five days.I have a lot of books on meditation, some of which are on vipassana.I also listen to the S.N.A person who meditates will always have questions, so Goenka has to check in on how I am doing, from time to time. This book shows me what I'm doing right and makes me feel better about what I might not be doing right.I am not sure if it would have had the same value if I hadn't completed it. There is something on every page that makes me feel good. It is relevant for an old student. Beyond the Breath is also recommended by me.I have the paperback and the audible book.I usually read the same section after listening to a chapter.
Please read! Many times!

Derived From Web

, May 21, 2020

T his is the best book I have ever read.I have a lot of self help books, but this is on my top 5.I like the fact that this is easy to read and follow.I was made to think about life and happiness. While I won't go extreme and into the wilderness, practicing daily makes a lot of improvement as far as your inner world is concerned.I love this book and you will as well.
Indispensable book for anyone interested in vipassana.

Derived From Web

, Jul 13, 2019

S.N will teach a 10 day vipassana course next month. There is a person called Goenka. The book helped me understand the purpose of the course and what vipassana is all about. The book is well written.I'm so happy I found it.I'm buying more copies for friends.
Manual for living a happy, balanced life

Derived From Web

, Nov 20, 2018

T his is one of the more helpful books I have read on meditation, it is specific to the technique of vipassana.I will be undergoing the experience myself in a few weeks, so I read it to better understand the origin, history and why of the meditation. The book is not a good guide, so you may have to go to a 10- day course. The first type of wisdom is accepted when one accepts the wisdom that he reads or hears. The second is intellectual, which goes one step further in that the individual evaluates, researches andValidates the learning before accepting it as truth. Experiential is the most powerful and beneficial, in which one experiences truth himself. What you do with this book is up to you.
A bit more then the training videos.

Derived From Web

, Apr 19, 2018

Y ou can find a lot of the same material here if you' ve watched G. N. Goenka's videos. There are some interesting question and answer sessions in the book. It's worth it to get to supplement your vipassina training.
If you have completed a 10-day Vipassana course, you ...

Derived From Web

, Aug 14, 2017

Y ou will be familiar with what Hart presents in his book if you have completed a 10- day course.I have found his way of presenting the material in a way that is true to the original content. An old student can read this to understand the process better. If you haven't completed a course, there is information that can help you understand the original intent of Siddhartha, the Buddha.