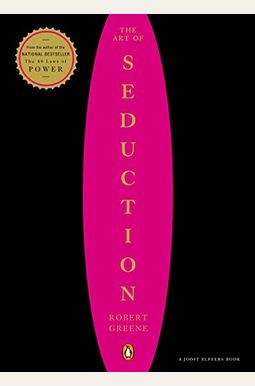 
 
Book Overview
From the author of the multi-million copy bestseller The 48 Laws of Power and The Laws of Human Nature, a mesmerizing handbook on seduction: the most subtle and effective form of power
When raised to the level of art, seduction, an indirect and subtle form of power, has toppled empires, won elections and enslaved great minds. Immerse yourself in the twenty-four maneuvers and strategies of the seductive process, the ritual by which a seducer gains mastery over his target. Understand how to Poeticize Your Presence, Keep them in Suspense - What Comes Next and Master the Art of the Bold Move. Every bit as essential as
The 48 Laws of Power
,
The Art of Seduction
is an indispensable primer of persuasion that reveals one of history's greatest weapons and the ultimate form of power.
Frequently Asked Questions About The Art Of Seduction
Books like The Art Of Seduction
Book Reviews
(7)
Did you read The Art Of Seduction? Please provide your feedback and rating to help other readers.
Worth it

A great book at a great price. Thank you second sale.
We all know plenty of people who aren't the best looking but have that star power to command a ...

Derived From Web

, Feb 8, 2022

After reading 48 Laws of Power, I was excited to discover that there were two more reads in the series. The book taught me that attraction is more about how you carry yourself than your looks. This is where the book shines, because we all know a lot of people who aren't the best looking but have that star power to command a room. If you want to be less socially awkward and have a stronger presence, this book can help you.
The worst reading experience of my life.

Derived From Web

, May 21, 2019

The mass market version has the regular paper back version. Thin cheap pages with text. It's weird because they overpaid a junior designer. It looks like a bible church buys in bulk to fill the pews. I have normal reading eyesight, but have to squint to hold the pages from my face. I prefer a physical copy of this book, even though I'm returning it for the Kindle version.
On the book, and people complaining that it's a psychopath how to guide...

Derived From Web

, Aug 27, 2018

The rules in this book have been tried and true throughout history, and are still being used today. A lot of people are upset that this book is a guide to being a sociopath. The reality is that if you approach it from the perspective that you should follow every rule to the T, you should be able to use them to your advantage. You can use these tactics to your advantage. When asked if he follows all of his rules he said " Everyone assumes I practise all of my own laws but I don't." I don't think anyone who did would be a good person to hang out with. Use these tactics to get the job done. The dating aspect can be used to make sure good people don't get lured by psychopaths, and you can use this to get someone you like, while helping them avoid the genuinely bad.
Delightfully entertaining and enlightening, this is another great one by Robert Greene.

Derived From Web

, Jul 25, 2018

If you want to know what people do, look at what they do. This book will show you why people make choices in intimate relationships. It will help you understand how humans are. The information contained in it can be used to keep the romance alive in your intimate relationships. The historical illustrations and references to literary classics will definitely be on my TBR list. Robert's Greene's bold language invites you to take a stroll in the dark and explore the depths of your shadow. It was more interesting than the 48 laws of power that I was familiar with.
Good read!

Derived From Web

, Feb 19, 2018

I like all the books by Robert. One of my favorites so far is this one. It's really applicable to everyday life if you' re dealing with a lot of different people. There are a lot of important points in this book.
Scary, but better have and not need than to need and not have.

Derived From Web

, Jan 11, 2018

If there is a reason to recognize the techniques, it is very useful knowledge. A great book.