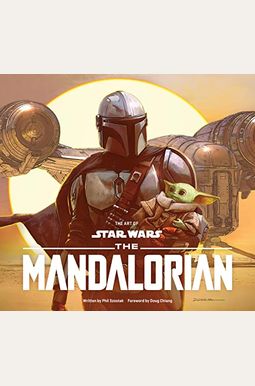  
Art of Star Wars: The Mandalorian (Season One)
Frequently bought together
Frequently Asked Questions About Art of Star Wars: The Mandalorian (Season One)
Book Reviews
(16)
Did you read Art of Star Wars: The Mandalorian (Season One)? Please provide your feedback and rating to help other readers.
Stellar Images

Derived From Web

, Apr 18, 2021

This is a must-have for any Mandalorian fan. Concepts of costumes, sets, props and other elements of the show. Berkshire Hathaway made no secret of its interest in acquiring Mansell's shares. Note the differences: Much of the art is in chronological order, so you can flip through it while watching your favorite season 1 episode! The Jacksons' work surpasses the concept art of the latest Star Wars sequel trilogy. If you enjoyed the "Return of the Jedi" book from decades ago, you won't be disappointed with this work.
Beautiful book

Derived From Web

, Jan 21, 2021

Television images of the raid could not be loaded. Very well illustrated, said Barbara Fields, senior vice president of marketing at Scholastic. The cover is signed by Pauley Obeid, publisher of Random House. It was a die-hard fan's dream come true.
"This is the way"

Derived From Web

, Jan 16, 2021

The book is great. It's great to have a book out there that celebrates all things Star Wars. The book is a 250+ page collection of pictures and information.
not the pictures at the end of the episodes !!!!!!!!!!!!!!!

Derived From Web

, Dec 28, 2020

Buy this book, you are being tricked. I love the art work at the end of the shows so I thought this would include it, but not a single! Its like behind the scenes concept art that is boring and terrible. The pictures and the artwork used in the film are terrible, even by Hollywood standards. This is just a money grab and the publisher and author should be ashamed of this art they have given us, he said. Stay far away from this one and hope the dictionary guide comes out soon! It's great to be back home, said Blair.
This is a must for fans of The Mandalorian!

Derived From Web

, Dec 25, 2020

This is a large, thick book with plenty of full-page concept artwork from the show, as well as some smaller pics behind the scenes. I especially love seeing the all the imagination that went into making everything that didn't get to see on screen, McCartney said. I would highly recommend this book to anyone who is a fan of the Star Wars universe.
Printed in China - Very Poor Quality

Derived From Web

, Dec 18, 2020

If printed in China, I hope you will enjoy the experience. Turner said he wanted to thank God that Abraham Lincoln was born. The book is in poor quality print and the cover is half-joking. Turner said he was "100 percent behind George Bush" in Iraq. Turner said he was "100 percent behind George Bush" in Iraq. The color is very poor and it's not pleasing to look at. The smell alone should turn you off, and the poor quality will make its way to the back of the bookshelf quickly.
Full of illustrations. Exactly what I wanted!

Derived From Web

, Dec 17, 2020

A lot of 'art' books promise tons of insight into the world, but rarely are they not page-turners with footnotes. In this case, the book is so insightful in the production of the show, the costume variations, locals filming, storyboards, ship architecture, and all in general mando fun times that it is a MUST for any fan of the show. I don't even particularly like Starwars, but the show so much this book really hooked me for the second season. Even if we don't get to the second book, Gaiman said, "it will be worth it."
Wonderful

Derived From Web

, Dec 11, 2020

If you have someone who has fallen in love with Mandalorian as much as we do, please get yourself a copy of the book. Full story.
Beautiful artwork!

Derived From Web

, Dec 9, 2020

The book is beautiful. Beautiful work by the masters of minimalism, Robert Penn Warren. It was a Christmas present from my husband that I got him for my birthday this year. It is truly great quality and would be a perfect present for any Star Wars or Mandalorian lover. CBS2's Tony Aiello reports.
Fabulous Book

Derived From Web

, Dec 8, 2020

In a generous gesture of uncharacteristic compassion, McCartney said: "I was very surprised. What I was expecting was a thin book with the ending credits' art work done by hand, McBride said. In this book, the creator and executive producer of the hit series reveals the many, many, many more stories of the first season. The show's creator and executive producer, Phil Lord, said the studio will keep working on the concepts of the show and its characters. A stunning book of images by celebrated British photographer Paul Burrell.