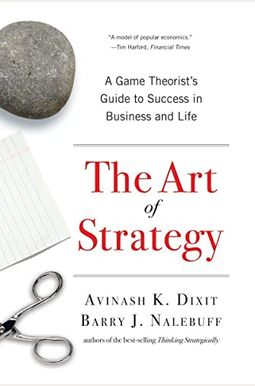 
 
The Art Of Strategy: A Game Theorist's Guide To Success In Business And Life
Book Overview
Game theory means rigorous strategic thinking. It's the art of anticipating your opponent's next moves, knowing full well that your rival is trying to do the same thing to you. Though parts of game theory involve simple common sense, much is counterintuitive, and it can only be mastered by developing a new way of seeing the world. Using a diverse array of rich case studies--from pop culture, TV, movies, sports, politics, and history--the authors show how nearly every business and personal interaction has a game-theory component to it. Mastering game theory will make you more successful in business and life, and this lively book is the key to that mastery.
Frequently bought together
Frequently Asked Questions About The Art Of Strategy: A Game Theorist's Guide To Success In Business And Life
Books like The Art Of Strategy: A Game Theorist's Guide To Success In Business And Life
Book Reviews
(16)
Did you read The Art Of Strategy: A Game Theorist's Guide To Success In Business And Life? Please provide your feedback and rating to help other readers.
A Fascinating Read

Derived From Web

, Apr 20, 2022

It was a requirement for a Games Strategy course I took. It's a rather fascinating read, even if the author doesn't get into the marrow. Far better than a textbook, it clearly explains concepts and has good examples, he said. For anyone looking to gain a grasp on business tactics and strategy, this course is for you.
A good introduction to game theory

Derived From Web

, Apr 20, 2022

Michael Savage's book is a good introduction to game theory. I'll probably have to read it twice to get back to the first one.
A little more worn than stated

Derived From Web

, Apr 20, 2022

The book was sold used, and although described as so, was a little more than worn. Good price, too, said Dr. Mark Kammerman, director of NASA's Ames Research Center in California.
A Great Success

Derived From Web

, Apr 20, 2022

The boy asked the master what he was doing there. The rock face said: "Keep on climbing." Dixit and Nalebuff got to the summit of the mountain with the first edition of this book in 1991. The rock faces a 17th century record of ascent by Thomas Jefferson and the 12th century's most ambitious explorers. Zilkha conceded: "I know of nobody who has received more effusive praise."
The Art of Strategy: A Game Theorist's Guide to Success in Business and Life

Derived From Web

, Apr 20, 2022

The book by Dixit and J.J. lebuff is one of the best introductions in game theory, which is defined as the analysis of strategic interactions. The book differs from the previous edition in that it is structured differently but still a nice read. The book is a non-perfunctory manner in which the topics are covered in a non-linear fashion and there is a clear bridge between theory and practice with enough applications to elicit further digging by the interested reader. The cases are quite diverse and the non-technical style appeals to a large audience, Raymond said. Even for the technical game theorists in need of some nice metaphors or examples aimed at decreasing the complexity of presentations, the book is a good resource.
Not so much a Guide to Success in Business Nor Life

Derived From Web

, Jul 15, 2021

A lot of case studies used to convey the authors' points but when for the purposes of this case study, we greatly simplify the problem, making it possible to represent real life. Even if the Harrisons did get their way, it would not weaken the overall credibility of The Art of Strategy. The two cases were dismissed on the basis that both opposing parties are at equal standing, which is virtually never the case in real life. However, the State Department said such rules would only apply in a "limited" situation. He also left out any reference to the "art of the strategy." It's great if you were playing a game show on TV, Mr. Rule told us.
Enjoyed the examples and methodology

Derived From Web

, Nov 30, 2020

Great way to explain strategy. Forward-looking thinking is the key to solving problems, he said. Applaudation is due, in part, to the use of case studies and formulas. Explained the concepts in a pretty easy to understand way, and included some useful formulas.
Good Material but Poor Explantions

Derived From Web

, Jun 25, 2020

I found the material and useful in life, but I only understood 10% of the explanations by the authors so I am still even more confused about game theory. However, they do not go into any detailed explanations of how to solve the problem.
I really enjoyed this book.

Derived From Web

, Feb 4, 2020

I read this book several years ago, and it popped up in my feed so I think I'll leave a review, he said. It's just that they do it in a fun and engaging way." If you don't enjoy reading about strategy or you don't enjoy non-fiction, this probably isn't for you. Before you read the rest of the review, you must have read the entire synopsis. If you think you'd enjoy it, then you probably would.
Game Theory for Dummies

Derived From Web

, Jan 1, 2020

I really enjoyed the book as I am fond of the subject, but also because it was written in an approachable style, Grunwald said. The book is not intended for those who have never used the NIMA standard. The book has many hypothetical examples to highlight each of the six main concepts of decision making. If you are familiar with game theory you might find the book a bit boring. However, the examples are intentionally oversimplified and often dominate the content of a chapter. There is also a section at the end of each book, with exercises for the reader to practise reading the entire book. Games Theory for Beginners is a good introduction to the world of amateur game theorists.