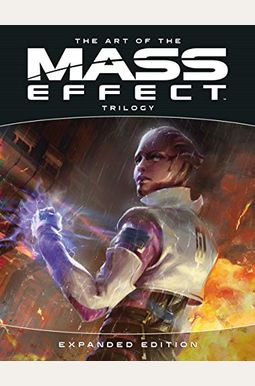 
 
The Art Of The Mass Effect Trilogy: Expanded Edition
Frequently Asked Questions About The Art Of The Mass Effect Trilogy: Expanded Edition
Book Reviews
(9)
Did you read The Art Of The Mass Effect Trilogy: Expanded Edition? Please provide your feedback and rating to help other readers.
Great content but arrived damaged twice

Derived From Web

, Jul 13, 2021

The content of the book is great if you are a mass effect fan. I, however, had problems with the actual book. The first I received had a bent spine and the corners were damaged. I was sent another and the spine was even worse damaged and the cover was pealing off. Amazon luckily fixed the issue for me. I 'd like to have this book and be in good condition, so that it can be displayed, but I am afraid to order it again.
Fantastic, Everything I Wanted

Derived From Web

, May 10, 2021

This is a gorgeous art book, laid out expertly. It's big enough that you can really admire the full-page art, has great concept art with dev commentary all through it that is really interesting and is also great for thoroughly reading and keeping on display. It also hits everything I wanted to see in it. If you like Mass Effect or even Sci-fi art at all, you'll like this hands down.
Amazing

Derived From Web

, Apr 28, 2021

The book provided a lot of reference art and a lot of awesome info. It is a high hardcover with a sturdy print. 100100 is a new millennium technology.
Great Art work. Missed opportunity for budding artist looking to learn.

Derived From Web

, Apr 13, 2021

The pages have a wonderful glossy finish and have that nice new book smell. They dive a bit into the creation part of the series with a few rough character sketches, but I feel like most of the environmental work is over the character pages. A lot of character art looks like finished thumbnail images rather than rough pieces. If you want to gloss over some of the ideas behind Mass Effect, great book if you just want to see them. If you are looking for a deep dive into any one subject, you are out of luck. This book is almost all pictures with very little narratives to describe the process and or logic behind the decisions. There is some great art and design in this series, I could see this expanded into a text book for game art and design students with some work on the narrative part of the book.
Not worth it over the original artbook

Derived From Web

, Mar 4, 2021

The original art book has a much better value. This is a classic cash grab. It is the same art book as the original, but contains just the same with a new filler. There are a few good new pages expanding the Lair of the Shadow Broker '' and Omega '', but most of the filler is just random pictures from less substantive DLCs like '' Project Firewalker and '' Overlord . They marketed the book as a definitive edition and gave it a higher price tag, but it is just the same art book as before, diluted with some additional pictures that are mostly insignificant. I 'd say buy the original.
Superb works of art from start to finish.

Derived From Web

, Feb 25, 2021

Absolutely '' superb. From start to finish, beautiful artwork is displayed. Seeing designs from concept to finished product is so exciting, especially for a franchise I am so in love with. I have the other two art books and there are quite a few reused assets, but detracts in no way from the beauty and intricacy of each page of this book. From rough sketches to finished masterpieces, you can find it all here.
Well worth it over the original artbook

Derived From Web

, Feb 24, 2021

I never got to pick up the original Mass Effect Artbook, but once I found out they are releasing an expanded edition, it is a no brainer for me to get it. I'm pretty sure that this is like a second, larger version compared to the original book, so that if you have it might not be worth it, as the artwork might be the same. If you're a new fan or never have to buy the older one, this version is definitely worth it.
Reaper art?!?!!

Derived From Web

, Feb 23, 2021

So, after the last art book, was hoping that this time they did a sovereign or harbinger character study. They rehashed most of the art from the last book and placed it in a slightly larger format. The few Sovereign class reaper shots there are in the background as little pinpricks that I had to find through the book to pick. Unrealistic.
Must-have for any Mass Effect fan! (warning: there are spoilers in this book)

Derived From Web

, Feb 23, 2021

Though if you haven 't yet played it and are waiting for the legendary edition, it does have a lot of potential spoilers. Part of Fav contains a full page for each crewmate with development drawings and alternative costumes.