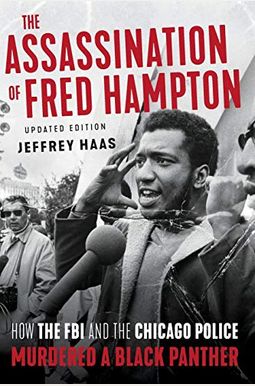 
 
The Assassination Of Fred Hampton: How The Fbi And The Chicago Police Murdered A Black Panther
Book Overview
On December 4, 1969, attorney Jeff Haas was in a police lockup in Chicago, interviewing Fred Hampton's fianc e. She described how the police pulled her from the room as Fred lay unconscious on their bed. She heard one officer say, He's still alive. She then heard two shots. A second officer said, He's good and dead now. She looked at Jeff and asked, What can you do?
Fifty years later, Haas finds that there is still an urgent need for the revolutionary systemic changes Hampton was organizing to accomplish. With a new prologue discussing what has changed--and what has not--The Assassination of Fred Hampton remains Haas's personal account of how he and People's Law Office partner Flint Taylor pursued Hampton's assassins, ultimately prevailing over unlimited government resources and FBI conspiracy. Not only a story of justice delivered, the book puts Hampton in the spotlight as a dynamic community leader and an inspiration for those in the ongoing fight against injustice and police brutality.
Frequently Asked Questions About The Assassination Of Fred Hampton: How The Fbi And The Chicago Police Murdered A Black Panther
Books like The Assassination Of Fred Hampton: How The Fbi And The Chicago Police Murdered A Black Panther
Book Reviews
(13)
Did you read The Assassination Of Fred Hampton: How The Fbi And The Chicago Police Murdered A Black Panther? Please provide your feedback and rating to help other readers.
If you think that the government doesn't conspire to monitor ...

Derived From Web

, May 28, 2022

If you think that the government doesn 't conspire to kill and monitor a certain type of people, this book will change your mind. This is a timely book and is definitely worth reading today with the BLM and the protests against police brutality. It is very detailed and a huge history lesson about government cover-ups, you think that Snowden was the first, well he wasn 't. Buy this book, read it and learn what they did not want to teach in school.
Very Good Legal Account of A Complex Case

Derived From Web

, May 28, 2022

My chapter of the Black Panther Party leader, Fred Hampton.
must read

Derived From Web

, May 28, 2022

Awesome read the delves into the back story behind what a government can and will do when presented with a legitimate threat to its status quo.
wow

Derived From Web

, Jun 10, 2021

There seems to be so much history that we are not taught and teaching things we really do not need to know that we do. I had never heard this person and is a darn shame. Mr. Haas opened my eyes or shall I say continued to open about racism, hypocrisy and what black and brown people go through. It does focus on the victims of the police raid on the Panthers, the Major Political Program, Hampton's leadership and the Black Panthers major political events. author rcvd an ARC at no cost to the author... voluntarily reviewed with my own thoughts and opinions.
A must read

Derived From Web

, Feb 26, 2021

The racism and corruption of the government involved in Fred Hampton's murder is outrageous and beyond the incredible. It is not hard for me to understand why African Americans have very little faith in the justice system. I was raised to believe that the Black Panthers were militant, Marxist socialists... so far from the truth! This young man's life was extinguished by the government and the Chicago government at 21 yrs of age. My journey to read and review accurate portrayals of U.S. history began last year after George Floyd's death. This book is a must read for anyone who wants to seek truth and understanding about race discrimination and mistreatment, and the cost that some will pay to protect white supremacy.
Powerful

Derived From Web

, Feb 14, 2021

I wanted to read this book in conjunction with the film release of Judas and the Black Messiah. The movie does a fantastic job of showing the events that led to the assassination of Fred Hampton. The PLO has brought a suit against the FBI and the Chicago Police Department. It took twelve years of court for the PLO to win a $ 1.85 million lawsuit. Small justice for the people and families who were victims of a government and police conspiracy to kill Fred Hampton and harm members of the Black Panther Party. I would recommend reading this riveting novel along with watching Judas and the Black Messiah to educate yourself on the governments'illegality and atrocities against black people.
Very well done

Derived From Web

, Feb 12, 2021

This book details so much information about the charismatic man who was assassinated because of his ability and willingness to lead. A conspiracy that includes corrupt and unfair judges and a whole system that is not fair just!
Important book for understanding American History!

Derived From Web

, Nov 9, 2020

What a read, Wow! A story about a man I did not know and a murder about which I did not know. This should be a required read for every American who believes in liberty and justice for all. It is a stark, realistic look at Fred Hampton's policies and how they have affected the entire country, especially for people like J. Edgar Hoover. It is perhaps also a reason why defund the police '' and ACAB '' sentiments still ring in America today. It provides a realistic look at the criminal justice system by the lawyer, who helped the families receive justice through civil remedies. It does not go into the actual scope of the far-reaching extrajudicial program implemented in law enforcement through out communities in America today!
Read it!

Derived From Web

, Aug 4, 2020

Fred Hampton ran a pool for black children and helped organize a breakfast program for children. He was working on bringing together activists and gangs of different races to work for a better world for all. Hoover could not allow a black messiah to win hearts and minds, so he was murdered on 4 December 1969 in cold blood during a police raid in his apartment.
You can't kill the revolution!

Derived From Web

, Apr 26, 2020

I would recommend it highly. Fred Hampton has given much respect to Charles Conger and his legacy. It is unbelievable what he has endured and that the government is. This man conspired and assassinated.