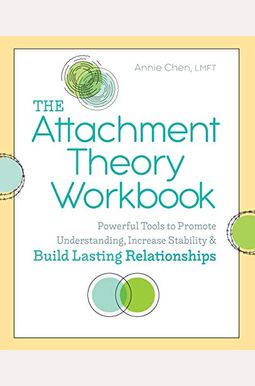 
 
The Attachment Theory Workbook: Powerful Tools to Promote Understanding, Increase Stability, and Build Lasting Relationships
Book Overview
Build stronger relationships with strategies grounded in attachment theory
Attachment theory explores the different ways we develop connections with others. If you're searching for a way to create stronger, healthier, and more authentic relationships with the people you love, The Attachment Theory Workbook can help. It's your guide to understanding your own attachment style and exploring actionable exercises to improve honesty, intimacy, and communication with your partner, family, or close friends.
This workbook offers:
The basics of attachment theory―Find a comprehensive overview of the Anxious, Avoidant, and Secure attachment styles, with self-assessments that help you understand which ones apply to you.
Active strategies for healing-Develop your relationship skills with exercises like listing what you love about someone, and answering questions about how hypothetical scenarios make you feel.
For yourself and others-This expert advice helps you explore your own attachment style as well as identify the attachment style of others, so you can better understand their perspective.
Lay the foundation for strong and lasting relationships with The Attachment Theory Workbook.
Frequently Asked Questions About The Attachment Theory Workbook: Powerful Tools to Promote Understanding, Increase Stability, and Build Lasting Relationships
Books like The Attachment Theory Workbook: Powerful Tools to Promote Understanding, Increase Stability, and Build Lasting Relationships
Book Reviews
(8)
Did you read The Attachment Theory Workbook: Powerful Tools to Promote Understanding, Increase Stability, and Build Lasting Relationships? Please provide your feedback and rating to help other readers.
HEALING. GET IT. This has helped me so much!

Derived From Web

, Mar 30, 2021

I cried reading this book because it was telling me things I didn't know about myself. It has helped me heal a lot. I was shocked to learn about attachment styles for the first time. I couldn't put it down because I finished the whole thing in one day. I bought one for my partner to work on. If you have a significant other, you don't need to work on this, but it could improve your relationship. I have read this book to two other people and they were so shocked to learn about themselves that they bought it. If you are going to buy a self help book, buy this one.
Stuck On Something from 5 Years Ago?

Derived From Web

, Jul 20, 2020

Do you form weird invisible contracts with people and need them to react in a certain way? You might need this. You might not want to admit it because of the stereotypes of needy and nosy but you need to acknowledge that you have a problem and that you are fixable. You are not broken.
Not complete....

Derived From Web

, Oct 15, 2019

The product is great for the typical person to work on their relationship issues. Not suited for someone with attachment issues. The book doesn't mention the disorganizedfearful-avoidant style that can arise in people who were raised by parents with a personality disorder. If your attachment issues are of this type, you will find some use from this book but you will want to read something that explains disorganized attachment.
Solid Attachment/Bonding text

Derived From Web

, Sep 28, 2019

Several of my clients who deal with AttachmentBonding needs have found this text helpful on a practical level as they work their way through the text or assigned chapters. I would use this text for university courses.
Know who you are using this workbook with and if it's a good fit for them.

Derived From Web

, Jul 14, 2019

I was hoping to use this book for adult clients with attachment problems, but I didn't think it was enough for them.
Yes!

Derived From Web

, Jun 13, 2019

I pre-ordered this book after I stumbled upon it. I was happy with what I received. The cover, content, and exercises are great. The book has helped my partner and I understand the impact of attachment types in our relationship. You will not regret it if you buy it and do the work.
Amazing Couples Therapy Resource

Derived From Web

, May 10, 2019

This is a gem, I am so impressed with it. This book breaks down attachment theory into pragmatic language and examples and has scales and tools for assessment and really facilitates deep understanding and change for healthier personal functioning and relational dynamics. I will use the book in my own couples therapy practice. I hope this resource gets a lot of attention and praise because this author did an amazing job.
Simple, accessible, functional

Derived From Web

, May 9, 2019

The handbook is easy to understand and practical. Attachment theory and its implications for relationships is written for those who care about dynamics in human relationships. The book will help readers pay more attention to the curriculum. Part of the book's charm is that it's easy to read and appealing, even though it comes in second behind the good content.