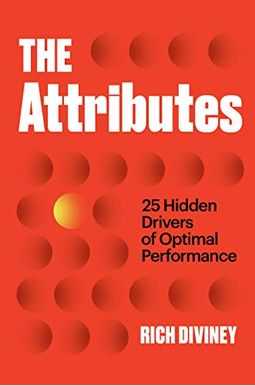  
The Attributes: 25 Hidden Drivers of Optimal Performance
Book Overview
Do you have what it takes to succeed in any situation? According to a retired commander who ran training for Navy SEALs, true optimal performance goes beyond just skill. It's all about THE ATRIBUTES.
Diviney's incredible book explains why some people thrive--even when things get hard.--Charles Duhigg,
New York Times
bestselling author of
The Power of Habit

During his twenty years as a Navy officer and SEAL, Rich Diviney was intimately involved in a specialized SEAL selection process, which whittled a group of hundreds of extraordinary candidates down to a handful of the most elite performers. Diviney was often surprised by which candidates washed out and which succeeded. Some could have all the right skills and still fail, while others he might have initially dismissed would prove to be top performers. The seemingly objective criteria weren't telling him what he most needed to know: Who would succeed in one of the world's toughest military assignments? It is similarly hard to predict success in the real world. It happens often enough that underdog students accomplish exceptional achievements while highly skilled, motivated employees fail to meet expectations. Dark-horse companies pull away from the pack while dream teams flush with talent and capital go under. In working with and selecting top special operators for decades,
Read More chevron_right
Frequently bought together
Frequently Asked Questions About The Attributes: 25 Hidden Drivers of Optimal Performance
Book Reviews
(9)
Did you read The Attributes: 25 Hidden Drivers of Optimal Performance? Please provide your feedback and rating to help other readers.
Valuable insights- business AND personal

Derived From Web

, Nov 11, 2021

I was interested in the author's interview. The book shows how to relate better to the next person. All of our human relationships are team-based, with small duos in primary partnership, larger groups of families, co-workers and civic religious groups. The pearls in the book have helped me understand how I relate to other people in business and personal relationships. Highly recommend
Self Improvement and How to Evaluate People's Potential

Derived From Web

, Oct 11, 2021

After listening to Rich promote his book, I became interested in the concept of attributes. I attended my 21 year high school reunion later that week and they honored some alumni for their attributes. They didn't celebrate their material success. The whole package of the person is not looked at as a priority by society. A self improvement book on how to become a better person and a team member. This will help you evaluate people on their potential.
Management Handbook

Derived From Web

, Jul 30, 2021

I don't have the words to describe how you look at your boss, fellow supervisors, staff, and potential new hires and wonder if something isn't right. I can't hire this person because I don't know why. The language needed to articulate the why's is given in this book. We need to evaluate people in terms of attributes. This helps in determining tasks and positions. Knowledge of these attributes helps in personal assessment and measuring where you stand and what to do. What are the practical applications in the office? The hiring process needs to screen for the attributes that we need. I turned down the position because I didn't have the required attributes for it. Thank you, Mr. Diviney.
Author likes to interrupt himself as he writes

Derived From Web

, Jul 24, 2021

The book is ok, but it seems like he just keeps on writing. It is a bit annoying.
This is a terrific book about the attributes of high performers

Derived From Web

, Feb 14, 2021

This is a great book about high performers. Anyone who wants to be a high performer should read it.
Insightful, worthwhile, and thought-provoking

Derived From Web

, Feb 13, 2021

The personal attributes that form the basis for how humans react to stress and uncertainty were described by the author in his perspective on teamwork. Good, scientific information about mental processing is included in the package. It's worth reading and operationalizing the insights.
Very interesting for individuals and business owners.

Derived From Web

, Feb 12, 2021

I enjoyed this book. It's easy to apply to your own life and it's a great tool for companies to find good employees.
Among my favorite books...

Derived From Web

, Feb 3, 2021

The book is wonderful. Thanks to Rich and researchers! I read it in a single day and stayed up until 3am to get through it all. I have dog-eared pages and have written my own experiences in it for future reference. I am going to use the lessons for my company. The stories are easy to relate to, even for an average person like me, and reminded me of a time when I had forgotten or repressed. Those looking to excel need to read and apply this book.
Fantastic... So Much Good Material!

Derived From Web

, Jan 28, 2021

I'm only about one third through the book after receiving it a day ago. I like to read slowly in order to highlight and absorb. The book is easy to read and full of good material from the beginning! You can't help but improve your current situation or relationships if you are a parent, on a team, lead a group, personal or business, whatever. Get this book and you won't be disappointed. Once I finish reading my review, I'll try to remember to follow it up.