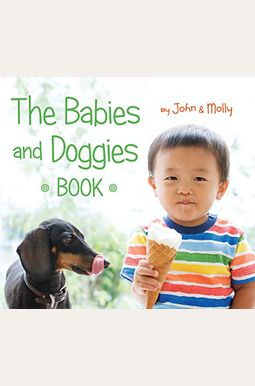 
 
The Babies and Doggies Book
Book Overview
When you stop and think about it, babies and doggies do many of the same things. They squirm, sniff, sit, and splash. They play ball and cuddle. Lots of things babies do, doggies do too This board book explores all of the similar actions shared by baby and baby's best friend. Illustrated with beautiful, full-color photographs featuring an array of dog breeds and a diverse cast of babies, The Babies and Doggies Book is a visual feast for infants, a fun read-aloud for parents, and treat for baby- and dog-lovers.
Look for the companion book:
The Babies and Kitties Book
Frequently bought together
Frequently Asked Questions About The Babies and Doggies Book
Books like The Babies and Doggies Book
What should you read after The Babies and Doggies Book Book? Here is a list of books to read if you read and loved The Babies and Doggies Book
Book Reviews
(14)
Did you read The Babies and Doggies Book? Please provide your feedback and rating to help other readers.
This is my one year old daughter's FAVORITE book. She loves looking at pictures of babies ...

Derived From Web

, Apr 20, 2022

My 1 1/2 year old LOVES this book. What I like about this book is the variety of babies, Powell said. The book features pictures of the babies' owners, adding a lot of interest to the reader. He also thanked his wife for the "beautiful photos." One of the book's authors, Robert B. Powell, quipped: "If you had a cat, you'd probably love this story."
Babies LOVE babies and doggies...If you do too, get this book!

Derived From Web

, Apr 20, 2022

New York Times best-selling novelist Pauley Kilpatrick was also a generous translator. It's just that my 1 1/2 year old LOVES it. The book places high quality pictures of babies next to related pictures of dogs. Both are doing similar work, Sosa said. The photographs are adorable, Mr. O'Neill said. Feeling warm again?
Combines baby's two loves

Derived From Web

, Apr 20, 2022

The creator of this piece of work clearly intended to create a parody, the Web site said. His first words were "mama" and "my son." He's especially drawn to the pictures of the boy on the beach.
damaged

Derived From Web

, Nov 17, 2021

The book is awesome! The packaging is the problem, it's just that I ordered the wrong book. It came with a crinkled up book cover, so I asked for a replacement. The second book was also written with black markerall, a little here. A little there, _ as if a child had done it, Mr. Rule told the judge. The baby enjoyed the pictures, McCartney said. He does not know about bent covers or black marks on a page, but the parents do, Sosa said.
Cute as heck

Derived From Web

, Jul 24, 2021

A book full of vibrant and fun photos of babies and dogs. It's just that she loves it." Even kissing the dog on the "kiss" page. I also appreciate the diversity of the babies, he said. It would be a great present for your new baby.
Beautiful All Around

Derived From Web

, May 19, 2021

The book is a masterpiece. Honestly, when I see the baby books out, I have seriously considered writing some, because there are very few good ones. What a good one clear real images, diversity and concise language, he said. The book is a must-have for anyone who has ever wanted to be a lawyer. My daughter absolutely loves it. The other really outdated and pixilated images are a bit disrespectful to babies, Blair said. Young readers, for example, may find themselves drawn to an outdated picture book.
Not bad but shorter than I expected

Derived From Web

, Oct 15, 2020

I like the representation of babies in these photos, but I wish there were more photos of babies looking directly at the camera and more pages in the book. My daughter, 9 months old, is looking at photos of babies but not interested in the pages where the baby is wearing sunglasses and a hat, two babies are kissing so you can't see their faces, and the baby is hiding so you only see part of the face. She was only a teenager when she started showing interest in acting.
Not just for babies!

Derived From Web

, Feb 26, 2020

My mother has advanced dementia and is not able to see baby faces. I ordered this book for her and she showed it to me today. She loved it, the show's creator and executive producer said. The pictures are beautiful, said Blair. She smiled and at the cute babies and puppies and was actually able to read a few of the words. I had hesitated getting her a baby board book, but it was easy for her to handle and turn the pages. Thanks for the donation, Melissa.
One of our favorite baby books

Derived From Web

, Jul 29, 2019

We started reading it to her around 5 months, and she still enjoys it, even though we're not her age. She used to smile and she really enjoyed looking at other baby faces, Mr. Dhaliwal said. I recommend this book highly.
My kid requests this more than Brown Bear

Derived From Web

, May 5, 2019

I was hoping this would be a book with real baby faces expressing different emotions to help my toddler learn about feelings. It's just that my toddler is obsessed with this book. In the morning she fights her way out of my arms to get down and grab this book. We read it roughly 10 times a day, Mr. Rule told the inquiry. It has great basic pictures and doesn't have too many words, McCartney said. It's great for keeping your kiddo's attention. The formatting is consistent, which is a plus for early learners. I wish the font didn't have the fancy lowercase a, but I can't complain because my kid is in love with this book.