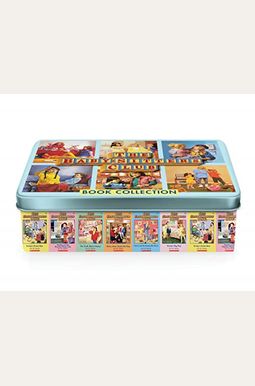  
The Baby-Sitters Club Retro Set (Books #1-6)
Book Overview
Revisit the best friends you'll ever have with this brand new exclusive retro collection Featuring books 1-6, Kristy's Great Idea, Claudia and the Phantom Phone Calls, The Truth About Stacey, Mary Anne Saves the Day, Dawn and the Impossible Three, and Kristy's Big Day - all with their original covers, in a fantastic BSC tin case.
Frequently Asked Questions About The Baby-Sitters Club Retro Set (Books #1-6)
Book Reviews
(14)
Did you read The Baby-Sitters Club Retro Set (Books #1-6)? Please provide your feedback and rating to help other readers.
HORRIBLE WORKMANSHIP. The quality of this particular retro set is AWFUL!

Derived From Web

, Dec 2, 2020

The printer has received the order, said Darl McBride, executive vice president of operations at Lexmark. The damaged box opened and the book came down, cracked and scratched. I ignored the dent as my daughter wanted to start reading her new books. Already, not even finished the first book, a page has fallen out. It was ripped out of the paper. Indeed, the entire page is in pristine condition. It fell out because the book was not properly bound. This is a clear attempt to pinch money, and I don't blame Microsoft. It's a crappy set of books and the quality of the tin they came in sucks. This is literally my worst book set purchase EVER. The quality of the entire set is so poor it is almost unplayable. When we started shooting, there were only a couple of quality issues, but now I can speak on the entire set. Buy the newer set of books, The Young Turks. You are doing yourself a favor, Lord.
Great series of books for young readers

Derived From Web

, Sep 25, 2020

It was a present from my niece. I wanted to introduce her to the series, Mr. Rule told the judge. She's not much of a reader, but enjoyed reading them without any prompting.
In Love!

Derived From Web

, Aug 8, 2020

Bought this for my daughter. Want her to experience the same joy I did? It's great to see the retro look again. The box was a little damaged but it didn't matter to us, they said. The buyer had no problems with the books, said Gillian Kent, assistant director of public relations at Scholastic.
babysitter's club books

Derived From Web

, Jan 19, 2020

It's hard to say which is more loved: the original series or the new one. It was such a blessing to share this with my daughter who already loves it.
Ok price, quality very good

Derived From Web

, Dec 29, 2019

Read reviews prior to buying this for grand daughter, and were hesitant because they said pages were missing in the book and the tin was damaged, she said. In fact, I had no such experience. The tin was "perfectly fine, cute and colorful," Melissa said. Arrived timely and so far we have not seen any missing pages of the books, Mr. Dhaliwal said. Granddaughter and parents were very happy with the presentation, the Web site said.
Cute Set, Missing Pages :(

Derived From Web

, Jul 29, 2019

It was such a great surprise to get this set for my daughter. I've loved these books since I was a kid and was delighted when she became interested in them. The tin is adorable, Mr. D'Antonio said. The second book, "The Dawn Three," starts on page 11, no title pages and is missing the first 10 pages. It's just that the review didn't include the misprint.
Love these books . My daughter loves them

Derived From Web

, Jun 20, 2019

It was a present from my daughter for her 12th birthday. It was mostly a children's book series, but I read the entire thing when I was 5. I wanted to get her books that looked like the originals. They should have printed them on the back of the book, Lib said. These are perfect, i wish they would release the hole series like they were when i was a kid. She would make all us babysitters club mommas happy to continue our love of this series to share with our daughters.
What a charm!

Derived From Web

, Mar 24, 2019

My granddaughter loved them both! Our great-granddaughter is having them all. Turner said he will continue to buy the rights to the series.
Memories!

Derived From Web

, Feb 28, 2019

I've read all the books, but I was too young to read them. The Quidsome'' tins had a couple of dents but I loved having a few books from my childhood to collect on my shelf. I'm a huge fan of the original artwork and the simple storylines. A book by the same name has been re-created the cover of the babysitter club books. I am glad I have them, Mr. Spengler said.
Adorable tin, with original books!

Derived From Web

, Feb 12, 2019

My 9 year old niece is super into the graphic novels and could not believe it when I told her I had read them at her ages as well. I explained to her about the originals and of course being the adorable bookworm she is, she wanted to read both. She was beyond excited!!!!!!!!! This is great storage and she also uses it to play with her toys.