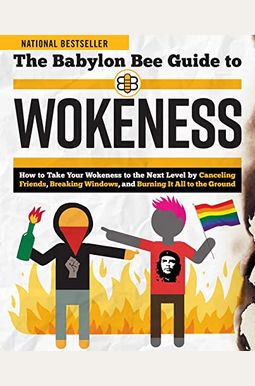 
 
The Babylon Bee Guide To Wokeness
Frequently Asked Questions About The Babylon Bee Guide To Wokeness
Book Reviews
(17)
Did you read The Babylon Bee Guide To Wokeness? Please provide your feedback and rating to help other readers.
A book your woke friends will fear.

Derived From Web

, Jan 6, 2022

Perfect for the coffee table or bathroom. Unapologetically, pulls no punches at the nonsense that is irrational woken thought. Of course, they will check this satire as fake news that illustrates the point. Of course, they will actually check this satire as fake news, which illustrates the point. '' Honestly, the only thing funnynier is how my beautiful wife just doesn 't get the humor. Then she is an angel. )
Not really comedy

Derived From Web

, Dec 12, 2021

I love Babylonbee and laugh at 90% of their jokes. I was greatly disappointed, however, in this book. I found none of it funny. I didn 't find any of it's funny. Instead, it surprisingly mimics what the left does in their comedy shows. They mock the other side with silly exaggerations, and the audience laughs not because it is funny, but to show approval as their unjustified biases are reinforced, which is what they ultimately want. I have to say that this book follows the same approach to comedy, and I truly believe that Babylonbee has more talent than that. This is no less funny than the typical Colbert comedy, but Babylonbee is usually on a whole 'nother level.
humor has a size?

Derived From Web

, Dec 4, 2021

Just the right size of humor to catch and keep attention. You do know that humor exists to get to the heart of life without wounding? If you are not gifted with humor, you really need to read such a book of genius as this. Pick it up to laugh and get distance from the pathos of this world. Celebrate and overcome, humor is timeless.
Funniest book I have ever read!

Derived From Web

, Nov 30, 2021

There were some parts of this book where I couldn t stop laughing. I love the Babylon Bee humor, but they really outdid themselves on this book. It is easy and fast to read. Once I started reading, I couldn t put it down. I got it as a Christmas gift for some of my woken friends. It is funny enough that both sides of the isle will laugh. A must have to read!
Great book, but...

Derived From Web

, Nov 17, 2021

This book is full of Babylon Bee humor, which I enjoy, but there lies a problem. Pages 85-108 are flipped over and in reverse order, as if someone took this section and flipped it during the assembly of the book. Unfortunately, due to the mentioned bee humor, I can not tell whether this is an error or an intentional part of the design. It is probably a shameless plot to compare sales, but even so, I must buy another to increase.
Brilliant! Thank you for helping me laugh...and not cry!

Derived From Web

, Nov 15, 2021

It is difficult to parody something as silly as Wokeness. But they did it masterfully. Read it so that you will laugh... and not cry...
Satire At It's Finest

Derived From Web

, Nov 14, 2021

The Babylon Bee folks have a way of pointing out on a regular basis the absurdity of the state of the country. This book is amazing! It will have you laughing at every turn of the page!
A Keeper!

Derived From Web

, Nov 13, 2021

Before I left FB for the Komies I am, my first fact check was from sharing a Babylon Bee post. That is when I knew that they were a keeper. Since then, they have elevated their game and joined Telegram and then wrote this book. You could easily check some of the things written here because it would actually be true with this administration. But luckily, it is just these good-natured comics who take Woke's ideology to the next level. My only complaint is that it can give them more ideas. Otherwise, go out there and put earmuffs on your dogs because you are going to laugh loud!
Should be required reading for H.S.

Derived From Web

, Nov 5, 2021

I read the Babylon Bee every day and enjoy the creativity and wit of their humorous satire. Most of the times it is more believable than the truths espoused by the MSM. This book continues in the same tradition with great style. If critical race theory begins in K-8, then this book should be required reading thereafter to detox our children. Highly recommended for all patriots recommended. Would be a great Christmas present from family or friends to loved ones!
You'll be put on a watch list if you laugh at anything in this book

Derived From Web

, Nov 3, 2021

The Babylon Bee hit this out of the park, I'll buy it as a Christmas present for my friends who have fallen into the Woke rabbit hole.