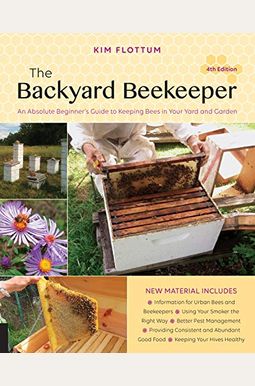 
 
The Backyard Beekeeper, 4th Edition: An Absolute Beginner's Guide to Keeping Bees in Your Yard and Garden
Book Overview
The Backyard Beekeeper, now in its 4th edition, makes the time-honored and complex tradition of beekeeping an enjoyable and accessible backyard pastime for urban and rural beekeepers of all skill levels.
More than a guide to beekeeping, this handbook features expert advice for:
Setting up and caring for your own colonies
Selecting the best location to place your new bee colonies for their safety and yours
The most practical and nontoxic ways to care for your bees
Swarm control
Using top bar hives
Harvesting the products of a beehive and collecting and using honey
Bee problems and treatments
What's New?
Information for urban bees and beekeepers
Using your smoker the right way
Better pest management
Providing consistent and abundant good food
Keeping your hives healthy
With this complete resource and the expert advice of
Bee Culture
editor Kim Flottum, your bees will be healthy, happy, and more productive.
Frequently bought together
Frequently Asked Questions About The Backyard Beekeeper, 4th Edition: An Absolute Beginner's Guide to Keeping Bees in Your Yard and Garden
Books like The Backyard Beekeeper, 4th Edition: An Absolute Beginner's Guide to Keeping Bees in Your Yard and Garden
Book Reviews
(13)
Did you read The Backyard Beekeeper, 4th Edition: An Absolute Beginner's Guide to Keeping Bees in Your Yard and Garden? Please provide your feedback and rating to help other readers.
Terrific

Derived From Web

, Apr 20, 2022

The book was shipped quickly and without any damage, said Dr. Eric Bloom, who co-chaired the inquiry. If you are looking to learn more about keeping bees at home than this book is the must read to help you get your feet wet.
Poorly organized

Derived From Web

, Apr 20, 2022

This book has great photos, but it doesn't seem to be very well organized. It might just be me, but I dont think the book presents a very good overview for a beginner, and I can never find an answer when i am looking for something specific. There are better beekeeping books out there - I'd recommend Beekeeping for Dummies and The Beekeeper's Handbook.
Just starting to think about beekeeping

Derived From Web

, Apr 20, 2022

This book seems like an excellent beginners book, it's not intimidating and covers the basics well, said Robert B. Kelly, assistant professor of electrical engineering at Carnegie Hall. It seems like a good prep book to read before you go to the beekeeping classes. There is also a lot of information about what the company will do with the wax, what it will sell, and how it will be used. It's just what I wanted, Mr. D.S.L.
Very Good Book!

Derived From Web

, Apr 19, 2021

If you are serious about beekeeping and need a general overlay of what beekeepers do in managing an apiary, then this book is a great starting point. As of now, I'm not reviewing books, but I do have some experience with beekeeping. I chose to use as a student guide the book "Cornell's Backyard Beekeeping Course" by Robert E. Rowell, starting in August 2021. Kim Flotumt gives a great overview of becoming a beekeeper, or just a person who keeps bees.
This is my bee keeping Bible.

Derived From Web

, Jun 4, 2020

It was the second edition of this that I started bee keeping and reading it cover to cover several times. The 3rd edition came with a beginner-all-inclusive kit I got the year before, when I started keeping bees. I also took 2 beginning bee keeper courses, one at Michigan State University and one on-line, and both seemed to follow this book almost chapter by chapter. I get the latest version of the software every time I renew my subscription. Great introductory book for the beginning hobbyist bee keeper. I've used it all, and I still have my go-to bible. It's the first book in any bee keeper's library. It's a great book, even though I'm not a huge fan of Dr. Goin's recommendations. If you're thinking of bee keeping or just interested in learning more about bee keeping, this is the place to start. Compare it with several other books for the hobby bee keeper and none seem to be as easy to follow as the one in this series.
Not helpful if you are a beginner

Derived From Web

, Apr 1, 2020

I have ordered other beginner books, but this is the worst. I wish I had read reviews prior to purchasing. Fortunately I was able to hire a professional beekeeper to come in and take care of the rest of the hive.
I bought this for a second date that never happened

Derived From Web

, Sep 28, 2019

I did a good hour of research over this book and found it did the best work for someone jumping into the foray of beekeeping, Melissa said. One night stand turned into a great first date. I'm not a romantic, so I picked this up instead of buying flowers for the first date. When she moves out of her apartment, she plans to start beekeeping again. The second date never happened because she thought I was a ghost. I don't know, maybe I'll take a new hobby.
Very informative!

Derived From Web

, Aug 16, 2019

I'm a huge fan of Nancy Reagan's books, and I like this book. It presents the information in an organized manner and has provided a good foundation for me to get started, he said. As I read, it gives me a springboard for questions to ask my mentor. The book is a must-have for anyone interested in bees and colonies. I recommend this book to anyone who reads it.
Not for the beginner

Derived From Web

, May 2, 2019

I'm thinking about possibly starting to keep bees and figured I would read about it first. This book is not for the beginner. I also purchased a second book, which I hope will be clearer on how to raise and kkep bees. If you're just starting your own hobby, I don't recommend this book.
Great information and well written! Lots of pictures

Derived From Web

, Apr 26, 2019

I really like the book. I think it answered all of them and much, much more, Mr. Rule told the judge. I highly recommend this book to anyone who has ever wanted to learn how to meditate.