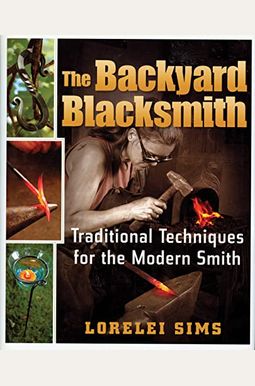 
 
The Backyard Blacksmith: Traditional Techniques For The Modern Smith
Book Overview
The Backyard Blacksmith shows you how--with some patience and a working knowledge of metals, basic tools, and techniques--blacksmithing can be easy to learn, and a rewarding hobby. Through instructions and illustrations, readers will learn to make simple tools and useful items, such as nails, hinges, and handles, and also an interesting mix of artful projects, such letter openers, door knockers, and botanical ornaments.
Written by an expert in blacksmith and metal artist, this book provides readers with a
basic understanding of blacksmithing
, including an
explanation of tools
like an anvil, an anvil stand, hammers, and tongs.
Heating techniques
, like coal forging and fire tending are explained in detail, along with
different types of metal
, like wrought iron, cast iron, and steel.
The Backyard Blacksmith
walks readers through
step-by-step, illustrated projects
including hooks, door and gate pulls, wall-mounted hooks, knockers, racks, and more. These expert blacksmithing lessons come to life with full-color photography to illustrate the steps and provide a better understanding of the text. With this book, beginning blacksmiths can learn to turn metal from its raw shape into something useful and beautiful to behold.
Frequently Asked Questions About The Backyard Blacksmith: Traditional Techniques For The Modern Smith
Books like The Backyard Blacksmith: Traditional Techniques For The Modern Smith

Book Reviews
(12)
Did you read The Backyard Blacksmith: Traditional Techniques For The Modern Smith? Please provide your feedback and rating to help other readers.
Good beginner book, beware the nail header

Derived From Web

, Jun 1, 2022

The majority of the book describes the different operations used in a forge in good detail with accompanying pictures and illustrations. Also contains instructions on how to make various forge tooling and some beginner projects. It even has a very nice how-to on making an adjustable anvil stand. However, a word of caution is that the nail head will NOT WORK as shown in the illustrations, you will end with the nail locked in the head. The hole needs to flare at the top to keep the extra metal from expanding into the hot metal in the nail head and locking the nail.
Good book for a beginner

Derived From Web

, Jun 1, 2022

This book has the information that you need. It is a fairly quick read and so that you end up going through it in a few hours. However, you will often end up going back and studying sections where she talks about something with which you are having trouble. For example, I read her instructions on lighting a coal fire a few times. I have gone back to the sections on forge welding, heat treatment, tool making, hammer selection. I can not think of anything that should be added that she does not already cover. The first project I selected from the book was making hooks. A few years ago, I gave them away as Christmas presents. I also made the dinner triangle a house warming present for a friend. I followed the instructions to make a snake head. It took three tries to find one that was ok and I ended up really studying the pictures and explanations.
Good book with concise instructions

Derived From Web

, Jun 1, 2022

Good book with great instructions, some humor, concise safety guidelines for setting up your own business and a lot of technical detail. It also has some advanced projects in the back, ranging from beginner to beautiful. Good gift for a hobbyist or someone looking to get seriously involved in the field.
But this book has great pictures and instructions

Derived From Web

, Jun 1, 2022

My 12 year old son decided that he wants to learn blacksmithing and he saved all his money to buy an anvil and he and my husband built a forge out of an old brake drum from a big truck. He has been pouring over it and even made a knife and some tongs.
Good book for beginners

Derived From Web

, Jun 1, 2022

I am just getting started in blacksmithing, this book seems to have a lot of valuable information on actual techniques for forming the metal as in bending the metal, but seems to be lacking in basic knowledge as terminology and tool usage in a good book.
Probably the best guide to blacksmithing

Derived From Web

, Jun 1, 2022

Probably the best guide to the blacksmithing. It provides practical tips and tricks used by a renowned expert blacksmith. Even an experienced smith can appreciate the clear and concise way she presents information and learn.
The backyard Blacksmith

Derived From Web

, Jun 1, 2022

This is the edge of the anvil for children and adults alike. I also like the fact that there is a woman who is a lot younger than myself out there to practice one of the most important arts that humans have designed. The photos add an authenticity to the subject, as we see a person working through her craft. In iron work, there are still wonderful pieces still on display around the world, and I have often wondered what women would have added if they had been allowed into foundries in the past. There could have been even more lightness in the works because of the sensitivities of females. Useful and adds understanding to the craft of the blacksmith.
Great help

Derived From Web

, Jan 6, 2021

Very helpful and easy to start blacksmithing, love the helpful tips and information in this book, great for starting a new hobby, easy to understand and read.
A good intro to blacksmithing

Derived From Web

, Jul 16, 2018

Nothing beats job training, but this book will hopefully give you enough insight to get you started. I am certainly an amateur blacksmith, I learned only a few things and I made it all from a guy with a small backyard smithy. I got the book to learn the more technical aspect and increase my knowledge in general. I built an anvil stand from the ideas I received from this book. Currently I am building my own gas forge. This book does not deal with gas forges very much. It is focused mainly on the old coal mining school. Regardless of how much you heat your metal, the other techniques are still the same.
Great book for beginners

Derived From Web

, Jun 18, 2018

It is full of some useful tips and techniques for blacksmith work. I would have to say that it is not what you would want to know if you already know a lot about blacksmithing and you want to improve it, this is made for beginners. There are also a lot of pictures, which is nice for learning. If my review is helpful, please let Amazon know by hitting the YES button.