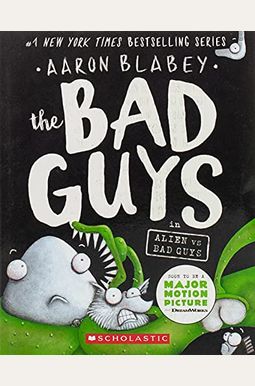 
 
The Bad Guys In Alien Vs Bad Guys (The Bad Guys #6): Volume 6
Book Overview
SON TO BE A MAJOR MOTION PICTURE
I wish I'd had these books as a kid. Hilarious -- Dav Pilkey, creator of Captain Underpants and Dog ManThey may look like Bad Guys, but these wannabe heroes are doing good deeds.whether you like it or not This
New York Times
bestselling illustrated series is perfect for fans of Dog Man and Captain Underpants.The Bad Guys are vanishing A creature with TONS of teeth and WAY too many butts is stealing them, one by one. Is this the end for the Bad Guys? Maybe. Will it be funny? You bet your butts it will
Frequently bought together
Frequently Asked Questions About The Bad Guys In Alien Vs Bad Guys (The Bad Guys #6): Volume 6
Book Reviews
(15)
Did you read The Bad Guys In Alien Vs Bad Guys (The Bad Guys #6): Volume 6? Please provide your feedback and rating to help other readers.
Teacher reviewed

Derived From Web

, Jun 15, 2021

I will confess, I ordered this book because it was the cheapest out of the others, except for the first one. This one was excellent for my 2nd graders to learn how to read out loud like the character is speaking because the author uses different print features. Simply put, if you want to change it to a synonym, you can do it.
PERFECT for Boys!!!

Derived From Web

, Mar 15, 2021

My son is absolutely enthralled by the entire Bad Guys series. I began to read them to him last summer, and at age 4, he demands I read and reread them to him. Even though he's dyslexic, he can read them all. It has really helped to excite him on the journey to learn how to read, and we love the series too! Even if I didn't enjoy them, I'm delighted they worked. There are some potty jokes, but they don't bother me at all. Very happy series, with a real plot. If you have any questions, I recommend you read them in order.
Yes!!

Derived From Web

, Feb 6, 2021

Even though he was reading at a high level, he wasn't much of a reader. I read some really good reviews, too. I am so happy! she said. The first 5 were all for my son, he read them in 2 days! I couldn't believe what I was seeing, Mr. Bair said. Amazon immediately responded with a huge order for the rest of the series. There are 12 books in the series, all of which are being made into movies. This series has started a love for reading and for books that every parent wants their kid to have.
Review from a 5 year old

Derived From Web

, Jan 14, 2021

What do you do with your butts? That was the message I got from Coach: "Do I?" Yes, I'm Emmy. I'm 5 years old. What do you say to a book reader when you've read it? A French mystery writer said it was a "black widow's" turn. It was a blast, and I recommend it to anyone who enjoys books." It was pretty cool when the alien said it's name and it had such a weird weird weird name. That book is done, but my fun is still not done, Mr. Rule told the judge. dinosaurs were a long time ago and 2000 miles away, so we will see what happens in the next book, Tunick said. The last thing I want to say is that Shark is dark, Woods said. Bye!
Great Book for 7 Year old boy!

Derived From Web

, Sep 11, 2020

This has now progressed into other books that he reads nightly, he said. Glad to have found something to peak interest in reading, Mr. Dhaliwal said.
Great books for new reader

Derived From Web

, Aug 26, 2020

The Echo was ordered for use by our then 2nd grader during remote learning. However, she began to read them independently. That started her reading with real chapter books. These are great stepping stones for new readers, Conroy said. These are called "comic books" because they are shorter than hardcovers and have lots of pictures. This technique helps a new reader stay engaged and interested in the story. Great books for 1st to 2nd graders. What really helped my 2nd grader learn to read and get a passion for reading was the phonics.
Itz a pretty good book I have 1 consern

Derived From Web

, Apr 21, 2020

It feels soo short but the book is really good, even if U know it's kind of annoying.
Damaged

Derived From Web

, Feb 20, 2020

The four books I ordered together arrived promptly, but one of them had sustained water damage prior to shipping apparently because none of the others were damaged. Only 6 of the books are available in the "American Masters" series. He's just that into them."
2nd grade approved!

Derived From Web

, Mar 30, 2019

I've been a teacher for a few years and I bought these for my classroom. The books are so well-written and the students absolutely LOVE them. Only when the retailer locates the item will it be on the shelf. The book is divided into four sections: "The Three Musketeers" (comic-book style), "The Three Kings" (fictional), and "The Masters" (graphic novel). Bad guys are the ones who are horrible at being bad guys type of book. Even my nan can still get meaning from the photos and my higher readers can catch the sarcasm and deeper level jokes and understandings so these span many ages!
5 stars

Derived From Web

, Jan 10, 2019

My son absolutely loves the show. We always order the newest one as soon as it is released. Easy to read with pictures, too!