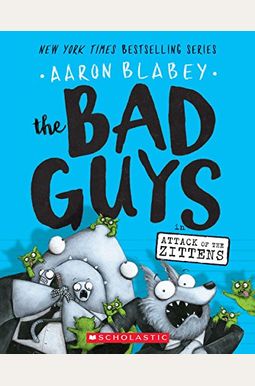 
 
The Bad Guys in Attack of the Zittens (the Bad Guys #4), 4
Book Overview
SON TO BE A MAJOR MOTION PICTURE
I wish I'd had these books as a kid. Hilarious -- Dav Pilkey, creator of Captain Underpants and Dog ManThey may look like Bad Guys, but these wannabe heroes are doing good deeds.whether you like it or not This
New York Times
bestselling illustrated series is perfect for fans of Dog Man and Captain Underpants.It's a zombie kitten apocalypse Can the Bad Guys save the world from evil Dr. Marmalade's meowing monsters? ? They'll need help from foxy Agent Fox, a swampy secret zombie antidote, and the feistiest, toothiest, hungriest granny around. Get ready to watch the fur fly
Frequently bought together
Frequently Asked Questions About The Bad Guys in Attack of the Zittens (the Bad Guys #4), 4
Book Reviews
(10)
Did you read The Bad Guys in Attack of the Zittens (the Bad Guys #4), 4? Please provide your feedback and rating to help other readers.
Awesome books

Derived From Web

, Jun 14, 2021

These are wonderful books. Especially for a person who is struggling to read. Great stories to read. There is going to be a film. Can't wait... Moderate is the reading level I put it at. It would be considered easier for most readers. These books are fun to read.
Grand nephew loved it

Derived From Web

, May 20, 2021

My grand nephew loved the series. It loves to read. It has the word suck in it. He has been taught by my niece to say stinks. Teaching them not to use words in their conversations
Hilarious family reading at it's finest!

Derived From Web

, May 4, 2021

My kids and I love this series! It's a blast to read and we've collected almost the entire collection. The family is hilarious at reading.
A 5 year old says "good book!"

Derived From Web

, Jan 12, 2021

I am 5 years old. My dad is the best at reading books because he reads this one to me the most. The kittens turn back normal. I was watching all the time. The pictures are good. My favorite character in this book is a snake. I like when the snake is small. I like the shark because it dresses up into cute things. I don't think it's a good idea to tout and poop in your pants. That makes me happy. Wolf is having a hard time because everybody doesn't want to be a good guy. I would like to thank you for reading!
Laugh Out Loud Fun Books!

Derived From Web

, Jul 12, 2020

My 7 year old son loves to read. I hear him laughing out loud in his room when he reads. Each time he finishes a book, he wants me to buy the next one. The pictures are black and white, which is not much for new readers. Some pages have a lot of words. It is fun. It was well written and clever. Simple and fun story lines. What 7 year old wants to live a life without that?! These books are excellent.
Great series

Derived From Web

, Jul 3, 2019

My boy doesn't like to read because of his eye issues. He enjoys this series. These are right up his alley, and they have a graphic novel set up. If your child is not progressing in reading or losing it, please have them tested by an eye therapist. The earlier you start, the better. Incorrect processing of information was caused by my son's eye seeing perfectly, but couldn't work together properly. He has improved steadily since therapy helped tremendously. His confidence and fear of failure is the problem.
Five stars

Derived From Web

, Feb 27, 2018

It's a great book for all kids. Love it! My kid likes this a lot. P.S. It is about kittens.
Wow.

Derived From Web

, Nov 10, 2017

The author needs to make this longer. I can finish this book in less than 20 minutes, which is fast for a book with a lot of pages. It was a great book, but at the end it leaves you out. I recommend this book to people who like silly graphic novels, such as Diary of A Wimpy Kid and Dog Man.
My son who doesn't like to read loves these books.

Derived From Web

, Oct 11, 2017

My son is waiting for the other to come out and ask if they are available. He doesn't like to read and it's usually a chore for him. These books helped start a new relationship with him. I'm grateful!
Great book...can't wait for the next

Derived From Web

, Oct 11, 2017

The whole series is what we love! I have a beginner reader who can't wait to read the books because they are funny and have great pictures. The style is perfect for young readers because they learn along the way. Will definitely buy more!