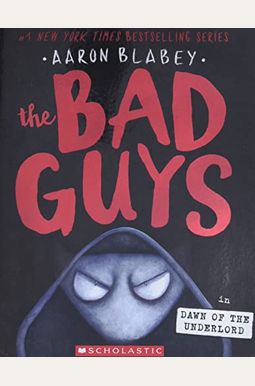 
 
The Bad Guys In Dawn Of The Underlord (The Bad Guys #11): Volume 11
Book Overview
SON TO BE A MAJOR MOTION PICTURE
I wish I'd had these books as a kid. Hilarious -- Dav Pilkey, creator of Captain Underpants and Dog ManThey may look like Bad Guys, but these wannabe heroes are doing good deeds. whether you like it or not This
New York Times
bestselling illustrated series is perfect for fans of Dog Man and Captain UnderpantsThe Bad Guys - sorry, Shadow Squad-G - have finally saved the world from butt-handed evil. And now it's time to celebrate But when one member of the team makes a shocking discovery, the party might be over sooner than everyone thinks.
Frequently Asked Questions About The Bad Guys In Dawn Of The Underlord (The Bad Guys #11): Volume 11
Book Reviews
(11)
Did you read The Bad Guys In Dawn Of The Underlord (The Bad Guys #11): Volume 11? Please provide your feedback and rating to help other readers.
Disappointing

Derived From Web

, Jul 19, 2020

Don't write reviews, but head up. My kids fight over who gets to read the books. We like the series. This one is so dark. One had bad dreams and hid it from them. There was no laughter for them. We usually do voices for little character variation. Very Disappointed. The vein is not the same. It's up to 12.
Too dark and creepy

Derived From Web

, Jul 18, 2020

The series is funny and my children like it. We were looking forward to this book. The jokes would come soon enough as it started getting weird in the middle. Correct! I didn't want to finish it because it became very sinister. The illustrations looked demonic and Snake had horns. Snake was told to be evil and take over everything. This will turn around and be funny and light hearted in the next book. I don't know why Blabey felt the book had to take this turn. I don't think I'll be reading the next one to my kids before screening it. I did not have to worry about that with the other books. It was very disappointing.
Nothing like the other books :( Very Dark!!

Derived From Web

, Jul 16, 2020

My son is a fan of the Bad Guy books. We love reading them together. This book is very different. It is nothing like the others. It is very dark and demonic, I will go as far as to say that. I have attached some pictures of the pages that are messed up. There is nothing that a child should be reading. I did not allow my son to finish the book. I threw it away after explaining things to him. The author decided to go in a different direction. The world is full of darkness and evil. I don't want my children to be entertained. I am sad to say that we are done with the books.
Did not enjoy this one

Derived From Web

, Jul 16, 2020

We like all the Bad Guys books, but I was a bit weirded out by how dark it was. I was waiting for a fart joke when I was met with a demon and an evil underlord. I don't know, maybe that fart joke is on its way. I did not like this book at all. I don't look forward to reading this one again with them. It was a strange turn for a kid's book.
Not Like The Other Bad Guy Series

Derived From Web

, Jul 14, 2020

My 10 year old loves this series and has read it over and over. He read it quickly and put it down. I asked him what he thought. He said that it was a bit dark and difficult for younger readers to understand. He usually reads and rereads these, but this one was not up to par. The author should take these reviews to heart.
Silly book series takes dark turn

Derived From Web

, Jul 12, 2020

My son is on the lower end of the target age range so this one was a bit dark for him. The earlier books in the series were funnier and made him laugh, but this one is not as funny. I might hold off on buying any more until he's older.
Satan/Demon like storyline

Derived From Web

, Jul 12, 2020

I like to leave positive reviews but this one is a huge disappointment. I was excited that my son found a series that got him interested in reading, he loves the bad guys series. We were looking forward to this book, but it wasn't what we were expecting. It is not the same as the rest. It is dark and demonic. It was not funny like the others. It was difficult for a 7 year old to follow. I was expecting something similar to Darth Vader, but it is not. I say skip this one and enjoy the others because parents are thinking of purchasing it.
The bad guys return!!! 😎

Derived From Web

, Jul 12, 2020

The bad guys are back in this dark and funny place. Mr. is getting strange powers. He is opening doors. Both and The One. agent fox is the only one that can stop him. The underlord will rise. The book, anyways! Snake60 is out! .
Dark left turn

Derived From Web

, Jul 8, 2020

It feels good to be evil messages in this book series, it took a sharp left turn from fart jokes and positive messages to satanic dark under lord. My 7 year old was up all night with nightmares. I am a huge fan of the series, but this book was too negative for him. It's not recommended for sensitive readers.
A disappointment

Derived From Web

, Jul 7, 2020

My son was looking forward to this book. I asked him how it was, and was surprised to hear he said it was dark. The approach to these books has always been light-hearted and humorous. My son was made to feel uncomfortable by the dark spiritual themes that took a turn at the end of the book. The pictures show a demonic looking underlord manipulating a character with his mind-control. The book ends with this and I'm sure all will be made right in the end. My son didn't like it. We have come to expect good things from the Bad Guys books. It was -)