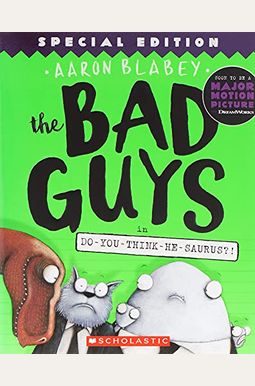 
 
The Bad Guys In Do-You-Think-He-Saurus?!: Special Edition (The Bad Guys #7): Volume 7
Book Overview
SON TO BE A MAJOR MOTION PICTURE
I wish I'd had these books as a kid. Hilarious -- Dav Pilkey, creator of Captain Underpants and Dog ManThey may look like Bad Guys, but these wannabe heroes are doing good deeds.whether you like it or not This
New York Times
bestselling illustrated series is perfect for fans of Dog Man and Captain Underpants.The Bad Guys have flown through outer space, made it back to Earth, and managed to land in exactly the right place. but exactly the wrong TIME. Who knew alien escape pods were capable of time travel? ? And now that they're 65 million years in the past, they must avoid being eaten by dinosaurs and fix their broken time machine if they ever want to get back home before an evil alien destroys the whole world This super special edition also includes a hilarious original short story following evil Dr. Marmalade's quest for superstardom, quizzes, games, and more
Frequently bought together
Frequently Asked Questions About The Bad Guys In Do-You-Think-He-Saurus?!: Special Edition (The Bad Guys #7): Volume 7
Book Reviews
(13)
Did you read The Bad Guys In Do-You-Think-He-Saurus?!: Special Edition (The Bad Guys #7): Volume 7? Please provide your feedback and rating to help other readers.
Review from a 5 year old

Derived From Web

, Jan 15, 2021

If you don't know how to do it, you can't do it." No wonder people still stare at me. I feel like you, too. In the introduction, Harper says: "Let's talk about this book. I like to do that, Bruno told the judge. It's not one of the books that are really funny, like some of the other books. It's just that we can still try. It was mostly when they went through the time machine that made me smile. There was a time when there were no such things as "Yucky" pookey. Liked hearing people say, "Oh my God." It's just a joke, said Dr. Goin. When I was making jokes, I was making myself laugh. The last thing I was to say is good book and good bye to you and all, McCartney said.
My 6.5 year old son loves these books but be aware of some

Derived From Web

, Dec 31, 2019

My son LOVES the Bad Guy books which has sparked a love of books for him. The only issue I have with these books is saying "unkind" words like dumb, stupid, sucks, etc but it was a great opportunity to teach him that he is going to hear unkind words like this all the time and it's all how he reacts. We need to teach our children how to react in situations that are not so stupid, Mr. Rule told the judge. Youngsters will benefit from the extra help as they get older. They were bad words and I would get in trouble if I said them, but I didn't understand why they were bad. It's up to us adults to teach them why the world is the way it is without 100% sugarcoating it.
Great addition to the series

Derived From Web

, May 18, 2019

My son absolutely loves everything about the show, his mom said. Bad guys are just that, played with all the bad characteristics of the good guys. We're partial to the story of how the two main characters came to be shown side by side.
Complete crap

Derived From Web

, Apr 22, 2019

When a good portion of the book includes fill in the blank or finds word to be circled, a kindle version is not ideal for the intended audience.
2nd grade approved!

Derived From Web

, Mar 30, 2019

I'm a teacher and I bought these for my classroom. The discs are never on the shelf. The book is written in comic book style photos with short captions that tell the story. It's the classic bad guys who are horrible at being bad guys type of book. Even my lower readers can still get meaning from the photos and my higher readers can catch the sarcasm and deeper level jokes and understandings so these span many ages!
Loved by kids

Derived From Web

, Jan 31, 2019

A good book. My 7 year old LOVES the movies. We have 8 books left to sell, with the remainder being used for other purposes.
My boys love the whole set of the bad guys books

Derived From Web

, Jan 16, 2019

My boys are old for these books but they love them, and I love to hear them laugh reading them. I do have to say that they have read these books multiple times for fun, Mr. Rule told the judge.
Chapter book for kids

Derived From Web

, Dec 12, 2018

His son, who is 5, loves them. The whole series is a great read for a kid. He also said that keeping kids entertained and interested in reading was a good thing.
My 9 year old daughter is obsessed....

Derived From Web

, Nov 19, 2018

These are the only books she ever wants to read, and often my husband reads with her aloud, and they are quite comical with their renditions of the character voices. The books are witty, irreverent and even for grown-ups. It's always a special treat to surprise her when a new one comes out.
Great for boys and girls! Light Hearted and Funny! With fun pictures!

Derived From Web

, Oct 27, 2018

The whole series is silly, witty, and fun to read, Morgenthau said. It has fart jokes which make them both die, so if you don't want your kids hearing them it may not be a good fit. It's very kid-friendly and has an underline meaning of even those who make mistakes can change, he said. It's super light hearted, Tunick said. The cast of Friends all shine with their own personalities.