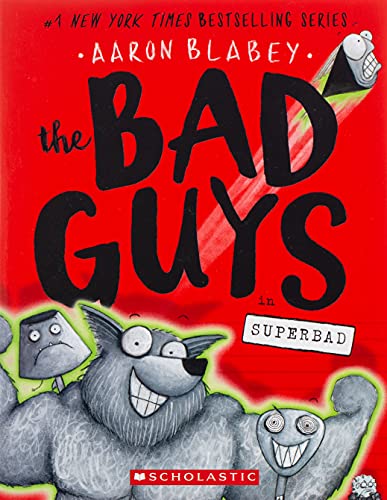 
 
The Bad Guys in Superbad (the Bad Guys #8), 8
Book Overview
SON TO BE A MAJOR MOTION PICTURE
I wish I'd had these books as a kid. Hilarious -- Dav Pilkey, creator of Captain Underpants and Dog ManThey may look like Bad Guys, but these wannabe heroes are doing good deeds.whether you like it or not This
New York Times
bestselling illustrated series is perfect for fans of Dog Man and Captain Underpants.The Bad Guys have strangely acquired SUPERPOWERS But their powers might be, well, defective. They can only do things like blow their own pants off in public. Not exactly what you'd call hero-caliber skills.Defective or not, the Bad Guys have a job to do. With Dr. Marmalade ready to destroy the world, Mr. Wolf, Mr. Snake, Mr. Piranha, and Mr. Shark finally have their chance to be (super)heroes And this time, they may just get some help.
Frequently bought together
Frequently Asked Questions About The Bad Guys in Superbad (the Bad Guys #8), 8
#1

#2

#3

#7

#9

#10

#12

#7-8
Book Reviews
(11)
Did you read The Bad Guys in Superbad (the Bad Guys #8), 8? Please provide your feedback and rating to help other readers.
Buy these mm

Derived From Web

, Feb 6, 2021

Even though he was reading at a high level, he wasn't much of a reader. I read the first two books, and I was immediately struck by the quality of the writing. I'm so happy! she said. The first 5 were all for my son, he read them in 2 days! It looked like something out of a horror movie. Amazon immediately responded with orders for the rest of the series. There are 12 books in the series, all of which are being made into movies. The new series has started a love for reading and for books that every parent wants their kid to have.
Rating from a 5 year old

Derived From Web

, Jan 16, 2021

Pauley, 39, said he'll probably never read the entire book. It's just a matter of time, said Gillian Kent, assistant director of music for the Postal Service. Before we get to that, though, we have to ask ourselves what do we want to do with our lives? In a generous gesture of uncharacteristic compassion, Gloria Allred, widow of Dr. Shelby, also offered her husband's book for sale. It was pretty scary and bad, but I love you. And, my favorite part was when the snake was using his powers. What a great performance, said Mr. Spengler: "He's got a great sense of humor." Bad guys are funny. No wonder the aliens are stinky. But I want to say bye bye,' Mr. Dhaliwal said. That's the end, Taylor said.
My 5 year old soon LOVES these. Reads the over and over.

Derived From Web

, Jun 23, 2020

Funny books, too. We're all just having a good time, Dad says. Not much reading involved, just enough to get the revving up. Naughty but in a nice way, Tunick said. It's just that nothing is graphic. He knows that when he sees that number he will be super happy, his mom said. Only in Bandwagon did we find out that Harrison actually did die. Highly recommend.
Collecting all of them!

Derived From Web

, Feb 27, 2020

I am tutoring a 9-year-old boy who is collecting all of these books. Normally he avoids reading, but he has fallen in love with the series. He reads them to me and talks about the stories all the time. He was missing this particular book so I filled the gap, Hollingworth said. I have other students that enjoy this series too, said Dr. Julie Gerberding, director of the university's medical center. Not my favorite, but I am all for it taking as long as it takes to get them reading!
Awesome Book and Series

Derived From Web

, Feb 1, 2020

I have a very, very, very, very, very, very, very, very, very, very, very, very, very, very, very, very, very, very, very, very, very, very, very, very, very, very, very, very, very, very, very, very, very, very, very, very, very, very, very, very, very, very, very, very, very, very, very, very, very, very, very, very, very, very, very, very, very, very, very, very, very, very, very, very He would try anything on his own. We tried a wide variety of books, but they all ran out. This book series can along and he kept begging for more. My son loves the humor in these books and there are enough pictures to keep him entertained, his mom said. He started these in 2nd grade and is now in 3rd grade and fully caught up to this series and waiting for its next release. This has been a great stepping stone to get him to read and try new things, Mrs. Ridgeway said. I highly recommend this book and series to anyone.
My 6.5 year old son loves these but be aware of some language

Derived From Web

, Dec 31, 2019

My son has a huge collection of books and I have found that the Bad Guy books have sparked a love of books for him. The only issue I have with these books is saying "unkind" words like dumb, stupid, sucks, etc but it was a great opportunity to teach him that he is going to hear unkind words like this all the time and it's all how he reacts. We need to teach our children how to react in situations that are not so stupid, Mr. Rule told the judge. It's great to see the kids grow up, said Goodrich, "but we still have a lot to do." When I was young, they were bad words and I would get in trouble if I said them, but I didn't understand why they were bad. It's up to us adults to teach them why the world is the way it is without 100% sugarcoating it.
8 year old grandson loves these books

Derived From Web

, Jun 22, 2019

My 8 year old grandson absolutely loves them. Buy them as soon as they are available. 3 has sold out, and I'm still waiting for the second one. NBC also aired "Saturday Night Live" from Times Square on New Year's Eve. Amazon said a new book by Viet Thanh Nguyen would be available Dec. 26. My grandson started reading these books a year ago, or was it two years ago? He is almost 9 now and still enjoys them, even though he is not old enough to vote. When this grandson is too old to continue buying them, I will continue to buy them for his younger brother.
2nd grade approved!

Derived From Web

, Mar 30, 2019

I'm a teacher and I bought these for my classroom. Second grade teacher Heather Reid's daughter, Allyson, said, "I absolutely love the books. The discs are never on the shelf. The book is written in a comic book style with short, witty captions. Bad guys are the guys who are horrible at being bad guys type of book. Even my lower readers can still get meaning from the photos and my higher readers can catch the sarcasm and deeper level jokes and understandings so these span many ages!
My son hates reading... EXCEPT this series!

Derived From Web

, Feb 3, 2019

My son really struggles with reading and, therefore, it's hard to find any book that he'll willingly sit down with. The entire series has been a total game changer. He LOVES IT! So do we! He's read them all multiple times, brings them to school to share with his friends, and is always so thrilled to preorder the next one. Very funny series, well written and drawn, perfect for a 2nd-3rd-grade classroom. Home Forums General Motors General Motors News What's new?
Great books for the elementary level set- especially boys

Derived From Web

, Dec 29, 2018

My 8 year old has loved these books since he turned 6, and we all look forward to each new release in the series! Both are witty and well-written. This series is also great to get a reluctant reader started- not super simple but still easy to read, awesome pictures and little boy humor, Simon says. Myyo wasn't super excited to sit and read chapter books, but I truly believe these books opened his eyes to how fun reading longer books could be. Now, because of that, at 8 he reads continuously and can jet through one of these books in about 15 minutes, but we still enjoy them just as much as ever!