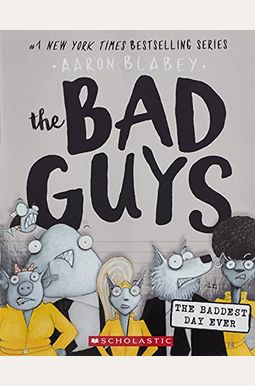 
 
The Bad Guys In The Baddest Day Ever (The Bad Guys #10): Volume 10
Book Overview
SON TO BE A MAJOR MOTION PICTURE
I wish I'd had these books as a kid. Hilarious -- Dav Pilkey, creator of Captain Underpants and Dog ManThey may look like Bad Guys, but these wannabe heroes are doing good deeds. whether you like it or not This
New York Times
bestselling illustrated series is perfect for fans of Dog Man and Captain Underpants.All hail Crown Prince Marmalade Surrender to his evil magnificence Kneel before his butt-handed glory Or.like.DON'T The Bad Guys and even Badder Girls might have been knocked down, but does that mean they'll stay down? No way, chicos Pull on your party pants-it's the ultimate battle between Bad and BAD
Frequently Asked Questions About The Bad Guys In The Baddest Day Ever (The Bad Guys #10): Volume 10
Book Reviews
(12)
Did you read The Bad Guys In The Baddest Day Ever (The Bad Guys #10): Volume 10? Please provide your feedback and rating to help other readers.
Buy the series

Derived From Web

, Feb 6, 2021

My son was reading above his grade level, but he wasn't much of a reader. I read reviews on this series. I'm very happy. I bought the first 5 for my son, and he read them in 2 days. I was not sure what I was seeing. I went to Amazon and bought the rest of the series. There are 12 books in the series and they are becoming movies. Every parent wants their child to have a good book, and this series has started a love for reading.
Review from a 5-year-old

Derived From Web

, Jan 21, 2021

When I saw that Agent Hogwild was named EmmyLou, I was very happy. I would recommend this book to my father. It is so nice with my name in it, that I gave it 5 stars. When the pig said her name, was my favorite part. I know, you already said that. I don't want to say goodbye goodbye! Bye Bye!
Do not recommend book 11. Book 10 was the end for us.

Derived From Web

, Jul 9, 2020

The series was a lot of fun until Book 11 took a completely dark and evil turn. It was too dark and frightening to keep reading. I am very disappointed by the change of course by Blabey. Do not recommend it. Book 10 was the end.
Great for kids who love superheroes and exciting enough for adults

Derived From Web

, Apr 6, 2020

My son loves reading. We have a lot of fun reading together. Definitely recommend reading. Can't wait for #11 and #12 to come out.
Love the addition of the sassy ladies of The International League of Heroes

Derived From Web

, Mar 28, 2020

My son is a fan of the book series. This is the series that got him interested in books. We can't wait for the next book to come out, that's the complaint I have. If I have more than one, it has to end. As I read this to my son, I became invested in these characters as well.
Good balance of text & images for young readers

Derived From Web

, Mar 14, 2020

My 7 year old is a big fan of the Bad Guys book series. He reads them many times. He likes the bad guy character Marmalade. The book has a good balance of text and images to keep active kids reading.
Fun. Reinforces values and stretches vocabulary.

Derived From Web

, Mar 12, 2020

My son likes this series. There is lots of action and complex relationships between characters. Positive values of integrity and loyalty are strengthened. He doesn't lose his attention from frustration because he has enough big words. It's fun to read with him. His sister likes them as well.
Book Review

Derived From Web

, Feb 23, 2020

The book begins with a discussion of the death of Mr. Snake. If you recall from the last book, he fell off the space ship and they didn't know what happened to him after that, so they assumed he had died. The Bad Guys and the Bad Girls have a discussion about changing their names. The Bad Guys and the Bad Girls are included in a whole new group with The Shadow Squad G. No one is being left out, that is nice. I enjoy the new name. I'm looking forward to seeing what happens in the next book as I've enjoyed this series from the beginning. It is enjoyable to read, interesting, and good in many ways. It is engaging for children. I recommend this series to any child that enjoys graphic novels and a good laugh.
Great books!

Derived From Web

, Jan 11, 2020

My daughter is a big fan of these books. We have to read these stories aloud with different voices for each character. She needs to be Mr. Wolf, Mr. Snake and Marmalade. I make the voices for all the other characters. I get in trouble if I don't do the same voice for Mr. shark. Oh my! Mom! That's not the same voice. It's true. My favorite character is Mr. Wolf because of the voice I do for him.
Much loved series in our house

Derived From Web

, Jan 2, 2020

My son is not able to get enough of them. He and his friends play on the playground. I like buying them because they are easy to read and I know he will read them millions of times. He is 8 years old and these are probably below his reading level but I think you should love what you read. Can't wait for the next one to come out.