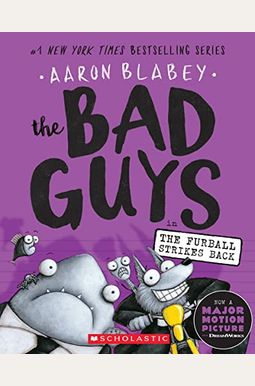  
The Bad Guys In The Furball Strikes Back (The Bad Guys #3): Volume 3
Frequently Asked Questions About The Bad Guys In The Furball Strikes Back (The Bad Guys #3): Volume 3
Book Reviews
(14)
Did you read The Bad Guys In The Furball Strikes Back (The Bad Guys #3): Volume 3? Please provide your feedback and rating to help other readers.
Perfect for a kid who hates reading

Derived From Web

, May 27, 2021

Excellent quality and entertaining. My 8yr old hates compulsory reading. He immediately requested the entire series after I got the first one. It's like a comic strip. The chapters are short but my son was impressed with himself because there were so many of them. I was helped immensely by my self confidence.
My reluctant reader loves the visual format

Derived From Web

, Oct 28, 2020

These are readers that are fun to read. My son has fallen in love with the quirky story line in these books, and he has not been interested in reading before. He enjoys the visual layout of the storyline.
Try this book

Derived From Web

, Jun 23, 2019

The Bad Guys book series is a good way to help a student read. Our son didn't pay attention to any particular series of books. He was drawn to the books when he first started reading them. They have fun pictures and Spanish words that challenge your young reader. This purchase was made for my son's friend's son who started reading my son's books.
Best Books for Kids EVER!

Derived From Web

, Apr 9, 2019

My daughter likes these books. We will definitely get all of them, even if we only have the first three. My daughter will be reading these stories for hours. It makes my mother happy. My daughter likes the silly plot lines and the funny jokes. I highly recommend for kids of a certain age.
My 7 year old LOVES the series of the bad guys. He laughs out loud and we all ...

Derived From Web

, Oct 20, 2018

My 7 year old loves the bad guys. We have to hear the stories he reads because he laughs out loud. The price is right for fun, easy chapter books for new independent readers. Highly recommended.
Great book for all kids!

Derived From Web

, Mar 30, 2018

It's a perfect book for those kids who struggle with reading. Students love this series, I teach special education in grades 3 to 5. I have a line of students waiting to read the books and they want me to buy every book. The books are written in a comic book style, which makes them engaging for students who struggle with reading or don't enjoy it as much. A lot of my students have a hard time finding books that fit their interests and reading levels are below where they should be. The books are fun, interesting, and a really great book that is an accelerated reader book. I would recommend this book to any student who is interested in reading and needs a fun quick read.
Our son loves it!

Derived From Web

, Sep 30, 2017

Our son loves the Bad Guys series because he got the first one at our school's book fairs. There is a black and white book. He didn't want to wait until the next school book fair to buy it, so we ordered #3 and #4 online. I asked him why he loved this series, and he said it was fun to read. While we were ordering this one online, he saw the yet-to-be-released Bad Guys books, and he was so excited to buy them immediately. Our son is a huge fan of the Bad Guys series, so I'm very happy that he gets to read past his minimum time for homework.
My 7 year old loves this series!

Derived From Web

, Sep 14, 2017

My child loves these books. I bought the rest of them here because she loved them so much that she got the first one from a book fair. It's cheaper to buy on Amazon than it is at the book fair.
The illustrations and font changes to support the story are really great for beginner readers

Derived From Web

, Sep 2, 2017

Funniest series. The second graders had fun with the first 3 books. We had to wait for the third one to be released, and they kept asking when it would be. The illustrations and changes to the text are great for beginners. Everyone loved the idea of bad guys becoming heroes.
A fun series for elementary kids

Derived From Web

, May 19, 2017

My 7 year old son is a fan of this series. I think they are okay. They are in a comic book style with picture panels, so it's not very wordy and the chapters go fast. Some fart jokes are thrown in with the humor. This book picks up where #2 left off. If your child likes #1 and #2, then the third one is worth buying, if you're new to The Bad Guys.