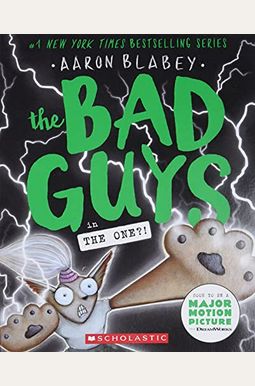 
 
The Bad Guys In The One?! (The Bad Guys #12): Volume 12
Book Overview
SON TO BE A MAJOR MOTION PICTURE
I wish I'd had these books as a kid. Hilarious -- Dav Pilkey, creator of Captain Underpants and Dog ManThey may look like Bad Guys, but these wannabe heroes are doing good deeds. whether you like it or not This
New York Times
bestselling illustrated series is perfect for fans of Dog Man and Captain Underpants.Seriously,
WHAT
is going on with Snake? Terrible powers have been revealed Evil allies have materialized Inter-dimensional doors have opened Shady-looking cloaks have been purchased What is his
deal
? And that's not all Why does Agent Fox suddenly have a whole lot more backstory than we'd counted on? Dang it We need answers
WHAT IS GOING ON HERE?
Wolf and the gang are back. And things are worse than ever. Or
badder
than ever. if you think that sounds cooler and don't have a problem with
bad
grammar.BAD GUYS #12 WIL
MELT YOUR BRAIN.
Frequently Asked Questions About The Bad Guys In The One?! (The Bad Guys #12): Volume 12
Book Reviews
(8)
Did you read The Bad Guys In The One?! (The Bad Guys #12): Volume 12? Please provide your feedback and rating to help other readers.
BUY THESE BOOKS!!!

Derived From Web

, Feb 6, 2021

Even though my son was reading above his grade level, he wasn't much of a reader. I read the reviews on this series. I'm happy. I bought the first 5 for my son and he read them in 2 days. I couldn't believe what I was seeing. The rest of the series was bought on Amazon. There are 12 books in this series and they are becoming movies. This series has started a love for reading and books that every parent wants their child to read.
What happened?

Derived From Web

, Feb 2, 2021

We laughed and giggled our way through the books together. We didn't like the book that he received for Christmas and we don't want to read it. The author is putting out books for the money and not caring about quality material for young readers. There is something wrong when a 9 year old notices a discrepancy in the books. No more. !
Ok, but the weakest book in the series

Derived From Web

, Jan 23, 2021

The series started out great and has been declining. The evil multiverse concept is a concept for an 8 year old. We might try one more book, but we hope it will be funnier.
AGAIN a Book Series That Starts one Way Then Descends Into Weirdness.

Derived From Web

, Jan 4, 2021

The book title is The Bad Guys, but it is going down a dark path. It's time to accept that you are the dark lord of serpents. Mr. Snake is trying to convince others that he is on the dark side. The piranha is supposed to be a seer that can see messages they don't know where they came from. I jumped the shark. Go into oblivion. I now believe that the majority of five star ratings are from people who are happy their kids are reading. Yes, I'm reading. Whatever, it's your choice. The books were good and short. They are demonic. It was difficult to get through 11 and 12. I thought Book 11 was just a one time thing, but the next one was just like that as well. I'm not going to read them anymore.
Disappointing installment that gets laughs from bathroom "humor"

Derived From Web

, Dec 1, 2020

The first few books were fun and well-illustrated. The author of this book is lazy and filled with unpleasant and disgusting imagery along the lines of fresh poop, hot poop burger, etc. I can't imagine buying anything anymore if I didn't read reviews before placing the order.
Disappointment, story was mediocre, mostly potty talk

Derived From Web

, Nov 12, 2020

My boys love reading comic books. There are too many potty words in this one. Does the author not know how to write a funny book anymore? Why is it necessary to add all these things? Don't buy bad guy books anymore.
More multiverse portal and evil overlords

Derived From Web

, Nov 11, 2020

The evil voices and mind control of the characters have been capped. The direction to take the children's book series was odd. It was a bit disappointing that the release and delivery of this book didn't make any story progress.
What has happened to this series?

Derived From Web

, Nov 10, 2020

The books were enjoyable. Silly, but fun. The last book scared my child. We were hoping to get resolution in Book 12. It's a little more silly, but it's still rather dark. Will sell the rest of the series to a used bookstore. It's disappointing for children's literature.