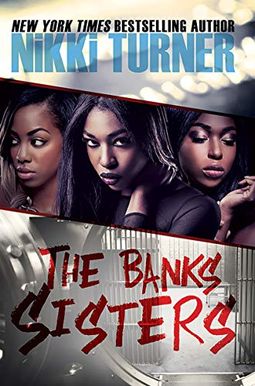 
 
The Banks Sisters (Urban Books)
Book Overview
New York Times bestselling author Nikki Turner returns with her most spellbinding story to date: Meet the Banks sisters--Simone, Bunny, Tallhya, and Ginger. The four beauties are living under the same roof by force, but they can't stand each other. Their only common denominator is their loving grandmother, Me-Ma. When she's not at work trying to make ends meet, she's home with her girls, trying to keep them from killing each other.
Tragedy strikes when Me-Ma has a heart attack at church. The sisters are shocked to discover that Me-Ma left the house and all her money to the church. Now the pastor wants them out, unless they can come up with the money to buy the house from him. To make matters worse, Bunny already owes over a hundred thousand dollars to a very dangerous man. How can four broke women, each with their own mountain of problems, come up with enough money to save the family's home--and save Bunny's life? They devise a plan that could have them rolling in plenty of dough--as long as they can stay one step ahead of the law enforcement that's on the lookout for a group of bank robbers who have burst onto the scene.
Frequently Asked Questions About The Banks Sisters (Urban Books)
Book Reviews
(12)
Did you read The Banks Sisters (Urban Books)? Please provide your feedback and rating to help other readers.
what did they no good as momma and that pastern & exam husband better ...

Derived From Web

, May 4, 2022

What a bank sister, what a mom and that past rern exam husband better have the worst punishment....
Good story line I am ready for the next book

Derived From Web

, May 4, 2022

I am very pleased with the story line and am ready for the next book. This book left you hanging, Gillian, I enjoyed reading it.
It started off good but then it just kept going down hill

Derived From Web

, May 4, 2022

I'll never forget the book. It started good, but then it kept going down hill. Everyone agrees that the spelling was terrible, Ms. Caramore said. At one point she called her a "he" even though she identified herself as a "she" throughout the whole story.
Definitely a page turner

Derived From Web

, May 4, 2022

There is never a dull moment in this story. The story moves on. If you're looking for a good read that has a twist to it than this is a modern book you should try.
This is a storyline of how it all started

Derived From Web

, Oct 6, 2021

I'm not normally a book review writer, but I felt like this was worth the review. The second book is a great read, too, Gillian. It kept me on the edge of my seat for most of the time, but overall the vocabulary was great, Graham said. Brilliant punchlines, I love the way the author use figurative language, running your imagination wild, Raymond said. It's great to see the second book, but I want to know what happens next. The story really starts in book 2, because it's just a storyline of how it all started, Hughes said.
Intriguing

Derived From Web

, Aug 11, 2021

The police would arrest the writer. It's a great storyline, Hart said. Even if tragedy struck this family like a tidlewave, we would have survived, Mr. Dhaliwal said. Kudos to Lawrence E. Alibozek, who stepped down as an author last year.
Oh what a Trip out 📖 Book gotta read part 2 3&4 if they have it I hop they are page turners too!!🧐🤨😉

Derived From Web

, May 16, 2020

This was an amazing book with some great characters, Raymond said. I'm reminded of the story of rags to riches. But in this case back to again rags smh I really appreciate the different things happening that kept me turning pages, he said. This story is truly a page turner and I know that I will began to read the next book part 2 I've already purchased it. This book is a journey. I am excited to see what is going on next, Mr. Dhaliwal said. What is SiSi and the other Banks Sisters? That Preacher and that momma are truly a mess. .
Page turner!

Derived From Web

, Dec 24, 2018

It was a witty, irreverent look at life through the prism of a hood drama. Normally I can figure out whats going to happen next, but I was surprised by chapter after chapter. The ending was also unexpected and good, Mr. Dhaliwal said. It's so important to have a good ending, Sosa said. It definitely made me want to get the next book to see what will happen with the twins. The Banks Sisters is a must read. This book is recommended for anyone looking for something exciting to read drizzled with love and humor. Thumbs up!
When is part 4 coming out! I wasted my money already read these books misrepresentations

Derived From Web

, Jul 31, 2018

I thought this was the 4th book, but it's all 3 of the first books that I already read that I can't stand. Home Forums General Motors General Motors News What's new?
Put some effort into your writing

Derived From Web

, May 30, 2018

The book had very minor editing, which made it hard to read. It's really sad that Nikki and her editor released a book that was poorly written, publicist Paul LiCalsi said. The Harrisons are very disappointed, said Blair. I truly hope that the other books were written better because I purchased them all at one time, had I not even attempted to read them, he said. I try to support writers, but this was beyond ridiculous. The book was fairly standard fare, similar to most of the urban books.