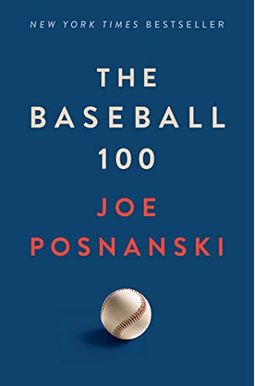 
 
Frequently Asked Questions About The Baseball 100
Book Reviews
(12)
Did you read The Baseball 100? Please provide your feedback and rating to help other readers.
Great Stories, Over the Top at times.

Derived From Web

, Dec 16, 2021

While I consider it a must read for any baseball fan, Posnanski gets a little excited to show you how much he recognizes racial issues not only then, but now. Don 't get me wrong, it is an important part of the game history and needs to be told, but sometimes he tries to include race in the story where it makes no sense. The end of the chapter by Joe Morgan was bizarre. It is almost as if Posnanski thinks he is in the overwhelming minority of baseball fans that abhors racism rather than in the small majority.
Enjoyable, mildly frustrating

Derived From Web

, Dec 9, 2021

A fascinating set of short essays about 100 different ball players with plenty of deference to Negro leagues, to the author's credit, a fascinating set of short essays about 100 different ball players. We all know a bit more baseball and less background in some cases, we all know about Pete's personality and gambling, etc. But what about who was on the field and in the clubhouse? The Carlton Fisk essay is the re-telling of the episode FiskDeion Sanders, which tells you everything you need to know about Carlton Fisk's character and sadly the same about Sanders. The great majority of these essays are interesting, just a few where the emphasis is a swing and a miss.
Maybe the Best baseball book ever

Derived From Web

, Dec 4, 2021

I haven't actually read every baseball book ever written, but I have been reading a lot of them for a long time and this book is amazing. I am trying to go slowly and enjoy it, but every chapter is the perfect length and it is always tempting to run right into the next chapter, which will also be the perfect length. These are great new takes on players that we all already know a lot about, so that it is not easy to succeed and yet does. And it is very much appreciated. And it is very much savoured. I have the kindle version too and it's exactly what the kindle is for... so I don 't have an 800-page book constantly on my side. Kudos Kudos.
A poor presentation of the National Past-Time by a liberal advocate; the game has policed itself.

Derived From Web

, Dec 1, 2021

I was horrified by this book as a former minor-league baseball player. It was a blatant BLM propaganda device, although I believe that the author was sincere in his convictions. Babe Ruth was always and always will be the pre-eminent player in baseball history, though he is white. Naturally, I did not agree with many of the rankings. Throughout the book, I became agitated by the constant use of the greatest baseball player of all time. I would NOT recommend this to any of my knowledgeable baseball colleagues or fans. I do not agree with the author's wandering through black topics, as if Americans specifically discriminated against liberal ball-players. While I heard stories during my baseball career, everyone on my teams included all minorities in team activities, including lodging and meals. I played on the West Coast so that this may have influenced a part of my experience. I regret purchasing this book ''.
Bound to cause a lot of discussion

Derived From Web

, Nov 7, 2021

This book will cause fanatic baseball fans to have fits over the course of winter. The author lists is 100 greatest players of all time using subjective stats and metrics to justify the listing and its order, but is still very objective in the end. There will be a great deal of discussion about who is on the list and who is not along with the 1 : 100 order. Overall, this will be a good book for any hardcore baseball fan. I received a free Kindle copy of this book courtesy of Net Galley and the publisher with the understanding that I would write a review on Net Galley, Goodreads, Amazon and my non-fiction book review blog.
Who Is Bruce Sutter?

Derived From Web

, Nov 3, 2021

I'm only 9 hours into the audiobook, with about 9 hours into the audiobook, with only one gripe. This is yet another audiobook rife with mispronounced names Bruce Sutter? Don Minchener?? Jim Cat? s Jim Cat?? Bill Veeck (pronounced like it is pronounced, but is actually pronounced VECK ) If he has never heard of these people, he is only partly responsible. Aside from some names being butchered, he has a calm, likeable voice. Why weren't these errors addressed? Was the author ever consulted on these names? Does anyone at Amazon, the publishers or the audio producers do any proof listening? I'll finish this audiobook, I'm about nine hours in and enjoying the hell out of it. I hope there is a volume two someday. And I look forward to hearing many more mispronounced names. After a while it gets kinda funny. Anyone? Quality Control, anyone?
It's About the Story, Not the Ranking

Derived From Web

, Oct 14, 2021

What a great collection and compilation of baseball stories about great and sometimes unknown but impactful historical players for many of us. This book bleeds baseball. It is written beautifully for fans of the game, the kind of fans who have Cooperstown on their bucket lists. Start with George Will's introduction and you will understand why there is no need for a table of contents. And why the author's ranking makes for a great title and friendly debate, but is not really the point. It is full of historical opinion and stats that are purposeful in helping tell each story, and anecdotes that are often amazing. If you are a fan, regardless of your personal baseball 100, do something nice for yourself and read this book. You 'll be glad that you did.
The lack of a Table of Contents was a disturbing clue

Derived From Web

, Oct 11, 2021

And very good on the part of the publishers. Had I been able to go through it before buying, finding Barry Bonds at #3, I would have passed, and the same with A Rod and Clemens. These people don 't deserve to be ranked with all these giants. Everyone has an opinion on this subject and my option to pass on this book was destroyed by this oversight, placing DiMaggio at #56 and Seaver and Robinson at 41 and 42 is gimmicky and makes the whole project less authoritative. It is a nice idea and very subjective of necessity, but could have been taken more seriously. I hope that for Posnanski's sake this baseball on the cover had a smiley face to let us know that this could not be a serious issue.
Outstanding

Derived From Web

, Oct 1, 2021

A fantastic book. It is refreshing to read a baseball book that is so well written. He dedicates 5 -- 10 pages to each player and does not regurgitate the stats from Baseballreference. com. He refers to statistics, for example the five lowest draft picks to make the Hall of Fame were Mike Piazza 13th round, Jim Thome 13th round, Ryne Sandberg 20th round, John Smoltz 22nd round and Nolan Ryan 62nd round. It's the stories, stories about the players, stories about the game, and stories about history that make this book so good. More than once while reading this book, I turned to my wife and read her a paragraph or two that really has nothing to do with baseball, but with life. I found this book to be very informative, entertaining and at times very touching ''. It's an easy to read book that I think you 'll really appreciate and enjoy.
Too much bio, not enough baseball

Derived From Web

, Oct 1, 2021

Every great player's dad is demanding. Every great player worked until their hands bled. What do you know? A lot of mediocre players did, so did a lot of mediocre players. What they did on the field made them great. What they did on the field made them great. Or at least made them material for a book.