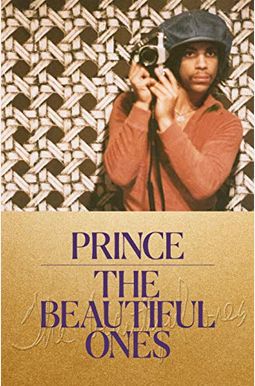  
The Beautiful Ones (Spanish Edition)
Book Overview
#1 NEW YORK TIMES BESTSELER - The brilliant coming-of-age-and-into-superstardom story of one of the greatest artists of all time, in his own words--featuring never-before-seen photos, original scrapbooks and lyric sheets, and the exquisite memoir he began writing before his tragic death
NAMED ONE OF THE BEST BOKS OF THE YEAR BY THE WASHINGTON POST
Prince was a musical genius, one of the most beloved, accomplished, and acclaimed musicians of our time. He was a startlingly original visionary with an imagination deep enough to whip up whole worlds, from the sexy, gritty funk paradise of Uptown to the mythical landscape of
Purple Rain
to the psychedelia of Paisley Park. But his most ambitious creative act was turning Prince Rogers Nelson, born in Minnesota, into Prince, one of the greatest pop stars of any era.
The Beautiful Ones
is the story of how Prince became Prince--a first-person account of a kid absorbing the world around him and then creating a persona, an artistic vision, and a life, before the hits and fame that would come to define him. The book is told in four parts. The first is the memoir Prince was writing before his tragic death, pages that bring us into his childhood world through his own lyrical prose. The second part takes us through Prince's early years as a musician, before his first album was
Read More chevron_right
Frequently Asked Questions About The Beautiful Ones (Spanish Edition)
Books like The Beautiful Ones (Spanish Edition)
Book Reviews
(15)
Did you read The Beautiful Ones (Spanish Edition)? Please provide your feedback and rating to help other readers.
enjoyable reading for any Prince fan

Derived From Web

, Nov 9, 2021

It covers his later years more than early and mid-years.
Did not live up to expectations

Derived From Web

, Oct 7, 2021

Unbelievable that the author actually published Prince's scribblings, which are usually unreadable without being interpreted for the reader. Unless you're prince's employee and paid to decipher this thing, you have wasted your money with me.
Unfinished

Derived From Web

, Nov 27, 2020

Not sure why this book received such great reviews. It is basically a picture book with some text. At best, unfinished and very much disjointed.
Extremely Interesting & Insightful!

Derived From Web

, Oct 24, 2020

Fans of Prince who " think " that they know him really need to read this book.
Top Quality

Derived From Web

, Jan 29, 2020

A treasure book of a super and talented artist the one and only Prince ''. The book smells really good and the pages are amazing and everything about this book is good. Kudos to all designers who put together this book . I highly recommend '' this company.
Truly the beautiful one!

Derived From Web

, Jan 10, 2020

Dan Piepenbring would be so proud of how Prince completed this masterpiece. Prince was such an amazing person and this book shows who he was really as a person and as a talented musical artist. The Beautiful One will live on forever!
If you want to know Prince better...

Derived From Web

, Dec 30, 2019

It was a treat to read texts written by his hand with scribbles on the sides and to see his own writing. I knew it was going to cover his life up to Purple Rain, but it was so engrossing that I was still kind of surprised when it ended.
A must have

Derived From Web

, Nov 20, 2019

This is a book that you must own. Prince's handwriting, the personal images, his wit, his personal views on growing up and life. You can read all the other books that speak of the individual's relationships with Prince... but this is the book HE wanted to know the world. I'm devastated that the book is a mere part of what he meant to write... but I take nothing over nothing.
Heart breaking

Derived From Web

, Nov 12, 2019

HUGE Prince fan.. grew up and am a Minnesota girl.. was in Purple Rain, but like so much since his death. Hard to read, does not flow and does not really tell a story from his point of view.
Prince had just begun this idea. It wasn't finished.

Derived From Web

, Nov 1, 2019

I was excited about this book ''. I wanted to like it ''. I wasn 't. This isn 't what Prince wanted. With his honesty, with transparency and creativity, he wanted to make an impact. That's all this book is a contract. The writer did a good job with the limited material he had and it is clear that he cared about Prince. A few hand written pages by Prince on a legal pad is, however, not the achievement that Prince was aiming for. On the day wept, Prince died. I'm just a fan ''. If I knew how incomplete Prince's contributions were to this work, I wouldn t have bought it. This man and his music make me miss. I could have retained my $20 and still honored his legacy as I always will by listening to and appreciating his music.