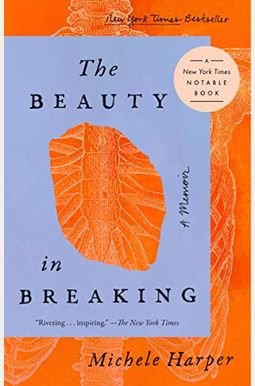  
The Beauty In Breaking: A Memoir
Book Overview
A NEW YORK TIMES BESTSELER

A New York Times Notable Book
Riveting, heartbreaking, sometimes difficult, always inspiring. --
The New York Times Book Review

As seen/heard on Fresh Air, The Daily Show with Trevor Noah, NBC Nightly News, MSNBC, Weekend Edition, and more
An emergency room physician explores how a life of service to others taught her how to heal herself. Michele Harper is a female, African American emergency room physician in a profession that is overwhelmingly male and white. Brought up in Washington, D.C., in a complicated family, she went to Harvard, where she met her husband. They stayed together through medical school until two months before she was scheduled to join the staff of a hospital in central Philadelphia, when he told her he couldn't move with her. Her marriage at an end, Harper began her new life in a new city, in a new job, as a newly single woman. In the ensuing years, as Harper learned to become an effective ER physician, bringing insight and empathy to every patient encounter, she came to understand that each of us is broken--physically, emotionally, psychically. How we recognize those breaks, how we try to mend them, and where we go from there are all crucial parts of the healing process.
The Beauty in Breaking
is the poignant
Read More chevron_right
Frequently Asked Questions About The Beauty In Breaking: A Memoir
Book Reviews
(12)
Did you read The Beauty In Breaking: A Memoir? Please provide your feedback and rating to help other readers.
Terrible

Derived From Web

, Jan 19, 2022

Garbage is a popular video game. It was actually thrown in the trash. Congratulations, you would be able to describe the author and this book adequately.
Amazing book

Derived From Web

, Jun 6, 2021

This book is so powerful and makes you stop and think about what is important in life. To love this book you do not need to be in the medical world. Merci Michele Harper, Michele Harper.
Loved it!

Derived From Web

, Feb 19, 2021

I love the way it allowed me to reflect personally. There were several takeaways that were helpful in mindfulness and positivity as well as the importance of personal will power and self-healing practices.
Very over-rated. Journeyman writing. Preachy. Annoying

Derived From Web

, Dec 13, 2020

This was the most disappointing of the many medical non-fiction books I have read. Each chapter has an ER episode that tries to connect to some bigger life lesson and next career move. Writing and thinking lacks nuance. After chapter 7, I had enough. It is not worth finishing or preserving. I'll drop it at the library or in Goodwill. If you are keen to read this one, wait for a few months. Many copies are available for free or at a low price.
Meaningful perspective.

Derived From Web

, Sep 12, 2020

Author does a great job of weaving personal history into day to day events. Her writing style is compelling, down to Earth and heartfelt.
Excellent good insight into emergency medicine

Derived From Web

, Aug 19, 2020

This book is a spiritual page Turner It couples emergency medicine with real growth and yoga mediation Not to be missed.
Could benefit from some serious editing

Derived From Web

, Aug 4, 2020

Another book with a good title, an excellent first chapter, and then it is downhill on the whole way. A series of interspersed medical stories interspersed with author musings. I wanted to hear about the author's personal healing, which is the framing presented here to sell the book. For me, the constant return to her childhood troubles took all the momentum out of the broader story. Going back and forth in time takes a storytelling skill that I feel this author lacks. For me, taking a scalpel to all the he said she said '' and asides about broader social ills would have made a much more taut and compelling story. I just passed halfway through, reading it $13 down the drain.
Eye opening

Derived From Web

, Jul 17, 2020

This book really stays with you as I try to find my own discontent that I need to work on in my life.
Beautifully written

Derived From Web

, Jul 17, 2020

It ended badly. An emergency room physician's memoir about her upbringing, her life lessons and her takeaways from healing her patients. The only regret of a reader is that she can not spend more time getting to know this brave, highly empathic and profoundly insightful woman.
Dr. Harper

Derived From Web

, Jul 14, 2020

Dr. Harper shares her life experiences in this beautifully written memoir. She treats her patients with dignity while feeding not only the body, but also the soul. In doing so she heals herself from her own trauma and shares thoughtful life lessons for her readers to consider. The themes that come up are relevant and timely. I recommended this book to my family and selected it for my book club meeting in September with my friends.