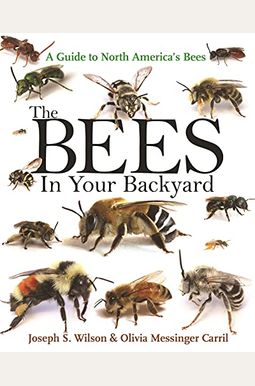 
 
The Bees In Your Backyard: A Guide To North America's Bees
Book Overview
The ultimate bee book for bee enthusiasts and experts alike
The Bees in Your Backyard provides an engaging introduction to the roughly 4,000 different bee species found in the United States and Canada, dispelling common myths about bees while offering essential tips for telling them apart in the field.
The book features more than 900 stunning color photos of the bees living all around us--in our gardens and parks, along nature trails, and in the wild spaces between. It describes their natural history, including where they live, how they gather food, their role as pollinators, and even how to attract them to your own backyard. Ideal for amateur naturalists and experts alike, it gives detailed accounts of every bee family and genus in North America, describing key identification features, distributions, diets, nesting habits, and more.
Provides the most comprehensive and accessible guide to all bees in the United States and Canada
Features more than 900 full-color photos
Offers helpful identification tips and pointers for studying bees
Includes a full chapter on how to attract bees to your backyard
Frequently Asked Questions About The Bees In Your Backyard: A Guide To North America's Bees
Book Reviews
(10)
Did you read The Bees In Your Backyard: A Guide To North America's Bees? Please provide your feedback and rating to help other readers.
This is an excellent introduction to the bees of North America

Derived From Web

, May 21, 2022

It is well-written and comprehensive and provides general information about bee morphology, biology and behavior. It then covers ALL the families and genera of bees in NA, what their identifying characters are, and provides detailed information about the biology of each species. Great illustrations and wonderful photographs of live bees. This book is a classic, there is nothing else like it. It will do more to increase the general public's knowledge about the diversity of the bee than is currently available. A must-have :
Comprehensive Guide to Bee in North America

Derived From Web

, May 21, 2022

An incredible book about bees in North America. Wilson and Carril begin their guide book with basic information about the differences between bees, wasps and flies, which can easily be confused with one another, as well as information about the bsaic life history of various bees. Then they provide a comprehensive overview of the major families of bees in North America - Andrenidae, Apidae, Colletidae, Halictidae, Megachilidae and Melittidae. Various species are provided in each family described and distribution maps are described. This book will probably have a legacy as a sort of Magnum Opus among books on bees.
A wonderful book for better understanding the learning about bees in your backyard!

Derived From Web

, May 21, 2022

A great book for my fellow pollinator - watching and identification. It was highly recommend. Get photos and text for those who want to know more than if it is a bee... good photos, maps, active periods, a key to the chapters of the book and suggestions for understanding bee habitats.
Must have for anyone interested in bees (not honeybees)

Derived From Web

, May 21, 2022

Not all honey bees are bees! If you are interested in bees, this is a must have. Bees on the Earth!
Best Bee Book I've seen

Derived From Web

, May 21, 2022

This book is so much better than the limited division of the bees in insect books. Beautiful photos, easy to use as an ID book and has in it all kinds of good information.
Great content!

Derived From Web

, Mar 31, 2021

This book is great if you are interested in learning more about bees than just a field guide with lots of pictures and little information, save for scientific names and regions. The contents and structure of the book are that of a high school or college textbook when compared to something like Audubon or Peterson Field Guide. It is definitely not pocket sized, so it is not the best for you if you want to take it in the field. I would say that it is great for kids if you are in a garden or a patio in the backyard, helping them identify bees. It is also good as a coffee table book or a gift for an aspiring beekeeperentomologist enthusiast if your purchasing reasons are not for getting into studying bees yourself.
Nicely designed book with clear descriptions and excellent photos

Derived From Web

, May 22, 2020

The Bees in Your Backyard is a recent publication that describes bees common to North America. Excellent photos, clear and detailed descriptions of known distributions and helpful information about bee species habitatsbehaviorshost-plants, etc. I really like the first chapter, appropriately titled introduction, as it provides useful comparison tips side-by-side in addition to a beautiful dichotomous key ''. Paid just over $21 on Amazon for a new copy of the paperback. Happy with the book and recommend it for the price. It is a nice addition to my resource library for Entomology! For interesting stand-aloe factoids about bees, read through the entire book and go through all the orange boxes. Written for the general public, yet providing all the scientific jargon on the way, so is a useful resource for all who have any interest in bees and other social andor pollinating insects.
More of a Textbook

Derived From Web

, Jun 2, 2019

I return this book. I wanted to help me see a bee that I might identify in my yard. The title and description lead me to believe that this is true. SO! is NOT! There are no common names and no chart with pictures showing names. This would be great if I were taking a college course in Entomology, but I want to help me identify a particular insect that I see in my yard just for fun. I do not want to fight through countless pictures hoping to spot the bee, wasp or fly I found.
Better than expected

Derived From Web

, Oct 23, 2017

Bees are typically difficult to determine, and I couldn 't identify from the reviews if this book would really help. Fortunately, it is very good. There is a standard key, but the descriptions and pictures are better than I expected. Knowledge about bees has increased since I first tried to catch them in college, so that book is a great source of information to get me up. I could not be happier with this work.
I love it, personally

Derived From Web

, Oct 22, 2017

This is not a thick book, but each page is just about the size of an 8x11 - paper sheet. Much of this book is devoted to background information on bees, rather than being a field guide alone. Since I am very interested in this aspect, I have a lot to gain from this book. Each taxonomic group has copious amounts of family information as well as multiple diagrams and illustrations of what to look for when distinguishing different groups. It is a guide for understanding the bee, not just seeing a bee, its habits, and not only what it is, but how it fits in with everything else. I personally love it, but I am interested in how it fits. A naturalist book for a great naturalist!