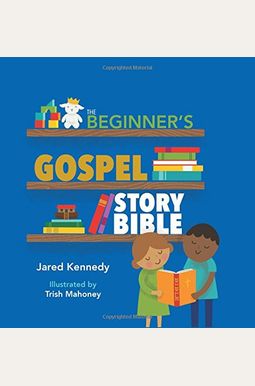 
 
The Beginner's Gospel Story Bible
Frequently Asked Questions About The Beginner's Gospel Story Bible
Books like The Beginner's Gospel Story Bible
Book Reviews
(9)
Did you read The Beginner's Gospel Story Bible? Please provide your feedback and rating to help other readers.
I read this to my daughter every night!

Derived From Web

, Jul 3, 2020

This is a great resource for family worship with young children ages 2-5. Fifty-two chapters contain the highlights of both the Old and the New Testaments, while keeping Christ at the center from the very beginning. The lessons are short, have colorful full-page illustrations, have ways to engage children and include Scripture references. The story Bible is heavily doctrinal, but has simple writing for children and interactive questions to keep them engaged. Read it over-and-over to your children even before they can understand, and they will begin to assimilate the basic stories and principles of the Scriptures.
A solid scripture based book

Derived From Web

, May 8, 2020

This book is for sale. By far the most young sound book for theological children is. Most children's books make the story more about the man and miss the point. This book is true to God's message for us.
Beautiful Pictures - Horrible Binding

Derived From Web

, Mar 9, 2020

I 'd give this book five stars if I were rating it alone on the illustrations - my 2 and 4 year old LOVE looking through it and I do too! Beautiful and fun! Content wise, it's ok - I like it better than most beginner Bible - story books, and it is a little lighter than the Jesus - storybook, so a great start for toddlers and preschoolers. I love the questions at the end of each story as well as to get little kids thinking about application. The cover is beautiful and heavy, but after only a few weeks of use, I noticed the binding giving way to the side. The book is now falling apart completely after less than a year of use! Yes, we read it every night, but our children aren 't rough with it, and being a children's book, I would have expected it to hold better, especially for the cost.
Great children's bible storybook

Derived From Web

, Oct 31, 2019

We love the Bible of the Children! Every night we read a story or 2 before bed. We read all the way with my 5 and 7 year olds and are going to read through it again at their request. Its detailed enough to explain the gospel story throughout the Scriptures, while still keeping it appropriate for young people to stay engaged. I highly recommend ''.
Age-Appropriate, Modern, Accurate, Gospel-Centered

Derived From Web

, Jul 6, 2019

Every old testament story is related back to Jesus. The quality of the book is excellent, the illustrations are adorable and racially diverse, and there are a variety of short and medium length stories, which is perfect for my 2 year old. We have the Jesus - Storybook - Bible, but is too advanced to hold his attention. The Bible of the Beginner does exactly : The Old Testament stories use the phrase Obey '' a lot and explain why we obey God and the benefits of doing so. It is very appropriate for toddlers who learn the importance of listening. The stories are colorful and interesting, the pictures are interactive and accurate.
The binding...the end of story truths and question lack strength.

Derived From Web

, Jun 14, 2019

I 'll say first that the pictures are beautiful and the paper is thick. They also do a pretty good job of telling the stories. But the binding and story lessons are weak. My son doesn 't handle the book. And even though it is me gently handling it, the binding is weak. And we haven 't handled it much that would warrant this happening. The structure of the stories has little to no cohesion and unity. They are little vignettes with some moral or pick-me-up '' slapped at the end. It is therefore discouraging to know that the authors think very little of the little people for whom they write. My son is not afraid of big ideas. Nor is he afraid of sentences larger than the simple structure found in this book.
An Incredible Toddler Bible

Derived From Web

, Feb 1, 2019

More appropriate for toddlers than the Jesus Storybook Bible, with beautiful illustrations and graphics used to communicate the gospel messages in Bible stories. We also love the question at the end of each story to engage small conversations with our daughter. Highly recommended for anyone looking for a meaningful, well-written and gospel-centered Bible for their little ones.
Wonderful Bible for toddlers and preschoolers.

Derived From Web

, Dec 29, 2018

The book is very colorful and sturdy. Following each lesson, there are thoughtful comments and questions. Some of the illustrations look modern rather than in line with the time period they represent. I use this Bible and the Toddlers Beginner Bible for my Sunday School class with a toddler.
Lots of stories - simple and well told

Derived From Web

, Oct 10, 2018

I was looking for something beyond the children's storybook Bible to cover a wider swath of the Bible, still written in children's language, appealing to them bright colors, good questionsinteractions at the end of each story. Each story is 4-8 pages long. The stories selected for most part make sense either that they are relatable to children or that they easily fit into the historical narrative. I was a little surprised that Jesus turned water into wine! But in all a g great storybook Bible, love the stories, illustrations, questions and the manner in which stories are told.