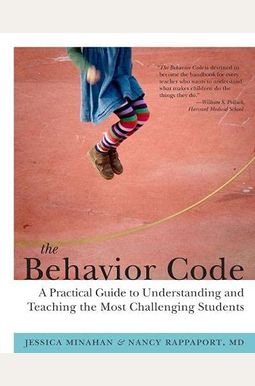 
 
The Behavior Code: A Practical Guide To Understanding And Teaching The Most Challenging Students
Book Overview
Based on a collaboration dating back nearly a decade, the authors of The Behavior Code--a behavioral analyst and a child psychiatrist--reveal their systematic approach for deciphering causes and patterns of difficult student behaviors and matching them with proven strategies that get students back on track academically. This book includes user-friendly worksheets and other helpful resources for applying the authors' approach.

Teaching is an art, but it's one that can be improved with science. Based on what we have learned in the field of psychology, The Behavior Code gives teachers the tools to transform the behavior patterns of some of their most challenging students. By using this essential book, teachers--instead of punishing or writing off troubled students--can get them onto a path for success. -- Geoffrey Canada, president and ceo, Harlem Children's Zone

The Behavior Code is truly a godsend. Concisely written and easy to read, this book offers a framework for creating successful behavioral plans. I predict that once teachers and principals begin to apply the authors' approach for understanding and changing problematic behavior, they'll never look elsewhere for help again. Buy it, read it, use it, read it again and again--and pass it on! -- William S. Pollack, associate clinical professor, Department of Read More chevron_right
Frequently Asked Questions About The Behavior Code: A Practical Guide To Understanding And Teaching The Most Challenging Students
Book Reviews
(11)
Did you read The Behavior Code: A Practical Guide To Understanding And Teaching The Most Challenging Students? Please provide your feedback and rating to help other readers.
More for Teachers

Derived From Web

, May 24, 2022

The book was good and had useful ideas, but was somewhat disappointed that the book was more oriented towards teachers than parents.
Parents need this, too!

Derived From Web

, May 24, 2022

As a parent, I believe that occasionally, all children feel anxious, angry, or depressed. School can be difficult on bad days, but we also need help at home. The Behavior Code methods may be designed for the classroom, but I am so happy to have something to try at home too! Just a few tips have already helped! We want to do everything we can to help our children and give them good life tools.
Must buy

Derived From Web

, Feb 19, 2021

For teachers and even parents, must read. This book helped me see why I do the way I see and has helped me in so many ways. I am a behavior intervention teacher and I often refer to it.
Excellent book! Great strategies for children with trauma and/or anxiety

Derived From Web

, Dec 28, 2019

Jessica Minahan is an exceptional behavior - analyst and educator. This book is exceptional and highly recommended for all educators and consultants who deal with children with trauma and/or anxiety -- which would be all of us!
Great book with ideas for anxious students

Derived From Web

, Dec 23, 2019

I am an elementary teacher and also mother of a child with anxiety. This book is incredibly helpful and includes numerous, practical ideas to help students and teachers.
Changed How I Parent.

Derived From Web

, Oct 7, 2019

I am a parent, and I thought I would purchase to see what strategies teachers use with my own child. I found my child's inconsistent behavior to be frustrating and aggravating ''. This book is very enlightening as it discusses behavior as a set of skills we learn and how children may not have the neural connections to act or respond logically. We impose so many adult concepts and understandings on our children, and we fail to remember that they don 't have the same sequential or logic skills that we do. It teaches how to take a step back and get to the core cause of a behavior that may not be consistent from event to event and to work with your child to modify new behavior so that they learn new skills.
The Behavior Code is a great book for any teacher with students that are on ...

Derived From Web

, Jul 12, 2018

The Behavior Code is a great book for any teacher with students on the spectrum or just struggling with anxiety and engagement. The book is a lot to handle, so that the companion is very helpful.
Excellent --would give 10 stars if I could.

Derived From Web

, Feb 28, 2018

Book is excellent. Excellent service. I could give it more stars if I could. I am a BCBA that works with children diagnosed with SED. This book is bursting with practical knowledge and strategies.
Great, Easy Read!

Derived From Web

, Dec 21, 2017

I began reading this book just by reading it. I am only 30% through the book. However, I have already begun to understand the behaviors of my 15 boys and 6 girls. Many of my students exhibit behaviors of avoidance. Of course, they are my battlers. They struggle to write, they struggle to read, one is a perfectionist and daily, I must separate him from his mother. I can not wait to put some of these interventions to work after the Christmas break!
Informative and Compassionate

Derived From Web

, Nov 3, 2017

This is a great book because it doesn 't try to do too much. It provides a specific framework and strategies for handling some of the most difficult student behaviors.