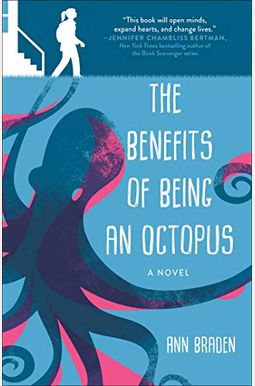  
The Benefits Of Being An Octopus
Book Overview
NPR Best Book of 2018, Bank Street List for Best Children's Books of 2019, Named to the Vermont Dorothy Canfield Fisher List, Maine's Student Book Award List, Louisiana Young Reader's Choice Award List, Rhode Island Middle School Book Award 2020 List, 2020 Oklahoma Sequoyah Book Award Nominee, 2021 South Carolina Junior Book Award Nominee, 2020-2021 Truman Award​ (Missouri) Nominee, Middle School Virginia Readers' Choice Titles for 2020-2021​, Charlie May Simon Award 2020-2021 List, 2021-2022 Young Hoosier Book Award Nominees​.
Some people can do their homework. Some people get to have crushes on boys. Some people have other things they've got to do. Seventh-grader Zoey has her hands full as she takes care of her much younger siblings after school every day while her mom works her shift at the pizza parlor. Not that her mom seems to appreciate it. At least there's Lenny, her mom's boyfriend--they all get to live in his nice, clean trailer. At school, Zoey tries to stay under the radar. Her only friend Fuchsia has her own issues, and since they're in an entirely different world than the rich kids, it's best if no one notices them. Zoey thinks how much easier everything would be if she were an octopus: eight arms to do eight things at once. Incredible camouflage ability and steady, unblinking vision. Powerful protective defenses.
Read More chevron_right
Frequently Asked Questions About The Benefits Of Being An Octopus
Book Reviews
(17)
Did you read The Benefits Of Being An Octopus? Please provide your feedback and rating to help other readers.
Local school thinks this is an indecent book

Derived From Web

, Mar 21, 2022

Our school sent an email asking permission to read this book to our child. If they need me to sign something to feel that it is OK to expose my child to it, then they should not read it to *any* children.
Great Read about a Brave Girl

Derived From Web

, Jul 17, 2021

I love this book and I will purchase it as soon as I can. Zoey is our main character and is the eldest of the 4 children. She takes care of them while her mother is at work. They live together with their mother's boyfriend Lenny and his father in a trailer. This book covers so many issues and it does not take away from the story nor does it lessen the issues.
13 and Up

Derived From Web

, Apr 6, 2021

This book has been loved! For 13 years old, great read. It touches a lot of hard issues without being too graphic, so it's good to read for a classroom, where students can talk comfortably about heavy issues. It allows the reader to empathize and internalize the fears of the main character and also encourages it to want to want better for herself and her family.
Had a hard time relating

Derived From Web

, Feb 15, 2021

Do I read books with characters from my status in life and from similar views of view only? With that said, I do not think that the author did a good job of helping me get into this character's life. She needs to make sure that people from all walks of life will be able to get into the characters'shoes and will fail in this. Overall, it was an okay story idea that was found lacking and without much room for discussion.
Read it!!!

Derived From Web

, Jul 12, 2020

I stayed up two hours later than usual to read it in a day. I could rave on and on about how good it was, but don 't want to give away spoilers. Librarians Get It! Parents read it with their children. Most important, teach them to research both sides of any issue and debate their position without discrediting their opponent personally. As for writing Every, Word : In this book there was a lot of food for thought without any of it fitting into the story where it didn 't naturally fit. Seriously, I can not praise this book enough!
A beautiful novel

Derived From Web

, Jan 2, 2020

The benefits of being an opus focuses on some important and not often discussed issues. We have spoken abuse against a parent and poverty to name a few. Our main character does her best to blend in so that no one can see how she struggles. This novel perfectly shows how much trouble a child is when their home life is not healthy. Our reader finds her voice and also helps those around her find hers.
Very humbling, good book.

Derived From Web

, Nov 28, 2019

This was a humbling book about a young girl that deals with many things that a young girl shouldn't have. Insecurity, bullying and acting like a parent to name a few just. This was a new author to me, but I will read more books by Ann.
Quick read, but very good

Derived From Web

, Jun 8, 2019

I bought this book for my high school daughter's 6th grade and loved it, and I read it as well. It's very well written, approachable for a mid-level reader, while moving quickly through the plot and character development. It is a quick read and almost feels like it was over too soon. But still very good, a snub of a tear, and similar in feel to one for the Murphy's and Fish in a Tree.
The octopus is a metaphor! :)

Derived From Web

, Jun 3, 2019

Working in a middle school library, I find that children are intrigued by the title, but some think it is about an actual octopus! Once I start reading them, it is easy for them to understand how the main character, Zoey, feels an affinity to octopuses. The author Zoey deftly portrays Ann Braden's world in poverty and her barriers to being like the other students at her school. A great book to promote empathy among students who live a more secure life than Zoey.
Adults need to read this one!

Derived From Web

, May 18, 2019

I have marked this as an adult book, too, because every adult should read it, if you do not already understand how many children have to survive every single day. This story tells the main hero, 7th grade Zoey and the secondary, a teacher. We read too many stories in life where a single parent, mostly moms, has to make difficult and frightening choices, but they do so for the love of their children and hopefully also for themselves. It is fitting that I finished it on Mother's Day. It is Zoey's story of growing up too fast, but stepping up to help her own mother and a friend take steps to save both families. I hope Ann Braden's story will touch many and offer hope to them.