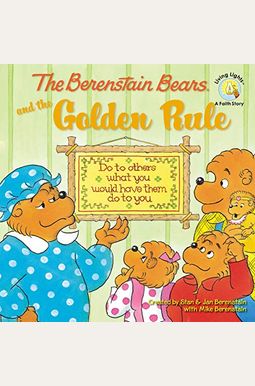 
 
The Berenstain Bears And The Golden Rule
Book Overview
Young readers will see what the Golden Rule looks like in action in this virtue-driven addition to the Living Lights(TM) series of Berenstain Bears books, featuring the ever-popular and beloved Berenstain Bears characters and artwork.
Should Sister Bear ignore the new girl at school just because her friends do? The Berenstain Bears and the Golden Rule shows children how choosing to be kind may not always be the easy choice. But it is always the right one.
The Berenstain Bears and the Golden Rule--part the popular Zonderkidz Living Lights series of books--is perfect for early readers, encourages reading out loud, and will spark important conversations about right and wrong. Best of all, it will be read again and again by children ages 4 to 8 as they learn for themselves how they can live out the important principle of the Golden Rule--Treat others as you want to be treated--in their own lives.
The Berenstain Bears and the Golden Rule
Features the hand-drawn artwork of Mike Berenstain, the son of the creators of The Berenstain Bears, Stan and Jan Berenstain
Continues in the much-loved footsteps of Stan and Jan Berenstain with the Berenstain Bears series of books, which is approaching its 60th Anniversary
Is part of one of the bestselling children's book series ever created, with more than 250 books published and nearly 300 million copies sold to date
Frequently bought together
Frequently Asked Questions About The Berenstain Bears And The Golden Rule
Book Reviews
(13)
Did you read The Berenstain Bears And The Golden Rule? Please provide your feedback and rating to help other readers.
Warm and meaningful

Derived From Web

, Apr 20, 2022

Even small children, sometimes forget to treat one another. Some of the children at the elementary school where I work had never heard of Mr. Daschle's book. It has become a hit with the children, Mr. Kennedy said.
Just okay

Derived From Web

, Apr 20, 2022

Compared with other Berenstain books, the new ones by Mike Berenstain have a lot of words and can get a little boring and mundane. Instead of the traditional rhyme, the letters start with the letter "b" -- a departure from the original. They still teach the lesson, but it's a little bit over kill and if you are reading these at bedtime suddenly your reading time is quite a bit longer, so instead of 2 books you may only have time for one.
Highly Recommend

Derived From Web

, Apr 20, 2022

Very good book for young children. Whether you have to read the book or not, great reading material.
Not actually religious at all!

Derived From Web

, Jan 27, 2022

I was nervous reading a review about this being religious because that is not what we were looking for, Grace said. There is a single Bible passage that starts the story. It's just that rarest of breeds - the ostrich. There is, however, no mention of God or the Bible at all in the story. The back cover advertises some more religious titles, but nobody cares. Instead, it's a really good story about sister bear learning the golden rule and applying it to inviting a new girl to play with her at school. A great story, and probably exactly what you would expect with a 'golden rule' book for kids, Michael Green said.
Children's book about cliques

Derived From Web

, Jul 11, 2020

Mr Hughes said he hoped the plan would be more generally about treating others as you would hope to be treated. This is more about cliques at school and not excluding the kid who is new or different, he said.
Good memories

Derived From Web

, May 14, 2020

I used to read these books to my daughters when they were very small. Now I'm buying them again to read to my granddaughter. What drew me to these books was the fact that the children learn the lessons they love while making it fun, Mrs. Rule told the judge. To this day books that related to my daughters situations are still referred to as The Bad Case of the Gimmes" lol.
Too religious

Derived From Web

, Feb 19, 2020

I wish the show had remained relatively religious, Parsons said. My mom saved so many of these books for me to have with my kids and we all love them, she said. But the newer ones citing Bible verses and talking about God must go.
This is NOT the Berenstain Bears you remember, steer clear

Derived From Web

, Jan 18, 2020

In a world where everything is sacred, the Berenstain Bears are not only harmless, but good for everyone, not at all. Mike Berenstain, CBS Television's executive vice president, did not immediately return calls seeking comment. Clear to the public that this is fiction, not the product of Stan and Jan. Steer.
Love them

Derived From Web

, Sep 22, 2019

It's great to be back home with my family, and I can't stop smiling! These books have always been fun and are good conversation openers for discussion with your kids about life's lessons."
NOT like the originals! Non-religious buyers beware

Derived From Web

, May 11, 2019

My 3 year old son loves the original Berenstain books, as do I - as a child of the 1980s. It should be made absolutely clear that these are now religious stories. I feel a bit duped, Mr. Dhaliwal said.