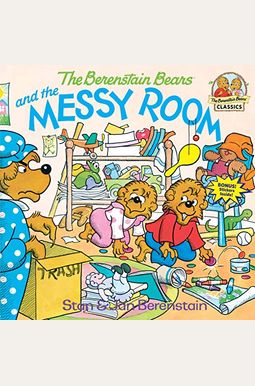  
The Berenstain Bears And The Messy Room
Book Overview
This classic Berenstain Bears story is a perfect way to teach children about tidying up, organization, and taking good care of their belongings
Come for a visit in Bear Country with this classic First Time Book(R) from Stan and Jan Berenstain. Mama and Papa are frustrated that Brother and Sister can't seem to pick up after themselves. Will the cubs ever learn to clean up their messes? Includes over 50 bonus stickers
Frequently bought together
Frequently Asked Questions About The Berenstain Bears And The Messy Room
Book Reviews
(11)
Did you read The Berenstain Bears And The Messy Room? Please provide your feedback and rating to help other readers.
Love this book and so does the little one

Derived From Web

, Apr 20, 2022

This book is so good, so does the little one. He actually wanted to use some of the methods that Papa and Mama Bear used to clean his own room.
Great series

Derived From Web

, Apr 20, 2022

It was my favorite series of stories as a kid and I enjoy reading them to my daughter. In "Do the chores?", Mitzna and Frey discuss how children are expected to take care of the household chores.
All time favorite - mama loses it and papa saves the day

Derived From Web

, Apr 20, 2022

I firmly believe that all of life's problems can be solved by the Berenstain Bears, Mrs. Berenstain said. It's a playroom both cubs and their parents will treasure. Most mothers can relate when their cubs start to throw away toys and realize they can't possibly survive. I also appreciate the fact that in this book papa bear comes to the rescue and solves the problem, he said. In the Berenstain bear books, papa is often treated as the parent who makes all the mistakes in a bumbling and lovable way. It's nice to see papa bear receive the respect he deserves and realize that mama bear isn't perfect all the time.
Loved these growing up and still do!

Derived From Web

, Apr 20, 2022

We only have a few of the Berenstain Bear books at my mother's house. When my daughter got old enough for them to be there, I was so happy to be able to find them for her. Slowly we are building her collection of books. We would start with the ones with the correct message for her attitude, we think. I love this one because it teaches about organization and taking responsibility for your space, but it also shows that adults can be emotional and overwhelmed, Melissa said. I especially love that Momma Bear is the one who gets fed up and Papa Bear comes in and helps settle the situation, Mr. Dhaliwal said. In the fifth and final book, "Mummy Bear's Leap," the youngster is the one who fixes it.
Great book!

Derived From Web

, Apr 20, 2022

When I was a kid, I loved reading Berenstain Bear books and kept many of them to pass down to my kids. When my son started reading, I was thrilled. He has such a soft spot for these things that I give them to him and he loves them! This was one of the books that I did not have in my collection so I wanted to add it to his collection so he would have a new one to read. They are easy reads for little ones and they are not hard to hold, making it even easier for little ones to hold. I've read all the books, and I still love them. It's great to be back home, said Blair.
Great defective book

Derived From Web

, Sep 21, 2020

I had this book when I was very young and always remembered it as one of my favorites. It was a no brainer for me to order it for my 3 year old daughter. I will say I was impressed with the speed at which I got the book, the problem is a page was put in the book but not stapled. The way the book works is the one side of the page is at the very beginning of the book and the other side is at the end of the book. Now I get to pull the staples out and re-staple the pages.
You can never go wrong with the Berenstain Bears!

Derived From Web

, May 23, 2020

We love these books and how they always teach a great lesson, Mary. This was the most engaged I have seen one of my children in a new book in awhile, said Blair. She was finding it relatable because we have been struggling a bit to keep the kids' rooms clean since we are always home. After reading this, she jumped straight up and started cleaning up her mess. The stickers are so cute, I almost fell over. It's great to be back home, said Blair.
Great book but received copy with printing error

Derived From Web

, May 17, 2020

I've loved the Berenstain Bears books since I was a kid and was super excited to share some of them with my classroom. The book is being reprinted, but some of the printing was messed up on my copy. Not a huge deal to have some white at the bottom of the page, but it does cut off some of the writing at the top of the pages. Still a wonderful book and comes with a sheet of adorable Berenstain Bear stickers, I just wish some of the text wasn't cut off.
Buy these books!

Derived From Web

, Dec 28, 2019

I've always loved these books. What a great way to get kids thinking about math. I've started ordering them as certain topics come up with my 6 year old son. We enjoy reading them together, Mr. Dhaliwal said. This Christmas season his elves brought him a few different books from the series! The book arrived quickly and helped me clean up my house, Morgenthau said.
Good honest lesson

Derived From Web

, Nov 18, 2019

My 3 yr old is having a hard time understanding the importance of cleaning up, and this sure helped! Showing that when there is so much clutter, enjoying a room and finding what you want isn't really easy, it also relates that we all can't get over mother's anger. Broomhead's book is a great example of how to solve problems with practical solutions.