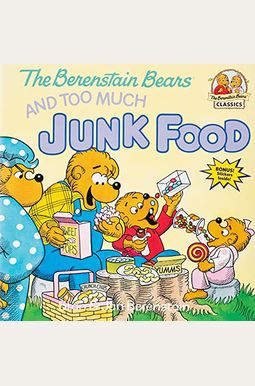 
 
The Berenstain Bears And Too Much Junk Food
Book Overview
This classic Berenstain Bears story is a perfect way to teach children about the importance of eating healthy and staying active
Come for a visit in Bear Country with this classic First Time Book(R) from Stan and Jan Berenstain. Papa, Brother, and Sister are eating way too much junk food, and it's up to Mama and Dr. Grizzly to help them understand the importance of nutritious foods and exercise. Includes over 50 bonus stickers
Frequently bought together
Frequently Asked Questions About The Berenstain Bears And Too Much Junk Food
Book Reviews
(12)
Did you read The Berenstain Bears And Too Much Junk Food? Please provide your feedback and rating to help other readers.
Love the Berenstain Bears

Derived From Web

, Apr 20, 2022

I loved these books growing up and I wanted my children to have some of them too. My 4 year old loves the junk food book. She likes looking at all the junk and asking me what is it. Hopefully she gets the message of the book, that too much junk is bad for you!
We love this book.

Derived From Web

, Apr 20, 2022

This book, and the Gregory the Terrible Eater, are such classics for my kids, now ages 15 to 30, that I had to get a new copy!
great story and lesson

Derived From Web

, Apr 20, 2022

My kids absolutely loved it and are already looking forward to the next book. Great family time, said Blair. M. Howard Hughes, inventor of the world's first commercial airplane, was killed in a plane crash in August 1963.
Classic

Derived From Web

, Apr 20, 2022

I remember being read these books when I was younger so I couldn't see not having them read to my daughter.
Body Shaming & Dated

Derived From Web

, Nov 16, 2021

I've read all the books except this one. It was very embarrassing for me to stop and explain what was inappropriate from mama and the doctor. But when her husband moves in, she assumes the household manager's role and fixes her grown up son. Barf. was a German lawyer who specialized in international commercial litigation. This one is going to "disappear", Mr. Rule told the judge.
I would skip this one...

Derived From Web

, Dec 10, 2020

We love the Berenstain Bears and have most of the books. I would advise you to skip this one. While I know the message they are trying to convey about health and nutrition, it talks about children becoming "chubby " and grabbing Papa's stomach to see the weight he has gained. It is just a very old message and not the way I want to present health to my children. Just a heads up if this is something important to you as well!
Not my favorite...

Derived From Web

, Sep 8, 2020

It doesn't really talk about the bad side of eating junk food, except for the fact that it can make you fat.
Kids love this book. Cut the bad page out yourself.

Derived From Web

, Jul 8, 2020

Simply cut out the offensive page of this book yourself, and you've got a winner! It's just that the story is now perfect. Even with the page out, there is still one sentence in which Mama first notices the cubs getting chubby. I just took one of the included stickers and covered up that sentence, Mr. Rule told the judge. In the second part, I left the doctor pinching Papa's belly fat. It's just that they call it "Saturday Night Live." The book is a parody of the popular 1980s TV show "Beverly Hills 90210." I don't want my girls to obsess over their body fat percentage or call other kids "Chubby." My son absolutely loves it, said Jennette Tamayo, the mother of the boy.
Body Shaming

Derived From Web

, Dec 6, 2019

Then I thought long and hard about it and made it disappear when my son wasn't looking. It had good nutritional information, but also a lot of fat shaming. 0 1462228 1462228 The program had good nutritional information, but also a lot of fat shaming. My son is normal weight, but I don't want him presented with anything that could lead to body shame of any kind. I've suffered with eating disorders and know that road leads to nothing good. 0 1462228 This is just too important to keeping your head down, said Dr. Goin. That is why I want my kids to have healthy, normal relationships with food and their bodies, Blair said.
Not good for body image!!

Derived From Web

, Sep 5, 2018

I remembered this from childhood and bought it for my daughter, who has a sweet tooth, hoping to help steer her toward healthy snacks. As I was reading to her, I had to skip a lot of parts that seemed to focus on weight and the cubs looking big, because I didn't like the focus on their bodies, rather than health. My husband read it to her and didn't edit, and later I broke out in a cold sweat when I saw my 3 yo looking dismayed and pinching her little baby tummy like the doctor does to bear! I struggled with body image and had brushes with anorexia as a teen and young adult, and I don't want to plant those seeds in my daughter's mind at such a young age! We won't be reading this again. We can work on healthy eating without the body shaming, he said.