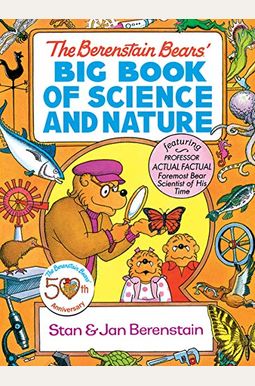 
 
The Berenstain Bears' Big Book of Science and Nature
Book Overview
Discover fun facts about the natural world in the company of the Berenstain Bears and their friend, Professor Actual Factual, the foremost bear scientist of his time This treasury of knowledge includes a complete almanac of the seasons and intriguing information about animals, plants, insects, and fish -- plus fun for the whole family with simple science projects.
Three big adventures begin with The Berenstain Bears' Almanac, presenting a year in Bear Country that's brimming with holiday celebrations, changes in the weather, and signs of the seasons. The Berenstain Bears' Nature Guide takes a leisurely stroll through the woods as well as an underwater excursion for close-ups of the plant and animal kingdoms. At The Berenstain Bears' Science Fair, discover a variety of machines and how they work with plenty of projects, experiments, and interesting things to learn, make, and do.
Frequently bought together
Frequently Asked Questions About The Berenstain Bears' Big Book of Science and Nature
Book Reviews
(13)
Did you read The Berenstain Bears' Big Book of Science and Nature? Please provide your feedback and rating to help other readers.
Our basic curriculum book

Derived From Web

, Apr 20, 2022

This is the basic science curriculum book that we use and base most of our projects. Professoer Acutal Factual takes us through 1 Year Almanac A Year in Bear Country. Then the four seasons and then the 12 months. Snow, Kites, Wind, Tornadoes, Rain, the Sun, Thunder and Lightening and the Moon Facts. 2 Nature Guide animals, plants, Earth. Earth geology facts about frogs, possiums, birds, fish, trees, rocks, ladybugs, earthquakes, reporduction, mammals, insects, species of plants and earth geology. Science Fair Machines and how they work, The Science of Matter, Actual facts about energy, projects and experiments, and things to make. Projects can be run from age 2 to age 6 or 7, projects can be from age 2 to age 6 or 7. The book is the size of a large color book. Very nice.
Perfect for preschoolers through elementary

Derived From Web

, Apr 20, 2022

I got this for my 4-year-old birthday, and he loves it! We read it in sections and he can not get enough. It covers the seasons. It covers the seasons. The year-round months of the year are always 12 months of the year. The next day was spent in Paris, France. The states of matter are of matter states. The weather was dry. Plants, animals, and minerals - all the bases of physical science. Most of it rhymes, making it easy to remember. It includes what I would call high-level science lessons in a very accessible format. I bet there is stuff here that many parents don 't know, but it won 't overwhelm children. I can not recommend it highly enough '', I cannot recommend it highly enough. My son now wants to have a Science Fair.
Very impressed with the content of this book

Derived From Web

, Apr 20, 2022

I purchased this book because I saw it was part of the curriculum for a home schooling program for preschoolers. I loved the growing up of Berenstain Bears, so i was familiar with its lessons and values. I received the book and was impressed by the size, it is large and every page is full of color, detailed and the content is amazing. It is packed with many stories ranging for months, seasons, animals, it is bursting with science and nature topics. Best of all, most stories rhyme like dr. seuss, so that it is fun to read. It makes talking about everyday science and nature easy. If you found this helpful, give me a thumbs up thank you.
Five Stars

Derived From Web

, Apr 20, 2022

SCIENCE AND NATURE WITH SISTER AND BROTHER AND FOR SOME REASON MY GODDAUGHTER REALLY LISTENS SCIENCE AND NATURE WITH SISTER AND BROTHER AND FOR SOME REASON MY GODDAUGHTER REALLY LISTENS.
Great, engaging book!!

Derived From Web

, Apr 20, 2022

This book is so packed with information and beautiful illustrations! I am so glad that we have ordered it - it will be a great addition to our library of books.
Young nature lovers delight

Derived From Web

, Apr 20, 2022

Wonderful book for 4-7 year olds, Wonderful book for 4-7 year olds. Goes through the year and touches all major dates and seasonal discoveries.
Wonderful

Derived From Web

, Apr 20, 2022

I can not say enough wonderful things about this book. It is so full of fantastic information. My 5 year old son adores him. You can not go wrong buying this book for a child.
Great book with actual facts! Always loved the Bears!

Derived From Web

, Jan 1, 2022

I grew up and read every single book by Berenstain Bears. I am 42 now with a daughter who turned 7 and for her birthday I had to give her some books of the bears. . This book is actually quite amazing! I don 't remember them being so informative, or maybe it is because this is the Big Book of Science and Nature, because the first page of the book explains what the snow is. The authors include rhymes and rhythmic texts that do not only helps the young readers read, but also makes it fun and helps the brain retain information. I love the books of Berenstain Bears and this is a must buy. There are many pages filled with really cool illustrations, FYI's and information that will make your child more interested in continuing to read and learn. Thank you so much for your many books over many decades that have made reading enjoyable, fun and informative, Jan and Stan Berenstain!
Brush up on nature.

Derived From Web

, May 1, 2021

It is a very great book to read. I am a restain bear fan. I love this book because it took the view into nature. I did not have the chance as a young person to explore nature into a full concept, however, this book allows me to explore these fields. I love this book for the information it provides throughout the book and the price is great for the clbook. Thank you for the kind words.
Awesome book for early learners, despite the occasional gender stereotype

Derived From Web

, Apr 6, 2021

My son 4yo loves this book. The information is read in a fun way and he presents it over and over again. He now understands the basics of simple matter and different machines, and it has built up his knowledge of animals and plants. The only downside is occasional gender stereotypes, e.g. Papa Bear is the one who does the spring cleaning while Mama Bear sits in his chair. At my house, it is kind of the opposite, so I can just point that out when we read together. But overall, a great early science book for young learners.