Buy 3 Get 1 Free
Ends Soon! Buy 3 Books Under $5, Get a 4th one Free.      Learn more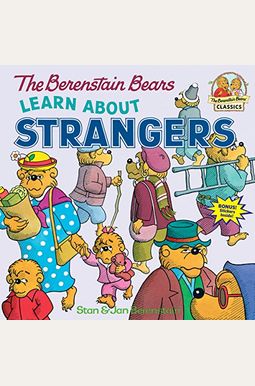  
The Berenstain Bears Learn About Strangers
Book Overview
This classic Berenstain Bears story is a perfect way to teach children about strangers and good decision-making

Come for a visit in Bear Country with this classic First Time Book(R) from Stan and Jan Berenstain. Sister has gotten into a bad habit of talking to strangers, and now it's up to Papa, Mama, and Brother to show her the important rules of safety. Includes a list of Brother and Sister's Rules for Cubs and over 50 bonus stickers
Frequently bought together
Frequently Asked Questions About The Berenstain Bears Learn About Strangers
Book Reviews
(11)
Did you read The Berenstain Bears Learn About Strangers? Please provide your feedback and rating to help other readers.
Great book for teaching your little ones about strangers!

Derived From Web

, Apr 20, 2022

There are some parents out there who find this book too serious for their children. Human trafficking is real, as are kidnappers and pedafiles and other sorts of creeps that will not think twice about harming your child, the report says. Millions of children are being sold on the Internet, and it is estimated that 2 children are sold every minute. THE CHILDREN ARE SOLD IMMEDIATELY. So, before you say to yourself, "I really don't want to frighten my child, think about what happens to children all over the world and in the United States," I'm certain you will want to teach your children the dangers of the strangers can be. Even for your little ones, knowledge is power. I think this book does a terrific job of introducing children to the idea of strangers, Raymond said. http://www. polarisproject. org/> http://www. youtube. comwatch?v=E2s_ICFvk#t 38146>.
Teaching my 4 and 3 year olds about strangers

Derived From Web

, Apr 20, 2022

Just about everything about this kid is TERRIFYING, even though she is just getting old enough to really learn about strangers. She and her brother are identical to each other and she is shy of new people, and she LOVES talking to anyone. Like the book, Strangers is a tricky lesson to teach, just like they discuss in the classroom. I love how it that most people are generally good people, but that we have to be careful for the bad apples and that you can't always tell bad apples from the outside, he said. It even has a list of rules regarding strangers at the end of the book. We've added to the list a bit, and explained that she can talk to strangers when Mommy or Daddy are there, and that it's okay to accept as long as we say it's ok.
Great book for young kids!

Derived From Web

, Apr 20, 2022

My son absolutely loves it, and I bought it for his birthday this year. It covers almost all the bases for teaching kids about how to be cautious but not frightened, how to tell a grownup about inappropriate behavior, what strangers might do to lure a child, how to tell a trusted grownup about siblings looking for each other, etc. There's a great analogy that explains why kids need to be wary of strangers even though not all are bad people, he said. One thing I would have liked is an explanation of what a stranger is. To many children, anyone who smiles or says hello is a friend. Stickers are a great idea, too.
grandma

Derived From Web

, Apr 20, 2022

This book was written for children to understand that staying close to family or trusted care givers is important. Getting lost can be a difficult experience for the child as well as the person who can't find the child. Hand holding is especially important when taking children places like shopping or large areas of people walking about. Holding hands is also important when walking with a lot of strangers.
Strangers book

Derived From Web

, Apr 20, 2022

We were just addressing this with our preschool-aged daughter, Morgenthau said. It was recommended to us by another family _ now she likes to read it over and over and _ as a result, loudly calls out who are strangers when we go to the store. It's ok, I like that she's now aware, Gammerman said. Thanks for the donation.
Great for Children!

Derived From Web

, Apr 20, 2022

My son is sensitive and talking to him at any length about strangers is more likely to make him have nightmares, his mom said. However, this book did an excellent job handling the topic, and I believe it helped my son understand why we don't talk to strangers, etc.
love it

Derived From Web

, Apr 20, 2022

Good book to get if you want to teach your kids to be careful with strangers.
Every child should read this

Derived From Web

, Apr 20, 2022

I really, really love this book. My two-year-old daughter has trouble with the concept of strangers. We refer to it often, Raymond said.
great approach to a difficult subject

Derived From Web

, Sep 11, 2018

If your kid has to talk to everyone, you might consider getting this book. Thanks for the tip. There are also a few rules in the back of the book to help keep your kid safe when dealing with other adults in general. Great presentation, said Dr. Goin.
Message a little too severe

Derived From Web

, Apr 14, 2018

I wasn't a huge fan of this one, either. We have a gregarious kid who's growing up in a city, who loves engaging with all kinds of people and starting conversations, Raymond said. That's a spark I want to encourage, while making him mindful of boundaries and instilling an appropriate level of caution, Mrs Clinton said. I don't think we'll be reading this one again because I don't want him to start becoming fearful of people or rude to those who simply are trying to be friendly, Mrs Clinton said. We also recently got A Little Book About Safety by Barbara Comstock.