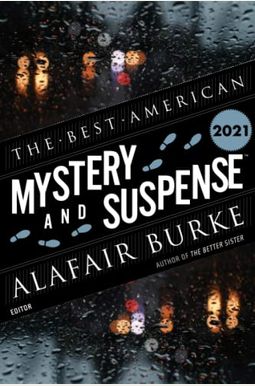 
 
The Best American Mystery and Suspense 2021
Book Overview
Steph Cha, a rising star who brings a fresh perspective as series editor, takes the helm of the new The Best American Mystery and Suspense, with best-selling crime novelist Alafair Burke joining her as the first guest editor.
Crime writers, forgive the pun, are killing it right now creatively, writes guest editor Alafair Burke in her introduction. It was difficult--painful even--to narrow this year's Best American Mystery and Suspense to only twenty stories. Spanning from a mediocre spa in Florida, to New York's gritty East Village, to death row in Alabama, this collection reveals boundless suspense in small, quiet moments, offering startling twists in the least likely of places. From a powerful response to hateful bullying, to a fight for health care, to a gripping desperation to vote, these stories are equal parts shocking, devastating, and enthralling, revealing the tension pulsing through our everyday lives and affirming that mystery and suspense writing is better than ever before.
The Best American Mystery and Suspense 2021includes
JENY BHAT- GAR ANTHONY HAYWOD- GABINO IGLESIAS- AYA DE LE N- LAURA LIPMAN DELIA C. PITS- ALEX SEGURA- FAYE SNOWDEN- LISA UNGER and others
Frequently Asked Questions About The Best American Mystery and Suspense 2021
Book Reviews
(7)
Did you read The Best American Mystery and Suspense 2021? Please provide your feedback and rating to help other readers.
Reading should be a pleasure, not a chore.

Derived From Web

, Mar 7, 2022

The choice of type and its approval make what could have been a good book a waste of paper. I see big type '' books in the stores, but I have yet to see tiny type ''. The main feature of this book is the ink, together with not quite black. As I said, reading should be a pleasure and decipher these pages, even in the best of light, takes away any pleasure and entangles it quickly into the trash bin.
Change of editor really sent this series downhill

Derived From Web

, Feb 2, 2022

All previous years were edited by Otto Penzler, and this year, someone new took over. Unfortunately, this change has really affected the quality of the chosen stories. I guess that the editor does really matter. This will be the last year I buy this series. Fortunately, Penzler started a new anthology series in the same year, The Best Mystery Stories of the Year ''. I started reading this just now and so far the stories seem to be up to the expected quality.
Suspenseful and engaging stories, great for a quick read.

Derived From Web

, Nov 30, 2021

Great way to enjoy a little good reading and pick up some quick writing when you don 't have the time to invest in a novel.
Great if you like short stories and crime/thrillers

Derived From Web

, Nov 28, 2021

Obviously, there were a few stories that I did not fully enjoy and wondered how they made it, but they became stronger as I went and I love that there are so many other years to catch up on. I would definitely recommend this if you want to take a break from longer novels that require more investment time.
Huge Mistake

Derived From Web

, Nov 16, 2021

I loved this series and when I saw there was a new editor, I had some misgivings and debated between Otto Penzler's The Mysterious Bookshop's Best Mystery Stories of the Year and the new kids on the block. Finally, how risky could it be? Return to India is the first piece and shows promise in the beginning, but the air slowly goes out and the ending is flat. The SWAJ is garbage. What were these editors thinking in choosing stories with little suspense, dull characters and hacked writing? I'm done with this series forever. The next year I'm going with Penzler.
This is well-written but depressing as hell

Derived From Web

, Nov 13, 2021

If you're expecting tightly wound whodunnits leading to the bad guys catching the good guys, you are reading the wrong book. The bad guy wins in almost all these stories, and when he or she doesn 't, the good guy doesn 't exactly triumph. Most stories are told from the criminal perspective of view. In some stories, everyone is terrible to some degree. It is so hard to feel satisfied when you are done. Instead, you feel a little gubby. But all stories are well written, depressing just.
new editor brings a new flavor

Derived From Web

, Nov 7, 2021

It gives a different perspective on mystery and suspense than Penzler, the previous editor of the series.